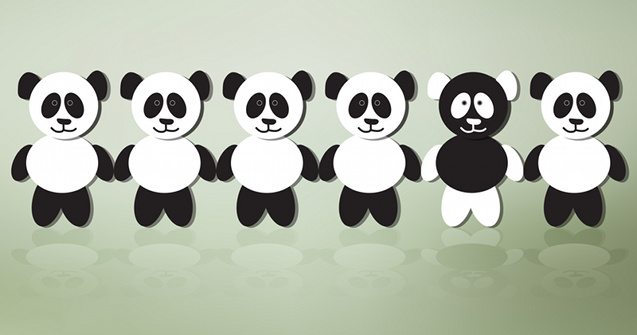 We've all spent time thinking about our blog's SEO.
And we've all spent time thinking about on-site conversions and how well our blog performs once visitors arrive on our pages.
But how much time have you spent thinking about how Google actually displays your blog in their search results?
It's actually a really important thing to consider – and it will affect your conversions in a really big way.
Let me explain.
How does your blog look on Google?
Okay, everyone knows that you can change the way your blog looks.
That's easy.
You can change your colors, headers and even switch up your entire theme. This can help increase conversions and readership by keeping people focused on your content, landing pages and directing them towards a sale or opt-in form.
But did you know that you can also change the way you look on Google?
It's just as important.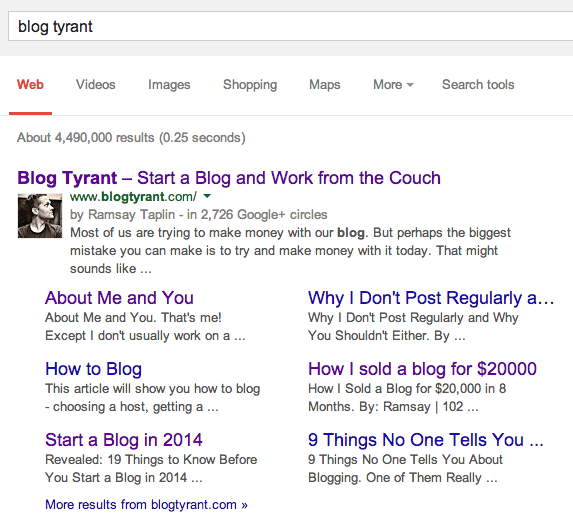 Here is a screenshot of what you see if you type "Blog Tyrant" into Google. This is the most basic example of how a website looks to Google.
But what about a search term that returns a single post result?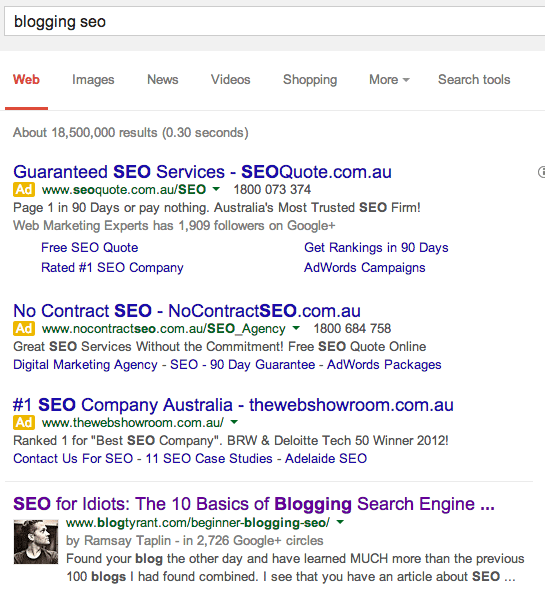 Here is the result for the search terms "blogging seo" where I rank number one after a few ads. You can see that the title is cut off because it is too long.
It's like an advert in Google
The thing you have to remember is that the way your blog appears in Google is just like an advert. Those search results are the first interaction people have with your blog and it's vital that you craft them as best as you can to ensure people click through and then stay on your site.
So what do we need to look out for specifically?
6 things to know about your blog's appearance in Google
Please note at this point that I'm not talking about improving your ranking factors. This is not about getting higher up in the SERPs. If you want to do that you can read my post on how to rank higher on Google.
This is specifically about how you appear in Google – the visual and textual elements that are shown to Google's traffic.
Here are the most important bits.
1. The title is all important
The title is the most important part of your appearance in Google. It is what people see first and what they scan when they are trying to determine what link to click.
But there's a problem.
The title that you write on your blog (i.e. the title of each blog post) is not always the best title for your Google results. It sounds confusing but there are many reasons why this might be the case.
One way to think about it is that the goal of your Google titles is to get people to click, whereas the goal of your blog post titles is to get people to read the article.
And that means it's sometimes necessary to re-write your titles for search engines.
If you're on WordPress (and you should be!) plugins like All in One SEO Pack and Yoast's SEO will let you re-write your titles in a flash.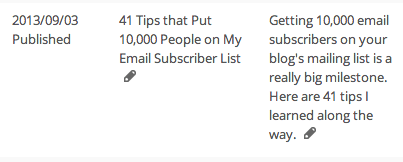 Here's a screenshot of how AIOSEOP give you an extra column in your Posts are to re-write titles. I've done this one because the original title that I published on my blog was too long for the Google results and I got a fair chunk cut off.
2. The title length changes based on search terms
The next thing that we need to be aware of is the fact that different search terms have different title lengths in Google thanks to a new re-design.
This is super annoying.
In the old days you'd know that Google would basically display 70 or 71 characters for your title and so you'd know pretty much what was going to get shown and what was going to get snipped.
But that's all changed.
You now need to think about how much of your title is going to be made bold by Google, how much is going to be in CAPS, and so on.
Lucky for us there is a great tool over on Moz that can show you how your titles will look for the particular search query that you are going after. It won't always be necessary but it's a good thing to be aware of.
3. Google Authorship photos have different effects
If you're not sure, Google Authorship is the neat little trick that allows you to link your Google+ account with your blog (or blogs) and get a little photo appear next to your name in the search results.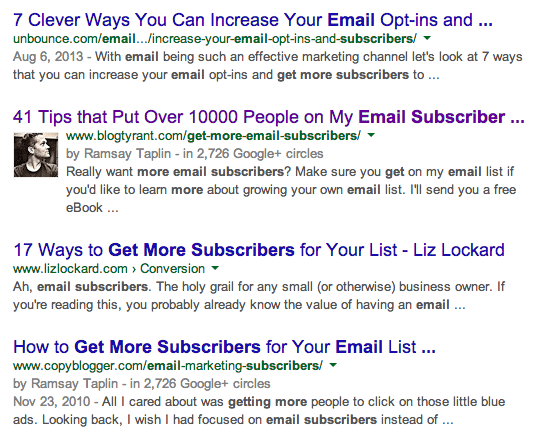 The above screenshot is for the search phrase "get more email subscribers" and as you can see mine is the only one with an authorship photo. I actually have two results there on two different sites and interestingly Google will only show my photo once.
The main takeaway here, however, is that having your photo in the SERPs can have a big effect on click through rates – especially if none of your competitors have their set up.
I should note at this point that not everyone is a fan of Authorship. Some people assert that it decreases traffic, especially when the listing is for an impersonal result like a shop, product or service. Some people also say it looks too much like an advert.
4. Your descriptions should be re-written for conversions
Description tags stopped having a rankings benefit a long time ago but that doesn't mean we should ignore them.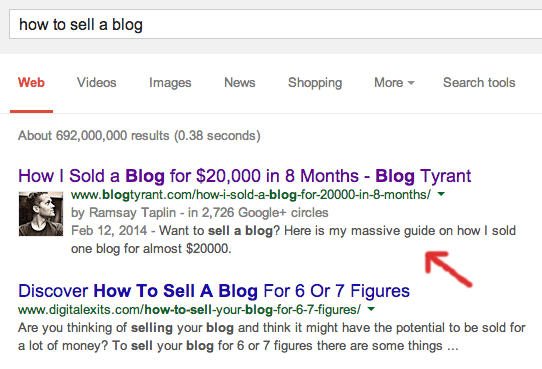 The annoying thing about descriptions (the little bit of text under the title) is that, if left to its own devices, Google often creates its own text based on the information it find on your website.
And it's often useless.
A much better option is to use a plugin like AIOSEO to re-write those descriptions using all of the brilliant things you know about compelling copywriting. Remember, this is like a little subheading in an advert that Google shows to get people to click your link.
In the above example you'll see that I'm using a shorter description. This is something I'm trialling to see whether it helps my result stand out from the rest. Again, this is about testing. Marcus Sheridan has a fantastic post about how to write descriptions which goes into a lot more detail than I could be bothered with.
5. Click throughs are only important if they're accurate
The next thing we need to remember is that click throughs from Google are only useful if the article matches the "pitch" that you set up in your listing.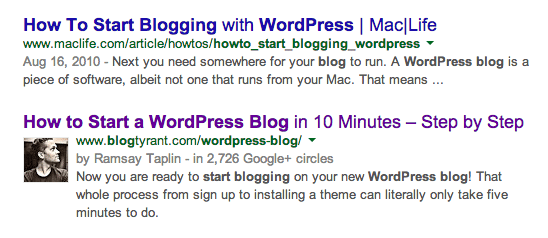 For example, in the screenshot above you'll see the listing for my article on how to start a wordpress blog. This promoted is a step by step guide that new bloggers can follow along in an orderly fashion and get it done.
If, however, they click that link and find a post that compares different hosting options, or doesn't have any visible steps to follow, you're going to get a lot of people bouncing from that article to look for something else.
It's important that the copy that you use matches the terms that you are ranking for. Make sure you think very carefully about the message you are creating in the SERPs and how closely it matches the intentions of your target audience.
6. It's not just articles that rank anymore
Five years ago it was just blog posts that we worried about getting indexed on Google. The majority of traffic was aimed at and best suited towards the written word.
These days things have changed.
Google now indexes a variety of formats and shows these directly in their results page without the user having to click to a separate page like Images, Maps or Video.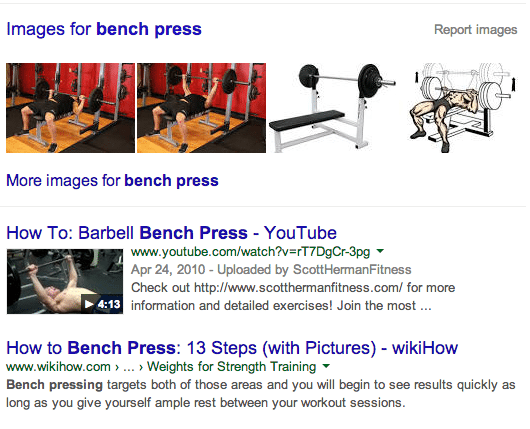 The example above shows the results for the search term "bench press" where you can see that Google has a mixture of formats (images, articles, videos) and also types of results (people wanting to buy a bench press versus people wanting to learn the bench press).
These are all considerations you need to make when developing your content and going after certain target keywords.
Last month I also wrote about long form content and how it impacts bloggers. We now even see this appearing within its own section on Google.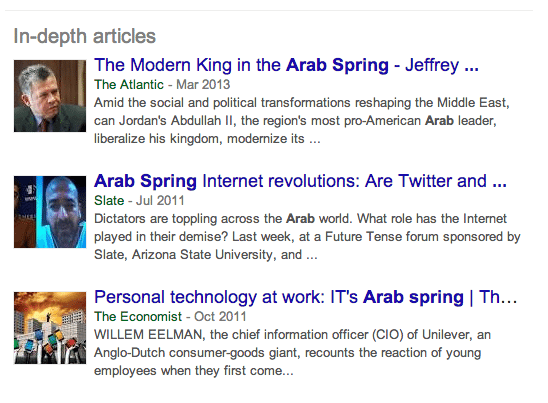 I typed in the term "arab spring" and got a huge mix of news, images, webpages and then down the bottom we have Google's new In Depth section which showcases longer articles. These are set up with a Schema which you can read more about here.
How does your blog look on Google?
I'd be interested to hear if any Tyrant Troops have thought about this before, or if you have had any bag experiences with the way your blog appears in Google's search results. Please leave a comment if you have any stories to share or questions to ask.
Top photo © Blojfo | Agency: Dreamstime.com