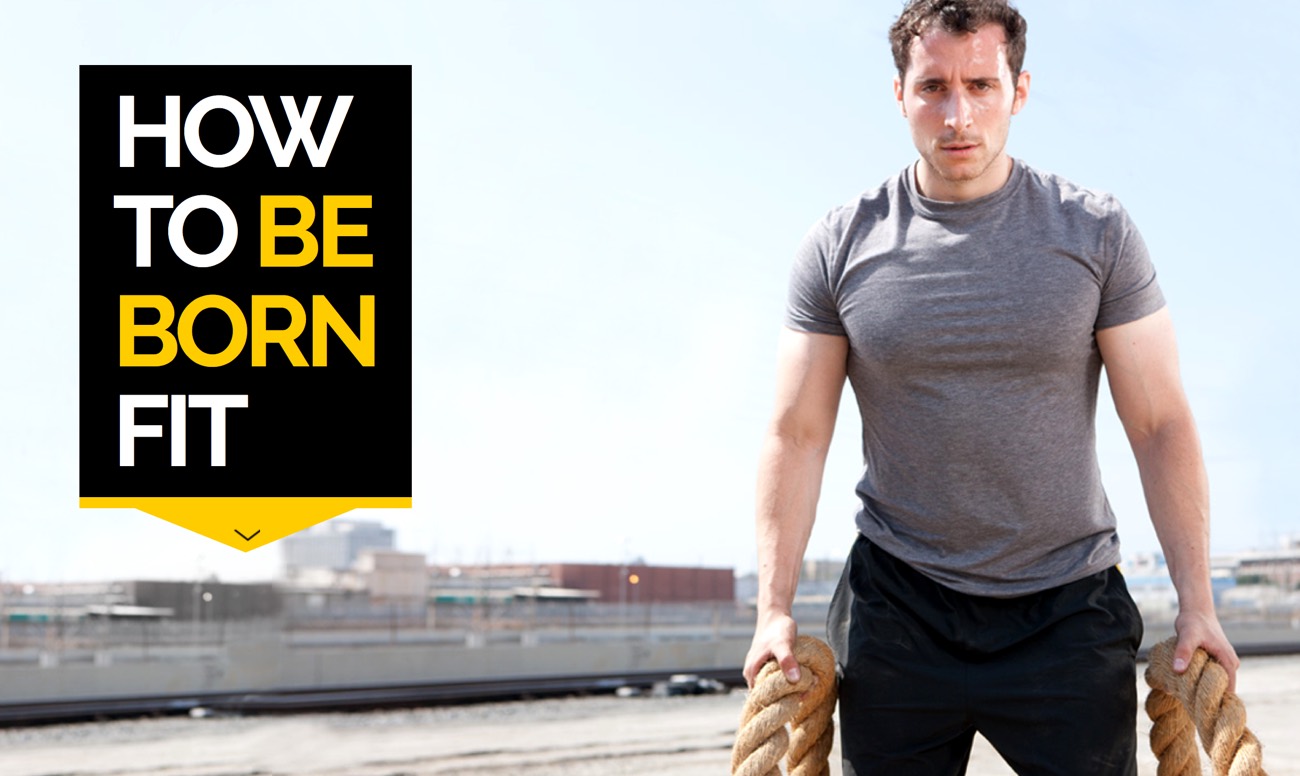 A significant portion of my day is spent trying to improve conversions.
That could mean changing colors on a button, split testing some email sign-up forms or re-designing a landing page to see whether I can increase my click through rate.
And one way I get ideas about what I could improve is by looking at what the world's top websites are doing and seeing if I can emulate some of their ideas or tactics.
In this post I'm going to show you some really clever conversion tricks in the hope that they might make your blog a little bit more effective.
Sound good?
Insights into specific websites
Something I've been wanting to do for a while now is highlight and examine individual websites that I come across so that we can learn from their examples and perhaps adopt a few of their clever strategies.
This post is going to go into some deep analysis of a site called Born Fitness.
Actually, the moment I first saw it I instantly knew I wanted to learn more because the sales funnel, testimonial layout, etc. was so strong that I knew there was some clever people behind it. I even tweeted about it:
Just found the @BornFitness website today. Absolutely stunning design and perfectly optimized for conversions. Would love to see data!

— Ramsay (@BlogTyrant) November 11, 2015
At the time of that tweet I had this post in mind and so I reached out to the owners of Born Fitness to see if they'd like to participate by giving away some of their secret sauce stats. Luckily for us they were more than willing to participate – in fact, they gave us some hugely valuable information!
The following italics are some wonderful insights from Jordan at Born Fitness:
Let's talk about strategy.
When you're running a business, you should have two questions on your mind at all times:
1) What is our primary goal?
2) How are we failing at our primary goal?
Most people have no issue with #1, although sometimes it lacks enough focus. But #2, that's where the good stuff exists. By understanding where you are weak, you can find new ways to become stronger and better. That's why at Born Fitness we strive to take both a quantitative and qualitative approach to conversion optimization.
The quantitative is obvious if you know what tests to create. (More on that in a moment.) But the qualitative? We start by asking, "Why are we doing what we are doing?"
Keep that in mind as we break down the two top performing opt-ins on Born Fitness.
The Welcome Gate Homepage
The first time you visit Born Fitness, you are greeted by a welcome gate–but only the first time.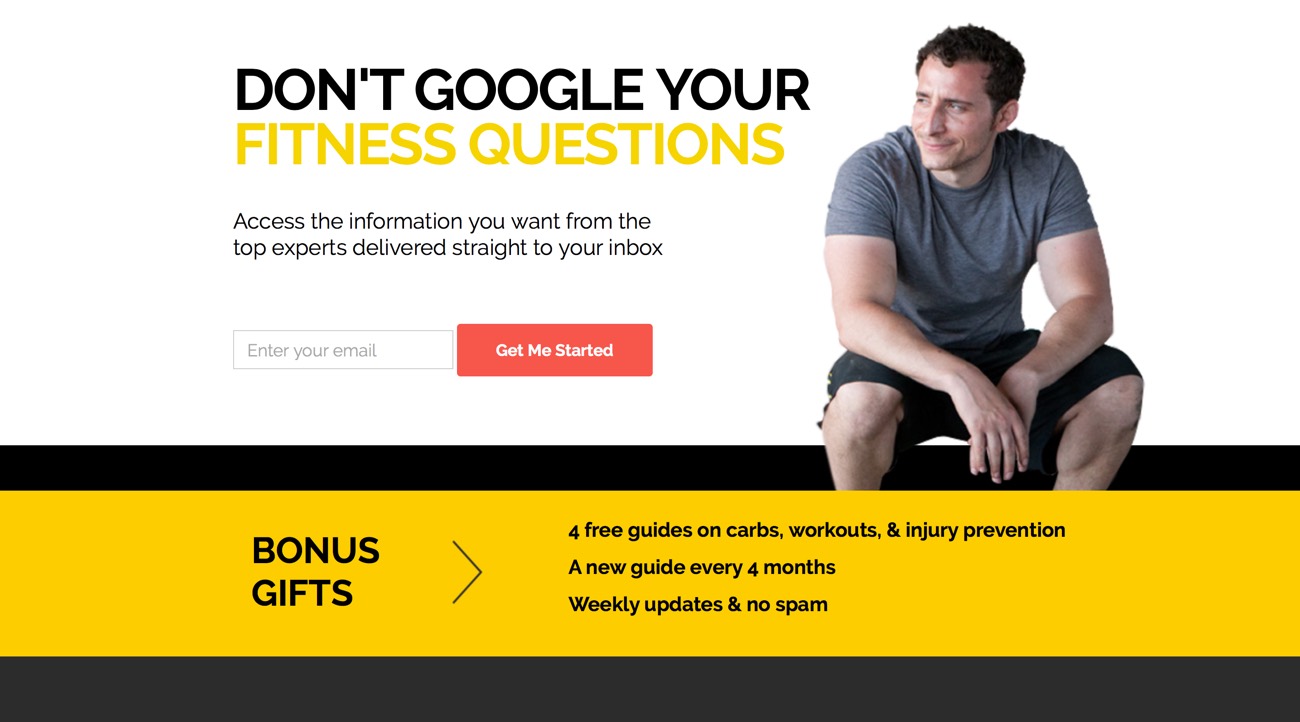 We're not here to block people from the information they want, so we figure if we can't convert them immediately with the welcome gate then it's not worth repeatedly hitting them with the same message. Instead, we'll try to convert them in other ways once they engage with our content.
The call-to-action on the page is clear and so is the value being offered. You will notice four things right off the bat:
1. The opt-in is above the fold
We are not saying that the opt-in always needs to be above the fold, but rather through our testing we found that the average user scrolled 53% of this page.
Therefore, if you were to put the opt-in at the bottom of the page about half of the people who come to your site will never see it. Want to know how much people are interacting with your page? Try tools such as SumoMe or Crazy Egg.
2. The value is clear
We highlight what you receive after signing up for our email list. There's no need to get fancy here. Just explain in simple terms why someone should give you their email.
Benefits, benefits, benefits. That's the name of the game. This is a trade, so make it clear what the visitor will receive and why they should want it. Sure, you want a big list, but you also want a quality list. We highlight what you receive after signing up for our email list. There's no need to get fancy here. Just explain in simple terms why someone should give you their email.
3. The power of social proof
After adding both testimonials and media brands where Born Fitness has been featured we saw a 22% increase in conversion rate on the page. People need to know that this is a trustworthy source that they feel safe providing their email to.
If you got it, flaunt it. That's what we've found. We tested an opt in + value proposition vs. opt in + value proposition + social proof, and we found a clear winner. After adding testimonials and media brands where Born Fitness has been featured, we saw a 22% increase in conversion rate on the page. People still get that extra comfort when they know your site trustworthy source.
Note: Check out my guide on how to ask for testimonials.
4. No navigation on desktop
Remember how we mentioned focus? The last thing you want is someone being distracted by other areas of your website. Once the user scrolls down on the page, they then have the opportunity to navigate elsewhere. So your job is to keep them focused on what you want them doing on the page.
Right now, we're seeing over an 8% conversion on this page and we're not settling there. We continue to test and iterate.
The Scroll Box
Currently, we are giving away our most popular selling eBook of all-time via a scroll box.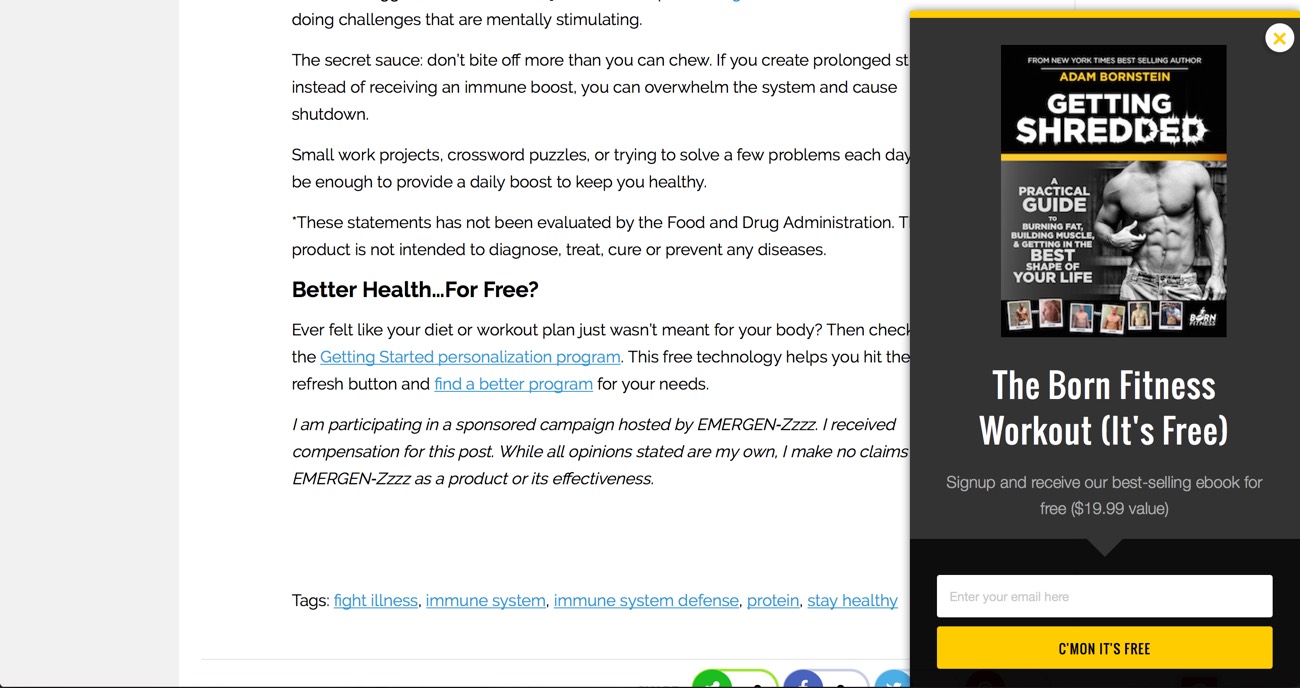 We consider this our lead magnet. For those not familiar, a lead magnet is "an irresistible bribe offering a specific chunk of value to a prospect in exchange for their contact information."
The problem now is everyone is offering an eBook. For example, you go to Blog Tyrants homepage and what do you see?
So the real question isn't what to do but how do you differentiate yourself from everyone?
I'll break it down into 3 steps:
1. Don't guess, know what your audience really wants
For this current example, we took an eBook that was generating a few hundred dollars a week and decided to give it to people for free. We're not suggesting that everyone take this approach, but we were well aware that there was a high demand for the eBook.
So you may be asking what if I don't already have an eBook? If that's the case I highly recommend you read this article by Neil Patel. It highlights how to come up with a great lead magnet.
2. Test your copy
I can't say this enough. Always test different ways of how you deliver the value of your product, service or ebook for this example. Even test the way the copy is arranged (list form vs. paragraph). For example we tested two variations below:
A. The Born Fitness Fat Loss Workout (Free 4-Week Plan)
B. Free 4-Week Workout Plan
We saw a 54% increase in conversions in version A compared to B with a 100% statistical significance.
3. Make sure your offer is mobile optimized
As mobile usage continues to rise and overtake desktop users it's imperative that your site and opt-in be mobile friendly. For our scroll box, we specifically have two variations: mobile and desktop. The reason being our desktop opt-in has a much larger image than our mobile variation. When we created two different variations we saw a conversion increase of 43%.
(Note from Ramsay: here's a post about how you can set these things up on your blog.)
Bonus Tip: You may not realize this, but your eBook may be getting found on Google for free by your website visitors. As a result, your conversion may be suffering due to a simple mistake.
Here's what I mean. If you keep your eBook on a thank you page or upload it you may accidentally be having Google index the page without knowing. When Google indexes a page it will then show up in SERP's. If your audience is savvy they can use a search feature such as "site:blogtyrant.com eBook". (Note from Ramsay: I've since fixed this!)
If the page is indexed and the URL has the word eBook in it, they will be able to find it without ever giving you their email address. Yes, most people don't suck, but it's always better to protect yourself.
So how do you do this? Simple. If you have WP site download the Yoast SEO plugin. Activate the plugin.Then on any pages or posts you will find this module at the bottom. Under Meta Robots Index select "noindex". Problem solved.
What one tip could you apply to your blog?
Big thanks to the guys over at Born Fitness and Born Fitness Consulting for agreeing to share some secrets with us today. I really appreciate it.
I'd really love to know what one single tip you could apply to your own blog. And please let me know if you like this concept of analyzing individual blogs and websites because I've got a lot more in my bookmarks ready to go.
Please leave a comment and let's have a chat!
Top photo © Adrenalinapura