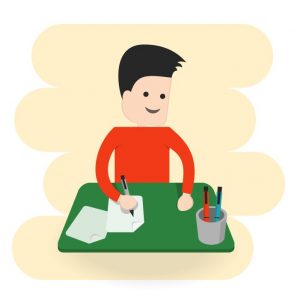 Your blog's homepage is actually not the first place that most visitors land. Generally speaking they'll hit an individual post and then navigate back to the front. When they do that you have a unique opportunity to convert them to a subscriber or a customer.
Blogs and websites are getting more and more beautiful.
Traffic analytics and split testing tools are making it easier and easier to see what works.
So, what are the web's best blogs doing on their homepages? What design, marketing and functionality elements are working best to convert new visitors into email subscribers or long term readers?
Let's take a look.
Does a beautiful homepage mean it'll work well?
Something that I have always found interesting (and a bit annoying!) is that an ugly website often converts extremely well while the more beautiful designs falter.
Of course, this is not a rule, but it does seem to happen occasionally and can provide some interesting insights.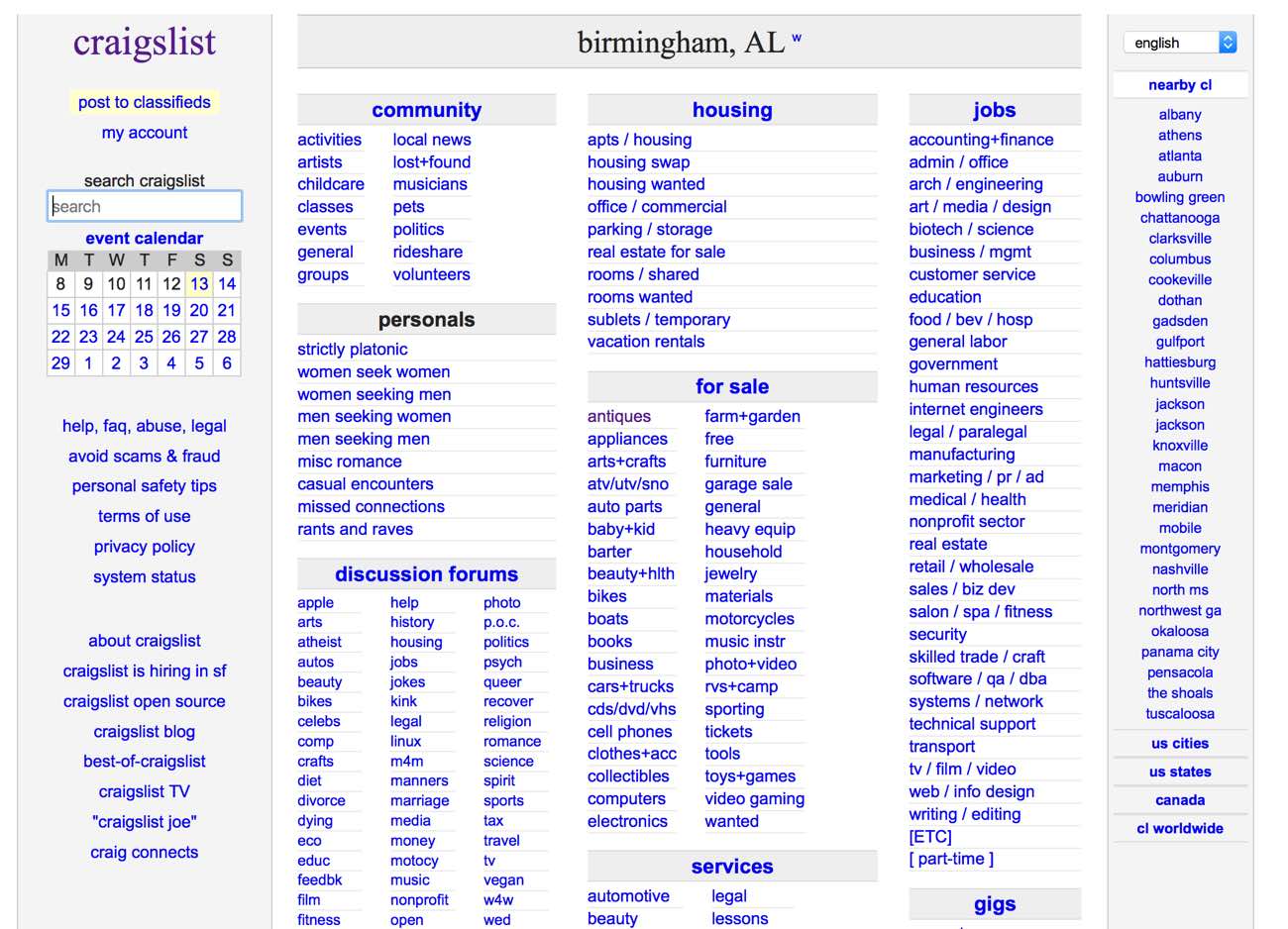 One example that I always think about is Craigslist. As you can see, it's a bunch of blue links arranged in a way that looks like it is right out of 1999. But it works and, as we all know, Craigslist is one of the most successful websites on the net.
This balance between ugly and beautiful design is something I'll be touching on a bit more below when we get to a contribution from ViperChill who noticed the same thing with his own experiments. But something to remember throughout this post is that you don't necessarily have to have the most stunning, modern homepage in the world in order to make it successful.
The beautiful homepages we're studying today
Now let's dive in and take a look at some homepages from around the web.
I'm picking just a handful of homepages that I know convert extremely well in order to extract the lessons that we can apply to our own blogs.
Please note that I won't be including the actual numbers in this article out of respect for the people who have contributed. Everyone has shared numbers with me, but I didn't really want it to become a comparison competition as that would take away from the message.
1. NeilPatel.com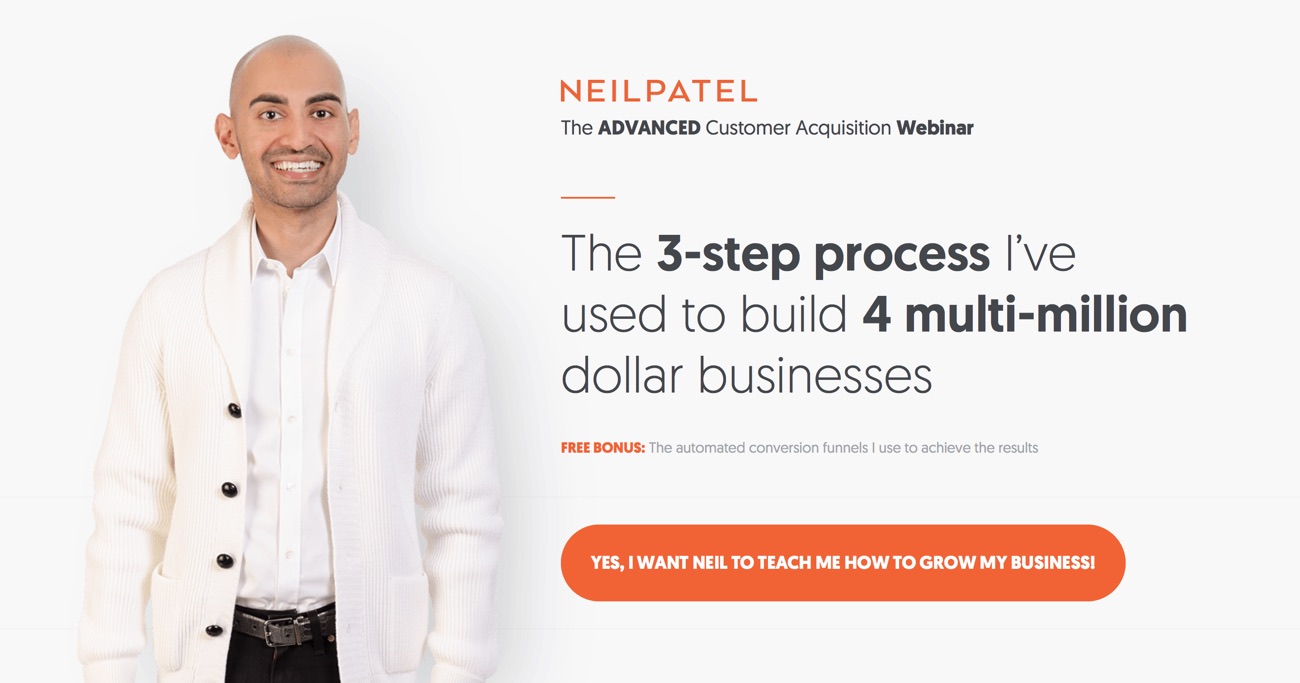 Neil is constantly changing his blogs and websites in order to improve conversions or make different offerings available to readers. This current version is one of the highest converting blog homepages that I've ever seen – especially for an opt-in field that requires a phone number.
2. ChrisDucker.com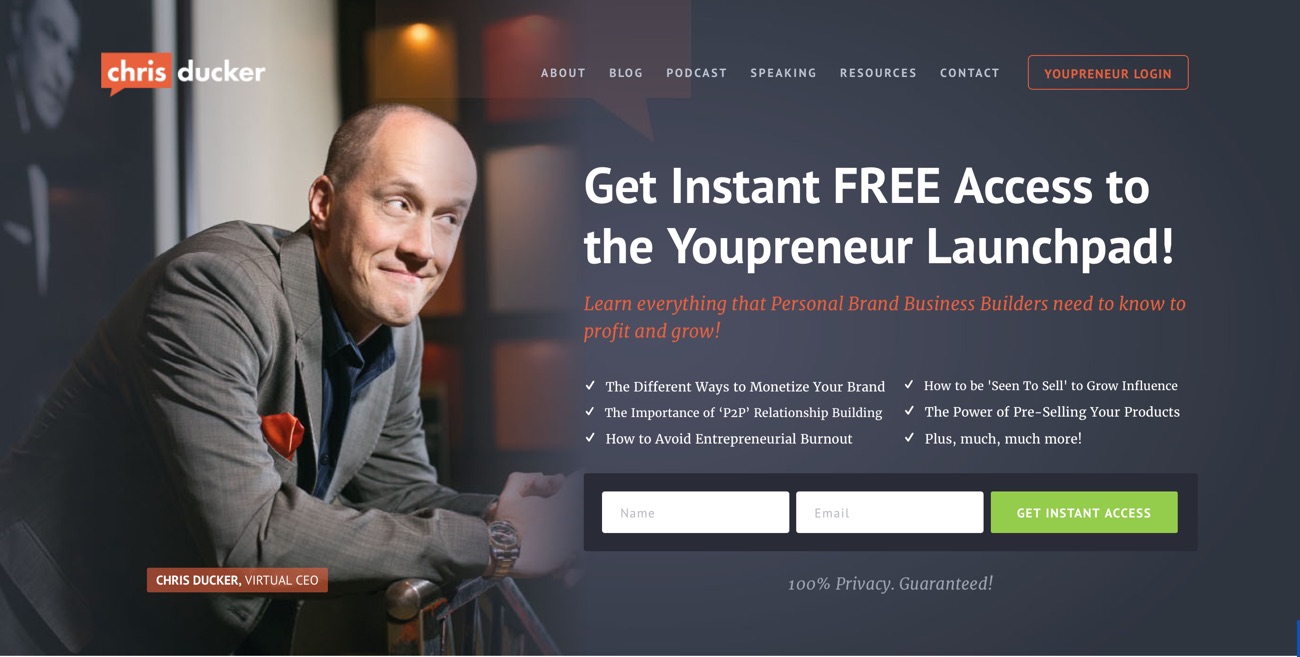 Chris recently switched platforms and with it came a brilliant new design. This homepage is converting extremely well, and a lot of it comes down to the strategic photo where we see Chris looking (literally) over towards his email opt-in form. We'll talk more about this later.
3. MarketingInc.com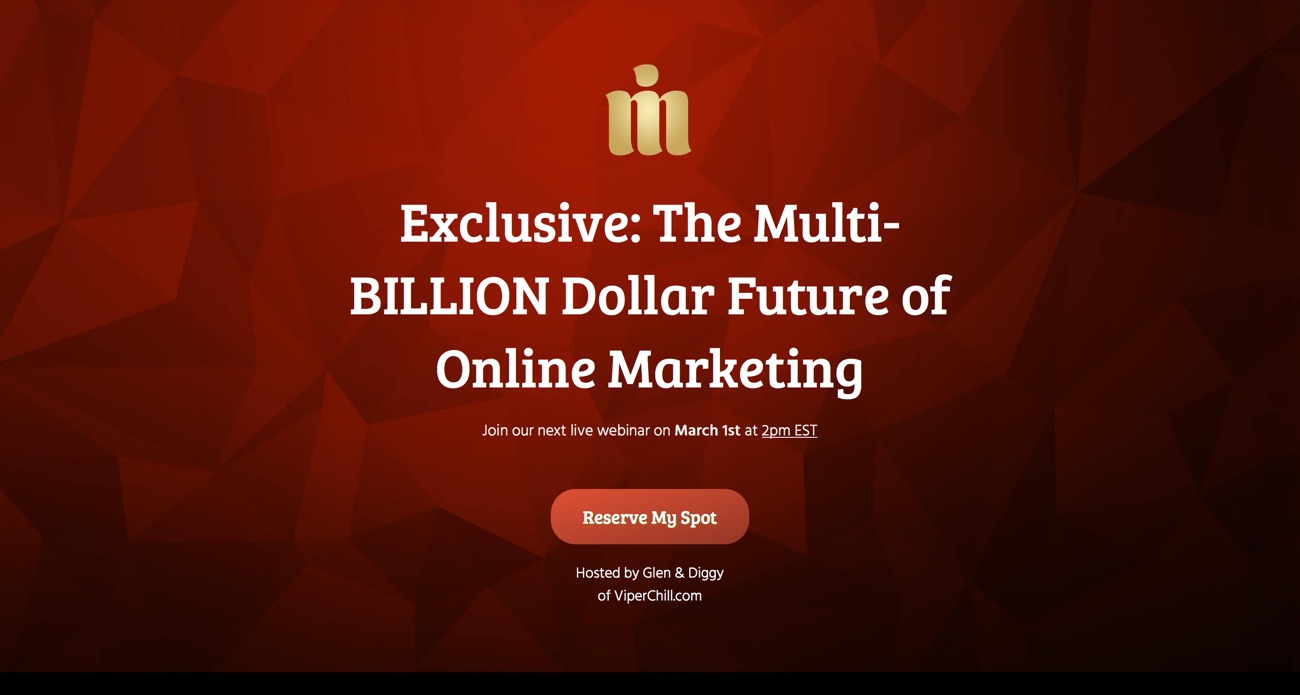 This is a side project by Glen and Diggy (best known for ViperChill) and is a good example of a conversion rate that was negatively impacted by making it more "beautiful". Glen told me via email that the page converts at a whopping 45% – 64% depending on how it's arranged. He's noticed that the page converts much higher if it's just a white background with no scroll and a single opt-in form – the kind we see on so many affiliate products.
4. Bodybuilding.com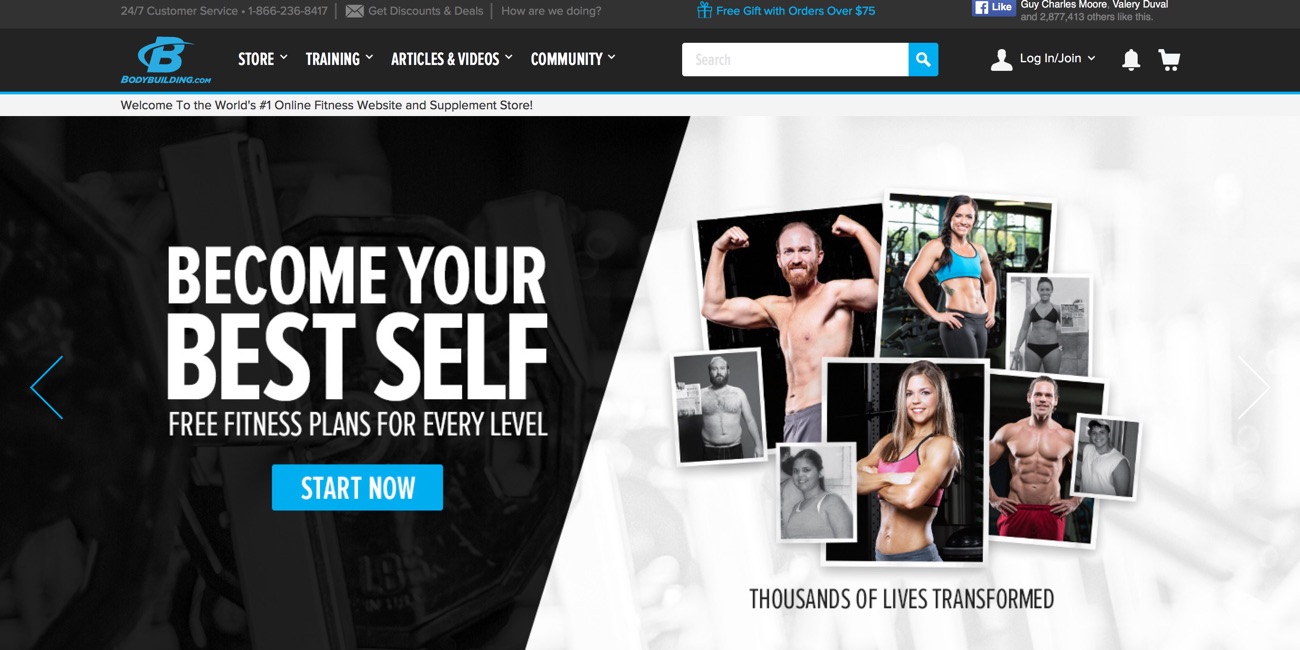 I remember visiting this website when I was obsessed with weight lifting back in the early 2000's. That's how well established it is. And their current homepage is optimized so tightly that it serves as a beautiful lesson for what can be done with social proof in particular.
5. WPMU DEV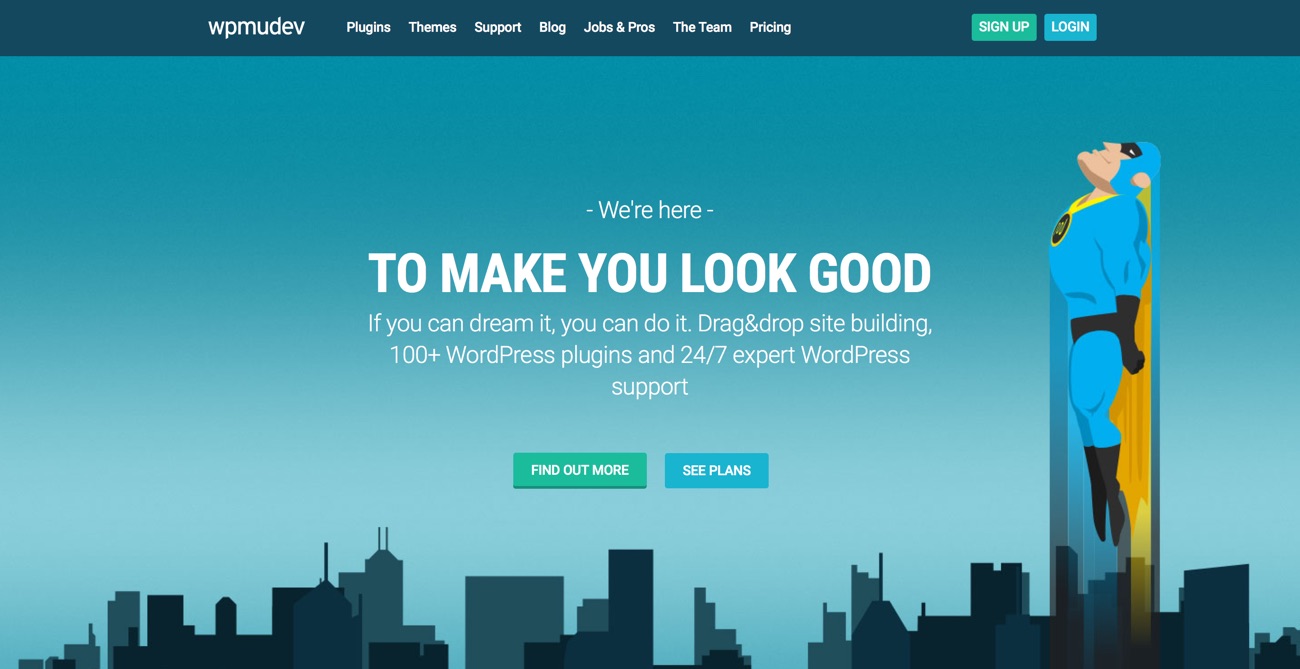 WPMU DEV is a website that develops their own WordPress plugins, themes, etc. and does it with one of the coolest brands you'll ever see. The homepage is finely optimized for promoting these products and we'll talk below about some things they do to ensure readers are delving deeper into their site.
6. AWeber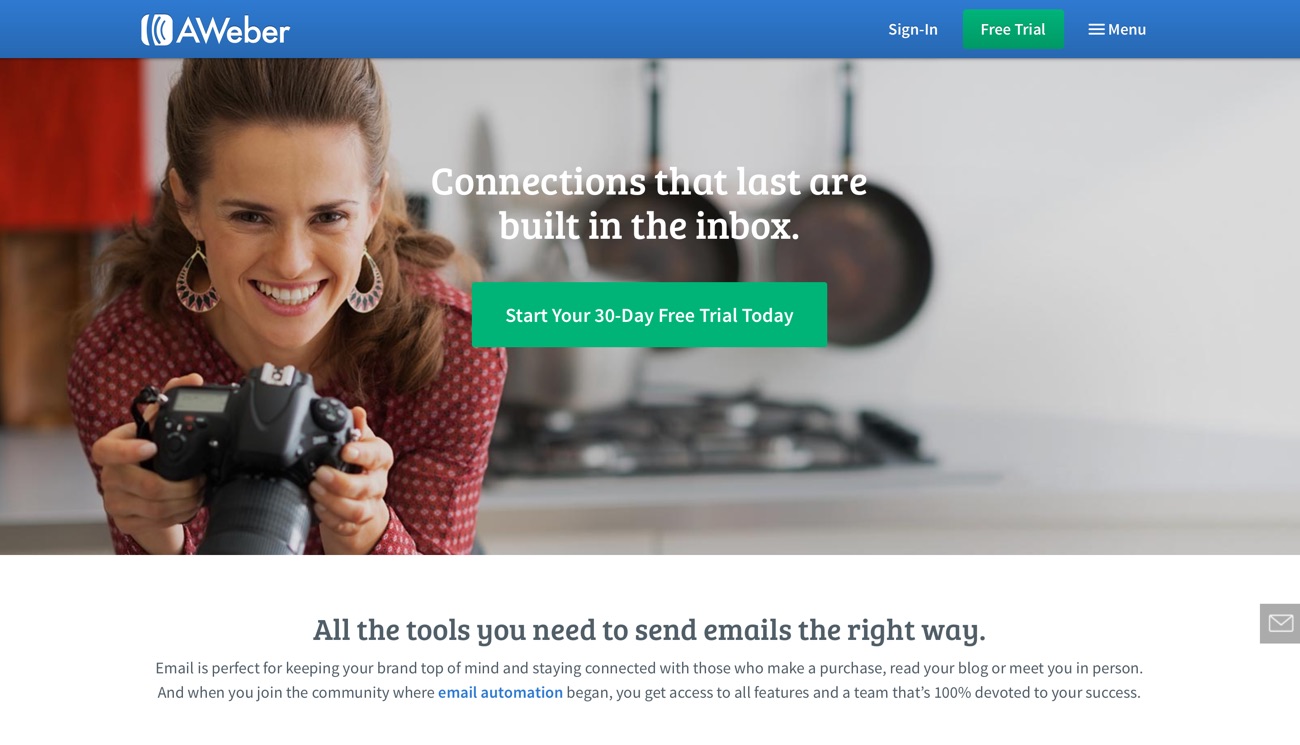 AWeber recently changed their design and with that saw massive increases in conversions. The numbers they shared with me via email are actually quite staggering, and it's really impressive to see how they've managed to make a beautiful homepage design that actually works in terms of the numbers.
10 lessons we can learn from these homepages
Here's a few takeaways from these beautiful homepages.
Remember, a lot of these features and functions can be achieved with the right WordPress plugin, or just a little bit of code from your designer. It's amazing what can be achieved with WordPress and a few tweaks!
If you plan on applying any of these techniques to your own homepage I encourage you to test the changes you make to ensure that they are a positive impact. Remember, what works for one blog might have disastrous effects on another.
How do I build such a beautiful homepage?
If you've made it this far you might be feeling a little bit of "homepage envy" – that's okay.
When you first start blogging (or have been blogging for a long time!) it can be easy to get stuck on one theme simply because it's what you're used to.
But there's no point in that – the longer you stick to something outdated the longer you miss out on growing your mailing list, engaging readers and building a successful website.
You have three options:
Redesign your homepage and get it coded up
If you are good at design you can design a new homepage and then hire an expert WordPress coder like these guys to code it up for you. I don't recommend this option unless you are very sure you know what to include on the homepage in order to get the best results.
Hire a designer
There are literally thousands of web designers out there who specialize in WordPress and can create some pretty magical homepages. A full custom design might cost you several thousand dollars but getting a new homepage done up might just be a few hundred – especially if you can go to a cheaper coder for the technical side of it.
Buy a new theme
The last option is the simplest and the cheapest and, to be honest, will probably bring you the best results. There are some incredibly good WordPress themes out there now and a lot of theme devote a lot of time to getting the homepages as beautiful as possible because that seems to be what sells.
I want to finish off this article by giving you examples of two WordPress themes/WordPress frameworks that are both beautiful and easy to customize for your conversion needs. These are pretty safe options if you are looking to switch over.
StudioPress themes on the Genesis framework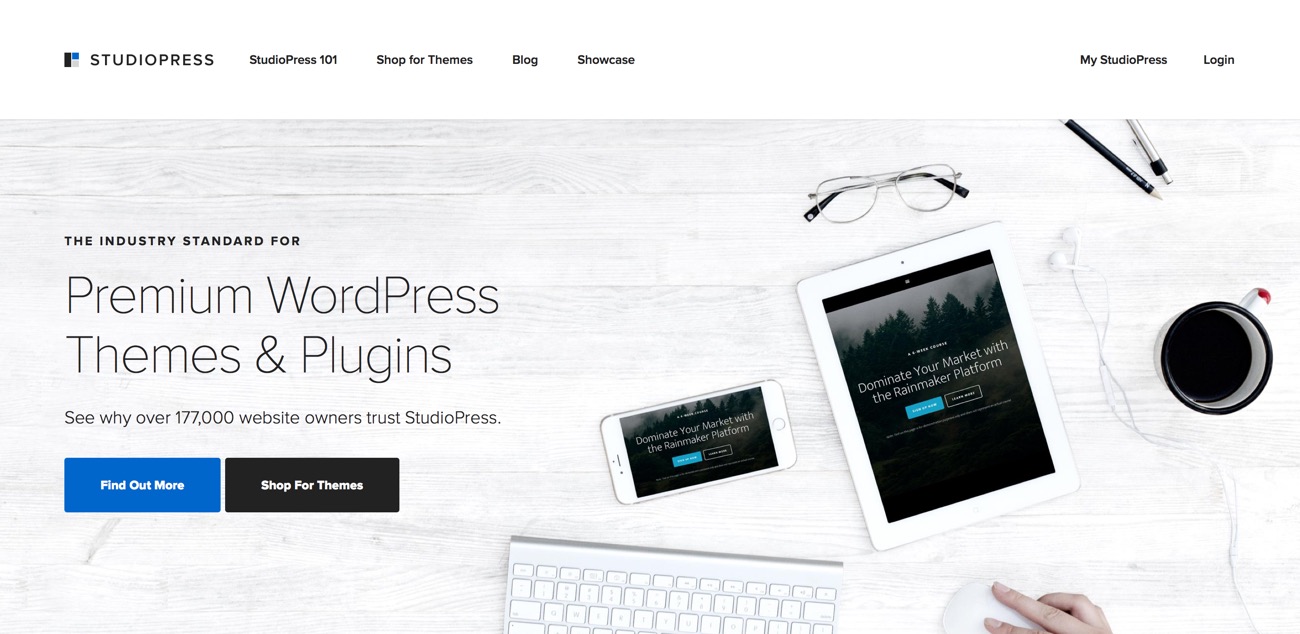 StudioPress and Genesis are two brilliant offerings brought to you by the fantastic but annoying jerks over at Copyblogger. In just a few short years these themes and the Genesis framework have become the go-to standard for WordPress – the quality is unbelievable and many of the themes are stunning to look at.
One of the thing I love about this stuff is that you know it is going to work because it is brought to you by guys and gals who really "get" internet marketing and how websites should work.
Getting used to the way they operate takes a little bit of time to master but it is well worth it in the end. I know at least one of the homepage examples in the six above uses this platform to great success. I highly recommend it and please note that this is not an affiliate link.
Avada themes from Theme Fusion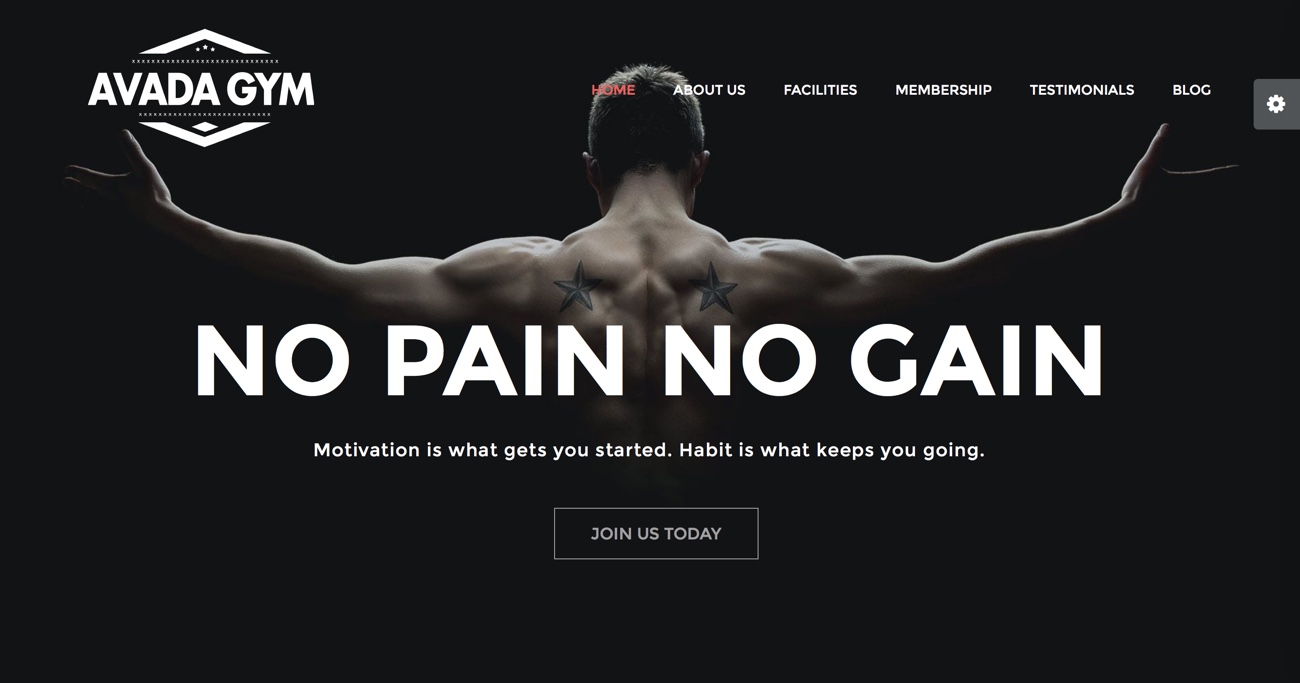 I have worked with Avada on a side project for a while now and the one thing it is absolutely fantastic for is the seemingly limitless customization options that you can choose from.
Again, it's a little bit of a learning curve to get used to how they let you make changes within WordPress, but once you get used to it you'll find it quite simple to navigate.
These are gorgeous themes and have a big emphasis on white space and big photos – which we know can be really important for conversions and building a comprehensive blog.
How is your homepage looking and converting?
I'd really love to know what you think about your blog's homepage. Is it converting well? Are you happy with how it looks? Please leave a comment and let me know.
Next week I'll be publishing a post that goes into some really huge detail about one website in particular that is absolutely killing it with their conversion strategy. Make sure you've subscribed to the mailing list so you don't miss out.