If you want to succeed at blogging you need to increase your output. It doesn't have to be a lot of posts per say, but you do have to hit certain levels of work production.
And blogging is not just writing posts. It is researching keywords and topics, editing, tweeting, commenting and so on. There are a lot of things to get to.
In this post I'm going to talk about a few strategies I have used over the years to skyrocket my blogging output. Some of these tips helped me to sell a blog for $20,000 in the first year.
The financial reward of increasing your output
Many many years ago I heard Darren Rowse say that when he was first giving professional blogging a try he would write between 15 and 30 posts in a day. One day! That is an enormous level of output.
And it got me thinking about all the people who say they have tried everything but only put up one 500 word post per week. And here is Darren doing 30 a day! The results of this effort a clear – Darren now has the biggest site in the world for the blogging niche and the biggest site in the world for digital photographers. And he's rich.
Whatever it is you want to achieve in life you will have to increase your output at some stage. You can do it in several different ways but, in the end, there is no escaping the need to escalate what it is that you do.
How to skyrocket your blogging output
Here are some strategies I have used myself or seen other successful bloggers using over the years. Not all of them will resonate with you and as such its important to find out what works and what doesn't.
1. Write when you are in the zone
When you are in the writing zone you should pump out as many posts as you can, even if you stay up til 3am in the morning.
Why? Because it gets really really hard to find the zone as you go on in your career. Moments of literary inspiration become harder and harder to find and so when you finally find yourself there you should go totally crazy and create as much content as your brain will allow.
2. Write when you can't find the zone
The second part is to learn to write when you aren't feeling it. This is the disciplined part that Darren obviously found a way around. There is no way you can stay motivated for 30 posts a day – you just have to force yourself to do it. And if you can write when its tough, you will have no troubles when the ideas are flowing.
3. Outsource as soon as possible
Unless you write for a niche that is personal and intimate you should be outsourcing blogging work as soon as you can. This is the best way to maximize the amount of work that you can produce.
So how does outsourcing work? Quite simple really. You go on to a site like Elance and put up an add for an experienced blogger who has lots of past work to show you. You then pay them on a per word or per article basis to write about topics that you send them.
You'll need to know:
how much to pay them per word for the quality of writing they produce?
how often you want them to write?
what you want them to write about?
how is the content going to be delivered, reviewed and published?
what keyword density and length do you want the articles?
Putting a certain amount of your income towards hiring writers is an extremely good idea, especially if you want your new blog to become big and influential in a hurry.
4. Learn to break your niche down into micro topics
This is something I discovered a long time ago and actually does really well with both regular human readers and search engine spiders. One of the ways I produced more content was by learning to break things down into smaller micro topics. Here's how it works.
Let's say you have a blog about horse riding. Most of your long and detailed posts are about things directly related to horse riding itself. But for the smaller posts you can start to explore sub topics like the horses eyes and teeth health, reviews of horse riding products, the best places for horse riding, etc. You can then break it down further and have other posts about the biology of a horses eye and how the nutrition works, interviews and so on with people who make horse riding products, etc.
This post, for example, could be broken down into several smaller posts – each point in this list could warrant its own explanation in post format.
5. Write ideas on paper
Paper still works best for me when it comes to planning and recording ideas. I have a little pad that I keep on my desk and whenever I have even the vaguest idea for a post I write it down. In just a week you can come up with a whole year's worth of blog post ideas or ideas for new blogs and ventures.
When doing this you have to make sure you write down everything you think of and straight away. These unformulated ideas often get forgotten and often times a really weak thought turns in to a really strong post.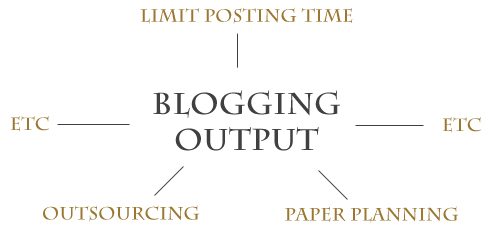 I like to draw the idea in the middle and then sub-ideas as branches shooting off from the center. This allows me to plan out the structure of a blog post or series in about 10 seconds flat. After that I just write.
6. Set your blog post writing time to 20 or 30 minutes per post
This little trick might seem counter productive at first but it really works. What you need to do is set your writing time to something short like 30 minutes. In that time you need to write a full blog post without going over at all.
The reason this is good is because it forces you to be efficient. It stops you from checking Facebook or Youtube and it teaches you to type fast and edit ideas as you go.
Most of the articles here on Blog Tyrant have been written in 20 to 40 minutes.
6. Screen ideas on Twitter
One thing I have noticed a lot of big bloggers do is screen an idea on Twitter before they do the post. This allows them to do two things:
Test the popularity
By talking about it beforehand they can get a reading on how strong the reception is going to be.
Develop and find new ideas
By talking to other people who do what you do you can often get new ideas for your post. For example, if I was to post a Tweet saying, "Tell me the one thing that makes your blogging output skyrocket" I would get some really good suggestions, many of which I might have forgotten or not known.
You have to do this skillfully, however, as you might end up giving too much away or over killing the subject matter by the time your post comes out.
What do you do?
As always, I would really love to hear from you in the comments section. Tell me what strategies help to boost your blogging output and whether or not you constantly stick to them and as such see a difference in your earnings. I am very interested to hear what the Blog Tyrant community does to boost productivity.