This post is simply about developing a comment strategy that will grow your traffic, boost your number of subscribers and also get you better rankings on Google. Yep, that's right. All of that can be done by leaving some cleverly crafted comments. Here is how to do it.
NOTE – This post is entirely white hat and Google friendly. I never buy backlinks or use paid comment services and don't encourage my readers to do it either. Relevant and useful comments that add value are the only thing I will advocate.
Some advice about sexy comments
Before I get into the actual strategy elements of this post I want to talk about the comments that you leave on people's blogs and websites. They need to be sexy. And I do not mean sexy like dance around a pole or wear some nice lingerie sexy, I mean they need to be interesting, involved and personal. Please do not waste time leaving comments on people's blogs saying things like "hey, nice post" or "this is a really good article". Read the article (or a part of it) and leave a comment that is either adding something to the discussion, criticizing (nicely) the ideas of the post or saying something else that someone will find useful.
Why do all this? Here's why:
It helps you get your comment approved
Unless a comment adds some value to the blog post and to my reader's experience I don't even publish it. If your comment gets approved it means you said something that I thought was pretty cool. If you just add a banal compliment then chances are a lot of blogs won't publish and you will waste time.
You are branding your business
Remember this post I wrote about choosing a domain name? In it I talked about branding and how everything that you do affects the way people perceive your blog. If you leave good comments people will be more likely to click through to your site and the blog owner will be more likely to link to you or reply which, in some cases, gets you a lot of traffic. Oh, and make sure you are signed up to Gravatar.com to get the little icon or photo.
Before you add a comment ask yourself whether it is sexy and whether it is a comment that you think other people will find interesting. If you don't do this then all the other stuff I am about to talk about will amount to next to nothing.
How to grow your traffic, subscribers and Google rankings with comments
photo credit: Boston Wolverine
Now I am going to get into the potato of the post (most people say meat but I'm trying to go vego). I was initially going to break down the strategies into three areas of traffic, subscribers and rankings but, to be honest, they are all so intertwined and interrelated it wouldn't work. What I have come up with is a complete strategy that you can use to grow all three things at once.
1. Understand the importance of anchor text
The very first thing you need to know is the important of anchor text. This is the text that people click on to use your link. For example, if I want to link to this post the words "this post" is the anchor text. What words you use is very important. Here's why:
Search engines and anchor text
A lot of SEO experts will tell you that the anchor text of backlinks is very important. For example, if your blog is about cat collars and you want to rank on Google for the term "cat collars" you will find that links with anchor text about cat collars are more valuable than links like the "this post" one that I used above. Now, remember that all comments are backlinks so you should use an anchor text that it relevant for the keywords that you want to rank for. But more about that later.
Branding and anchor text
Sometimes SEO isn't the issue. Sometimes you want to interact with a community of experts or you might want the owner of the blog to pay attention to your comments. For example, if I wanted Brian Clark from Copyblogger to notice me in his comment areas I wouldn't use keyword targeted anchor text, I would use Blog Tyrant. Why? Because he is seeing the name of my blog over and over again and, hopefully, sooner or later he will visit it or pay attention.
If you are trying to get better Google rankings you want to use relevant keywords to the searches that people are going to make. If you are trying to brand your blog or raise awareness you want to use the name of your blog or your own personal name so people start to see you around the place.
2. Understand the importance of the link you leave
The next thing that is really important is to look at the link you are leaving. Most people just enter the root domain name for their website when they comment. If I look through the thousands of comments that I get on my blogs I find that close to 100% of them are just http://somewebsite.com. But, if you were clever, you might start using something different.
Let's say you visited my post on selling a blog and wanted to leave a comment about a post that you had written on a similar matter. Let's say you had done a post called How to Prepare Your Blog for a Sale. Instead of just putting your root domain why not link directly to the post (so your link would be http://somewebsite.com/how-to-prepare-your-blog-for-a-sale/)? If you are leaving the comment for SEO purposes then you might also want to match the anchor text with the post and put something like preparing for a blog sale.
That post I wrote on selling a blog has had literally tens of thousands of visitors this month. The comments that are left on that post would get some traffic so it is important that you send people to a relevant post, something that they are interested in. This is like targeted advertising. If you just send them to your homepage there is a good chance they won't find anything relevant.
3. Get relevant pal
The next thing that we need to talk about is relevance. This is closely related to the first two points. When you leave a comment on a blog you need to make sure that you are doing a few things related to relevance.
Commenting on a relevant niche
Leaving comments on unrelated niches is largely a waste of time. You want to make sure the blogs you leave comments on are related to your own website, the more specific the better.
Commenting on relevant articles
I'll take it one step further and say that you should also comment on relevant articles. So if you want to get make the most of the backlink you are getting in terms of both SEO and brand equity you want to leave relevant comments with relevant anchor text and backlinks on the related posts. For example, if your website is about lower abs exercises you want to find fitness websites or specifically abdominal training websites and then comment on the articles about lower abs with the related links. These are the best comment backlinks.
Now there are a lot of SEO experts out there who might flame me for saying that these are the best comment backlinks as a large number of them consider that blog posts with the highest Page Rank are the best. But in my experience it is the relevant back links that help my blogs the most.
4. Learn how to find the best blog posts to comment on
One of the hardest things about developing a good commenting strategy is finding the right blogs to comment on. Even harder than that is finding the right posts within those blogs to comment on. If you want to develop a truly killer comments strategy you need some tools and methods to help you get the right ones.
The first thing you need to do is visit sites like Digg, Delicious, Reddit and Technorati and find the best blogs in your niche. Quite often you can refine your search by topic and once you've done that you will be able to find some outstanding websites that publish very high quality content. Remember, the better the post you comment on the more valuable your comment will become over time. Add all of these blogs to a folder in your bookmarks called "Authority Comment Blogs" or something like that. You should also subscribe to their feed because you want to know when they publish. More about that later.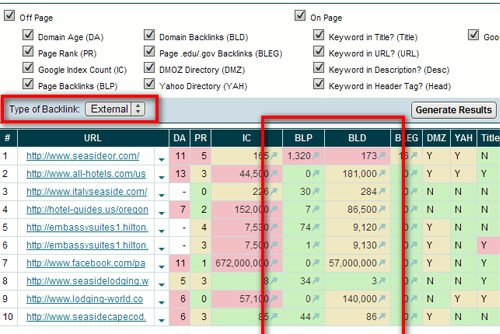 The above image is a screenshot from the tool called Market Samurai. If you haven't got it yet I highly recommend you do. Basically it allows you to do a whole lot of research into your website niche by looking at the competition and how many back links they have, where they get those links from and so on. You can also research keywords, domain names and a whole host of other things. Seriously, get it.
There are lots of tutorials and posts on how to use Market Samuarai effectively so I am not going to re-hash it all again here. Basically what I want you to realize is that the amount of data that you can find on this tool in 5 minutes is equivalent to months of manual searching on Google. It has changed the way I do a lot of my blog research.
What you want to do is look at the keywords that you want to rank for on Google and run a search on the competition. Find out where they get their links and then go and see if any of them come from comments. A lot of the time they do. Bookmark those sites and the posts with the relevant terms. You can even find which ones have the highest page rank for all your PR junkies out there.
5. Make time to comment
Once you have used the social media sites and Market Samurai to find some amazing places to leave comments you want to set aside time for commenting. You actually need to do two things in this respect:
Comment ASAP
The first thing you need to do is figure out when these guys post new articles. For example, Darren Rowse usually posts articles on Problogger around 11.30pm my time. If I visit the site then I know I can get a comment in as one of the first few people. This is important because it is the comments that most people see, including the owner of the blog.
Comment each week
Set aside an hour or two each week, or 20 minutes a day, to go to all of these website and blogs and leave helpful and useful comments. If you do it in a systematic way like this you will slowly start to get some excellent trickle down traffic and relevant backlinks.
One bonus about making time to comment is that you often find that you come accross some really useful articles in your travels. Sometimes I have found some real gems while I was there just to add a comment or two.
6. Remember forums
Last night when I was writing this very paragraph Glen from Viper Chill posted an article about how to rank on Google and in that article he talked about forum links. In it he said:
Some people laughed at me when I said that low-quality directory submissions and tools like Bookmarking demon still help me rank very highly in Google. However, the only reason I say that is because they really work. As proven here, spamming forums and membership sites are helping people rank in very profitable industries. I think this is a real shame because there are sites which deserve to rank above these, but the Google algorithm is still very easy to manipulate.
Now, I really don't agree with spamming forums because I think it is unethical. Personally, I do not do anything online if I know it is going to upset or annoy someone, the same as if I was operating offline in a store or something. I think sometimes people forget that.
That being said, you can use this information to your advantage by creating another bookmarks area for forums. Over time you need to build up a list of forums where you can interact as an expert and add links in a really beneficial way. For example, you could write a thread about some helpful topic and use a link to your website so people can find more information. This also works on the traffic front because the forum members will visit your site and subscribe to your RSS if you are offering relevant information.
One little trick of the trade is to remember to add a link in your forum profile. A lot of these forums pass page rank in this area so those links can be worth quite a lot to your blog if you manage to find the right places.
Conclusion
Commenting on other blogs and websites is a fantastic way to grow your traffic, subscribers and Google rankings if you do it in a clever and methodical way. Don't spam, keep it relevant and add something useful and you will find that your online profile grows as your position on the search engines does.
Does anyone have any other helpful commenting strategies? Have you ever had something nice happen from leaving a comment on a blog? Leave a comment on this one, you never know what might happen.