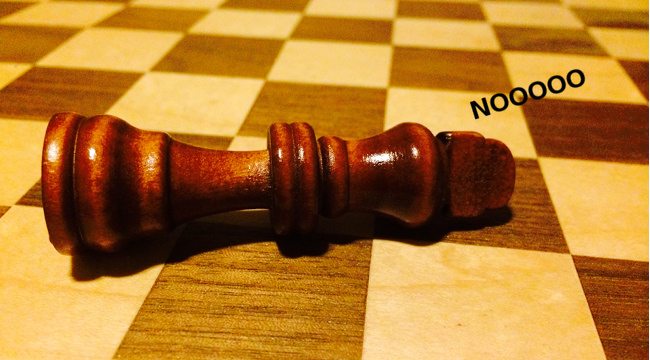 Last Updated August 23rd, 2017
We've heard it a thousand times: content is king.
This is the mantra the biggest marketing blogs (including this one) have been telling us for years.
But it's simply not true.
Or to be more accurate, it's not the whole story.
In this post I'm going to talk about why my thoughts on this have changed, and why I think it's time this blogging myth disappeared forever – it is holding a lot of people back.
Myself included.
Why it's okay to change your mind
Any time I write a controversial post – Why I Hate Copyblogger, Why You Shouldn't Read Blogs, etc. – I get a few people who miss the point or just don't appreciate the negative title.
That's normal. I understand.
But in a post like this one where I am kind of going against something I've said in previous articles I feel I need to preempt some criticism by saying that I think it's okay to change your mind.
Things change.
New information comes to light.
Your ideas and personality grow and develop.
What is really scary to me is when someone isn't open to changing their mind. Good science, business, etc. is all about growing and developing and getting better. And so I feel okay about holding a different position after considering new information.
Why content was king
Let's first take a look at the back story.
For a long time the big honchos have been saying that content is king.
The idea is that you need incredibly brilliant content to succeed in online marketing (blogging specifically) and that if you don't you won't be able to cut through or maintain a long term business.
That is mostly true.
But it is only part of the story and, taken at face value, it can really give a lot of new bloggers the wrong idea about how to get ahead. Especially as the web and web marketing space continues to change and deviate from old practices.
Now, let me say that it is not the aforementioned internet heroes' fault that people get the wrong idea. The misconception usually comes about because people don't read the full text that accompanies the phrase "content is king" when it is mentioned.
I want to talk about that misconception as well as some new developments taking place online.
Why content is not king
So, why is content not the king that we all thought? And is something else taking its place as the thing that we should all be focusing on?
1. Brilliant content is not enough, ever
People like James Chartrand and Derek Halpern have been saying this for a long time.
Good content is not enough because everyone has good content.
You also need to promote it.
The number of emails I get from people complaining that their epic content is not getting noticed is quite amazing. It's a problem that bloggers have been having since the beginning of time.
And so when new bloggers (and old bloggers, for that matter) hear experts telling them that content is king they often make the mistake of thinking that's all they need to do to succeed.
Sadly, no.
Brilliant content is never enough.
You also need to know how to get that content out there, reach new audiences and then make sure the traffic that you do get converts into a subscriber or customer. And that is a massively different set of skills.
2. After the content and promotion happens, then what?
The next thing that a lot of bloggers seem to miss is the overall strategy that a good piece of royal content should be part of.
Let's say you write a massive link-bait article that takes you a week to research and put together. It's amazing. And then let's say you use Facebook Ads to promote that content and you start to get a lot of traffic coming to it.
Well, then what?
Almost no bloggers that I talk to have an idea about what happens next. You really need to have a plan in place for how you are going to capture email subscribers, sell a product, promote an affiliate product, etc.
That is called a funnel.
And it's something I am really interested in testing and developing.
3. Ordinary content succeeds in a big way
The other sad thing that we need to accept nowadays is that ordinary content is smashing it.
Take a look at these viral sharing sites that often just take stories off of the front page of Reddit and imgur, and then make huge amounts of money by crafting clever headlines and introductions and taking advantage of a Facebook algorithm that prefers that kind of content.
Now, I know some people love that content. And often the stories/videos are very uplifting and make you giggle for five seconds. And sometimes they do put a lot of research into the pulling ideas together. So I don't want to take anything away from them in that sense.
But they are certainly not 3,000+ word articles full of useful information and resources that we write that sometimes take a month to research and a week to write out.
These sites are making hundreds of thousands from Adsense ads. And so we need to accept that maybe good content is not even necessary in some niches. Catchy content is.
So what the heck do we do?
So what the heck do you do if content is no longer king?
Are we all wasting time writing these long-form articles that take us days to put together?
No.
Of course not.
But it really shouldn't be the only thing that you are doing.
It might not even need to be the main thing that you are doing.
But what takes its place?
Solid content strategies
Make sure you actually know what you want to achieve with your blog. Who are you targeting and what actions do you want them to take once they encounter your content? Without this it is really a bit wasteful to just produce good (but random) content.
Experimentation
One of the things I have learned as I spend more and more time in an online business is that experimentation really is the main thing that we do. The money that you make finances more experiments. It could be new promotional strategies, split testing, whatever. Keep testing to see what works because the environment we work in is constantly changing.
Collaboration
Two buddies got together about a year ago when they noticed some funny stuff happening with Google. They set up some experiments and decided to run with it. Now Glen and Diggy (from ViperChill) are making $75,000 a month from a brand new SEO business. They have a team working for them. Take a look at anything big that has happened in the last five years and it usually is a result of people getting together.
Of course, I'm not saying that we abandon the idea that good content is important.
It absolutely is.
But if you want to succeed in today's crowded marketplace you need to be doing other things as well.
Kings are a bit out of date anyway.
Do you agree?
I know this one is going to polarise a few people so I'd love to hear your thoughts on the matter. Do you agree with the "content is king" mantra or do you think it is now much more complicated than that? Leave a comment below and let me know.