We all want a huge mailing list. I'm guilty of it. Take a look around the archives of Blog Tyrant and you'll see all the references I make to building a huge list.
But, if I'm honest, a huge list is totally irrelevant unless the subscribers are engaged.
So what's more important? Building huge relationships.
In this post I want to take a look at why you need to get your list engaged and addicted to your content and give you some tips on how to do it.
Its not the size, its how you use it
Take a look at any of the big blogs around the web, Problogger, Viper Chill, Copyblogger, Shoemoney, etc., and most of the time they talk about how to grow your list. Very rarely do we hear them discuss how to grow an engaged list.
I've touched on it a few times here and in my post on why bloggers should use Aweber for their email marketing software but I've never really gone into much depth. I always sort of considered it a "given".
But its not.
Recently I've heard stories of bloggers building up 3,000 email subscribers in order to do a product launch and then having absolutely no success despite having a very sexy launch formula.
Why? Because their list doesn't give a crap about what they are doing.
A quick question for you
Okay so here is one way to think about it:
Would you prefer 10,000 subscribers that don't interact with you in any way or would you prefer 100 hyper-loyal subscribers that re-tweet everything you write and buy everything you sell?

I've rather the 100. You'll also find that 100 loyal subscribers will each bring you dozens of new subscribers.
Your readers are your best marketers. Make sure you take that in.
How to build relationships with your list
Now, building relationships with your mailing list is very similar to building relationships on your blog. They are the same readers after all. That being said, as the mailing list is already subscribed there are a few extra things that you can do with them that you can with the non-subscriber readers. And a lot of it is done with Aweber.
1. Offer exclusive content for your mailing list
One of the very important features that Aweber offers is Follow Up emails. These are pre-set emails that you write out and set to get sent to every subscribers automatically after a certain number of days.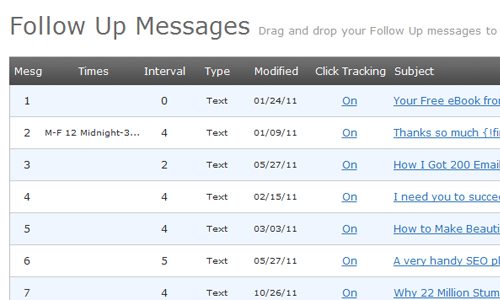 For example, after two days I have set my Follow Ups to send out a thank you note and then every 8 days I'll send out some exclusive content. Its all fully automated but because it works on the timeline of the individual user it all looks very personal.
You can even set it so that the follow ups arrive at a certain time of the day on certain days of the week. For example, you will find that Fridays have a very low opening rate.
2. Don't limit to written content
A lot of mailing lists just send out regular content. This is a bit of a mistake. If you can offer more than written content you will find that people get more engaged.
Let's take my list as an example again. If I find a goof plugin that I think will help people I will let them know about it. It's not just me writing to them again.
This is the extra stuff that the list allows you to do. I would never write one post on just one plugin because it would be too short and uninspiring. But you can send it out to the mailing list easily.
3. Let them know about events early
Part of a good product launch is letting your list know that something is coming up soon and that you should be excited. What most people forget is that you should do that with your list occasionally as well.
For example, if you have a really huge post coming up that you know is going to do well on the social media sites you might want to send out an email to your list letting them know it's coming and that they should get their comments in early.
It's not much but it makes a difference to some of your readers.
4. Send a few personal stories
One of the things I notice a few of the good lists do (Smart Passive Income, for example) is send occasional stories that have a really personal edge.
Getting personal with your list is really important for making it as loyal and responsive as possible. If people really know what is going on with you once in a while they will get more interested in what you have to say.
A good way is to just think of your list as a group of friends studying together. You're not really someone speaking down to them. That group mentality is important.
5. Keep it scarce but seductive
This might seem like a little bit of a contradiction but scarcity goes a long way to building relationships. You don't want to make your emails so infrequent that everyone forgets who you are, but you do want to stagger them so that people miss you a little bit.
This type of marketing is talked about a lot in dating circles – you don't want to give too much of yourself in the beginning because you might come off desperate. A little bit of mystery is good.
Whether that works in dating I don't know but it seems to do well on blogs.
6. Get your list to do things
Darren Rowse was really the pioneer of this in my opinion. Back in the day (many years ago) he used to get all his readers to write a blog post in a certain style and then he would give a back link to everyone's posts. We all generated traffic from it, got a link from Problogger and had a really good time. Super engaging. Here is an example.
A lot of people are afraid to ask their list to do something for them but this is a huge error. Your list, if they are warming up to you, will love to repay your kindness somehow. Just don't ask too much. Some ideas include:
Getting them to suggest ideas for a post or series
Asking for an occasional Tweet or Stumble
Asking for help finding a specific resource
Getting people involved setting up a webinar or Skype chat
etc.
Of course you don't want to do this all the time but the occasional request will actually solidify your relationship even more.
Is your list engaged?
I'd really like to know whether your email list is engaged and responsive. Have you done anything that really helped that engagement? On the flip side, have you ever done anything that caused a lot of people to unsubscribe? Please leave me a comment and let me know.