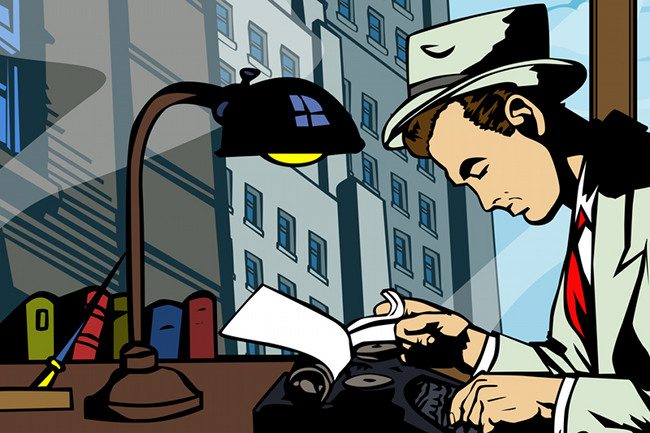 Wake up.
Drink coffee.
Fire up the computer and start typing words for today's brilliant blog post, piece of copywriting or landing page.
You're a writer, right?
Well, no.
Today I want to talk about why I think a lot of the people reading this might want to have a bit of a re-think about what it is that they do each day. I know it's been hugely important for my own blog's progress to ask some hard questions.
Let's do it.
What exactly do you do each day?
For the purpose of this post I'm going to assume that you have a website or blog.
And if that's the case it is probably true that your day includes some (or all of the following):
Business planning
Developing goals and ambitions for the future of your blog. Perhaps planning for future products, eBooks or friendly collaborations.
Social networking
I bet everyone reading this has a Twitter, Facebook and Google+ account – all that social media stuff out there. That means time posting, replying and reading.
SEO research and tinkering
If you've got a blog you'll want that blog to rank on Google, right? That means on-site and off-site SEO work. Reading about all the latest trends and mucking around with ideas.
Podcasting, graphic creation and videos
We all know how important different types of content is and many of us dabble in videos and graphics to try and tap into new markets like YouTube and Pinterest. Have you seen my podcast?
Mailing lists, conversion optimisation, security, etc.
The list goes on and on. These days writers are spending more time working on the things that contain their writing as opposed to actually writing.
If this sounds like you then I'd like to suggest that maybe you've got a problem.
A big one.
The vital task of finding your secret power
The longer I stick around in the blogging world the more often I see people go through a kind of evolution.
They start out with an awesome idea for a blog or business and then, in the process of turning that idea into a reality, they start to forget about why they started in the first place.
It's a really sad thing to see.
But the exciting flip side is that a lot of people find their way back.
And that is what this post is about.
Why you should be a writer
So let's get down to it.
If you are a virtual Wordsworth, write.
If you can translate unique ideas into brilliant articles like Seth Godin, write.
If you tell stories like Demian Farnworth, write.
That's what you are good at.
That's what you love to do.
The saddest thing is to take time away from your passion (and your secret power) to work on things like on-site SEO and blog design.
Leave that to the SEO geeks and the design nerds.
But if you are a design nerd then focus on that and get someone else to do your writing.
And that leads us to the next step.
Become a writer: eliminate other tasks
The ironic thing here is that these tips about becoming a writer are also the very same tips you give to someone who wants to become a successful online business owner.
The more time you spend on tasks you suck at, the less time you have to build the thing that you really want. – Click to Tweet.
And then what happens?
Your work suffers
If you don't have the time to hone your prose then you find it is a lot less engaging. People can tell when it's rushed or when that 1,500-word article probably should have gone for another 500 words and included a few more references.
Your business suffers
By spreading yourself too thin you find that you do nothing well. It's like the old saying: good at 100 things and master of none. The more tasks you try to cover the less of them you will really succeed at.
Your family suffers
This might seem a little existential but I've found it to be true. For a few years I moved away from my goals and focused on the wrong things. I was less happy at home, had low drive and a lot less passion for life.
So if you are really good at writing, and that's what you want to do with your days, then it's vital that you find a way to minimise the time you spend on the things that take you away from that.
Being brutally honest with yourself
A lot of people who are interested in writing have a really romantic notion about what it means to 'be a writer'.
Some people think it's long hours staring out a frosted window listening to the rain on the roof while you search for inspiration.
Others think it's a million-dollar book deal and years spent travelling the globe promoting your masterpiece.
Many might just want to have a blog that makes enough to pay the bills and put some kids through college.
But the truth is very different.
And the hardest part about that truth is realizing that writing might not be for you.
Some people are just not cut out for it.
When you're brought up (like many of us) to think that you can do anything if you just work hard enough, you might get a sad surprise after a lot of real struggling. Not everyone can do anything. It's just not realistic – as lovely as it sounds.
But if you're going to give writing a shot you should throw everything at it.
Think about all the natural talent that someone like LeBron James has – and I bet he still trains for eight hours a day.
That's exactly how we need to treat writing.
How to get better at being a writer
So how do we give ourselves a fighting chance when there are so many other things that need to get done?
While I'm not professing to be a writer, I do have some tips that have been useful to me in my quest to spend more time typing and less time fiddling around.
Once you've decided that it's writing that you want to do, I really think you need to give it an honest shot. And that means not only doing it regularly, but making sure your environment and work is set up to be as conducive as possible.
Are you a writer?
Are you a writer who is bogged down with myriad other tasks? Does it bother you and interfere with your day? Or do you see writing as the thing that needs to be removed from your own personal duties so you can get on with other aspects of the business?
I'd be really curious to hear from you.
Top image: © Florianr | Dreamstime.com