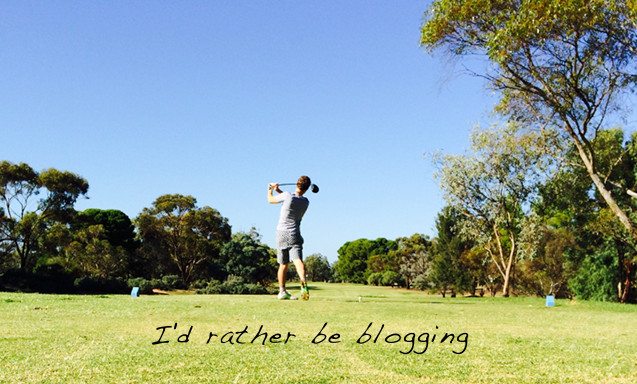 Some days I hate my blog.
In fact, for most of last week I could hardly stand to look at.
I'd crawl out of bed at a shameful hour, drag my feet to the office (couch) and power up the laptop like it was the most horrendous task in the world.
Maybe it was because I'd spent the Easter break with my brother in the country hitting golf balls and witnessing actual real life hover boards (proof on my Instagram).
But a much more likely scenario is that this is a phenomena that every blogger goes through from time to time. In fact, I can almost guarantee that you'll go through it at some point if you haven't already.
So what the hell do you do?
The danger of blog hating
I don't want to turn this into a self help article (I can't get my own issues together, let alone help with yours!) but I can say that "work hating" is something that everyone goes through.
And it's especially dangerous if you work for yourself.
Even more so if you do something creative like writing or entrepreneur-ing.
That attitude can stick and when it does it really starts to affect how productive you are and the quality of work that you put out there.
I can think of quite a few times when a successful blog has started to lose its flavor and you can almost always tell that they've begun hating the whole deal.
The passion is just gone.
So if you feel like you're having more "I hate my blog" days then it's important to come up with a few strategies.
What to do when you think you hate your blog
It's so important to discover the root cause of your problems. Unless you know why you're feeling like this towards your blog/work it's impossible to find a good solution.
The most common reasons that I've been through myself include:
Too many unproductive hours
If you work for yourself it's so easy to get into the trap of working long hours, late into the night, even when you don't really need to. Half the time you're just fiddling around because you feel like you should be working. It causes resentment.
Not enough results
It can be so frustrating pouring all that work into your blog and not seeing things like more comments, more email subscribers, better Google rankings and more traffic. If it happens for too long you start to see your blog as a source of feeling let down.
Final conversions failing
Obviously the final conversion for most professional bloggers is the money. Even if you're getting a lot of the other small wins but you fail to see the cash follow it can be hugely annoying – especially if you don't have another source of income.
Mismatched intentions
Something that I picked up on a few years ago was that I get really bored with a blog if it doesn't match my intentions. For example, if you quit your job because you love writing and blogging but then end up writing about topics you hate, eventually you're going to start hating that work.
Problems in other areas of your life
The last thing that has happened to me is that I've started blaming my blog for other crap that's been going on in my life. We all do it. But it's really important to develop enough awareness so that you know you're blaming one thing even though it's not the cause.
Of course there are probably thousands of different reasons out there. The most important thing is that we have a really honest look at what is going on with our own individual situation.
The next step is to actually do something that will solve the problem.
Depending on the reason you're feeling blog-hatey one of these might work for you:
Do something different for a quick win
Pat put this in a post recently and said it a lot better than I could. If you've been working hard and not seeing results it's time to try something totally different in order to get one small, quick win. That is sometimes enough to give you an energy boost.
Change your location
It seems silly but changing the place that you work can have a huge impact on your productivity or emotional wellbeing. I work at cafes most days now just to get a change of scenery. My recent trip to Europe was hugely motivating for me, even though it had nothing to do with work.
Harden up!
This will insult some people but hopefully motivate others. Running your own business is hard. It's stressful. Sometimes things don't work out. Sometimes you fail. But, unless you want to starve or go back to an office job you just have to keep at it. If you can push through the hard times life will get easier.
Re-assess what it is you do daily
Last year Glen and I had a big chat about motivation and one of the interesting things that came up for him was that he loses motivation when he moves away from SEO-based articles and tactics. So, for him, finding the right topic and sticking to it has hugely revitalised his business. Anyone noticed how good that blog has been since he started taking on Google?
Get help with the crappy stuff
No one with an entrepreneurial bone in their body should be doing things like book keeping, editing, coding and so on. You might be hating your blog because you're not actually spending any time writing on your blog! Free yourself up to be creative and work on your business. I talked to Chris Ducker about this recently.
Of course, it will sometimes be a combination of these things that brings about a solution. It's also not usually a quick fix but one that takes time.
But there's one last thing…
This is something that will resonate with a lot of bloggers.
The reason you hate your blog is because you don't know what you're doing with it.
There is so much confusion out there about blogging strategies and tactics. You need to know about titles, email marketing, SEO, servers, affiliate marketing, product development… it's entirely overwhelming.
Well, in a few weeks I'm going to be doing something VERY different to help you with that. And it's only going to be open for one day. And only five people will be selected. Just five.
Once you figure THAT out then blogging will become your favorite thing in the world. Just like the photo at the top says – even when you're doing wonderful things you'll be wishing you were on the laptop blogging. It's incredible.
Lastly, you have to be on the mailing list to hear about it…
Have you ever hated your blog? Please leave a comment and tell me about it.