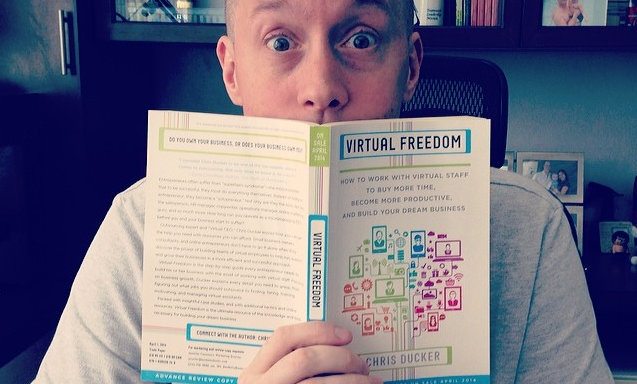 Chris Ducker has a new book.
You're going to be hearing a lot about it in the next few weeks.
He sent me an advanced copy a few weeks ago and after reading a few chapters I instantly realized something pretty important.
He got the title badly wrong.
It is an incredibly useful book – practical, simple to follow and extremely insightful. But the title ain't right. I'll talk more about that below.
This is the first time I've ever written about a book on Blog Tyrant. I'm not getting paid to do it. I'm not using any affiliate links. I just wanted to talk about it because I honestly think that it's the missing ingredient in a lot of blogger business plans.
Read on. Please.
NOTE: There is a little competition at the end of this post that you are absolutely going to want to read about… I'm talking a free half an hour Skype call with Chris himself (usually valued at $500) to help brain storm your blogging/outsourcing future. I'll also give away a few copies of the book.
Who the hell is Chris Ducker?
I first met Chris when I needed a transporter to complete certain tasks without asking any questions. He drove this beautiful BMW, wore an expensive suit and was known for his exceptional martial arts skills.
Turns out he also owns companies in the Philippines and is a worldwide expert on outsourcing and virtual assistants.
What a pleasant surprise!
(That's a joke about Jason Statham for anyone who hasn't seen The Transporter.)
Although he has over 300 employees and speaks at high profile gigs around the world, he is still very approachable and has helped me out a number of times when most people just wouldn't have replied.
If you're at all interested in outsourcing to grow your business then his website and podcast are two things you should really be checking out.
And so is his new book.
Virtual Freedom: Chris Ducker's sexy new book
Okay so when I read this book I knew instantly why I wanted to talk to you about it.
The reason is simple: bloggers need to focus on writing.
You see, I know so many bloggers who are incredible writers. They are wonderful wordsmiths and craft the most amazing copy but constantly fail at growing their blogs because they have to focus on all the boring crap like coding, servers, social media, research and so on.
Bloggers just want to write!
So I sat down with Chris to ask him some very targeted questions about how his new book (and, indeed, all his stuff) can help us do just that.
Please excuse the hilarious tangents that this chat sometimes goes on. That tends to happen when I talk to Chris.
Some of the things mentioned in this video: Virtual Freedom (the book), Camtasia (screen recordings, Dropbox, Lego (just cos I like it), 3 lists to freedom, ODesk, Freelancer and that happy guy Larry.
Why I think the title is wrong
Okay so the first thing I want to say here is that I ran this past Chris before I decided to tell 10,000+ people that he mucked up his title.
So let me explain what I mean.
The full title of the book is Virtual Freedom: How to work with virtual staff to buy more time, become more productive and build your dream business.
That last word is where I think it falls short.
In reality, this book should be called Virtual Freedom: How to work with virtual staff to buy more time, become more productive and build your dream life.
What a lot of small business owners (that's us, bloggers) fail to accept is that your work is your life. You're at home with your family and cat and the work you do shapes and impacts everything that you do.
If you're stressed out because you're too busy it'll affect your mood, your sleep and how well you relate to others.
If you're doing some crappy task for some hard-to-please client when you should be working on growing your business then that is going to affect your profits and how much time you can spend on your hobbies.
It all adds up.
And virtual staff can literally change your life.
This was the main reason I wanted to tell you about the book. I honestly believe that if you start to get rid of some of those boring and stressful tasks and give them to someone who is not only cheaper than you, but a lot better at it than you (think accounting, coding, designing, etc.) then you are going to start loving your business again.
What tasks hold you back the most?
Chris has been kind enough to offer one reader a full half an hour consultation on Skype (normally $500) completely free of charge.
This is an incredible opportunity to get advice from someone who has built several super-successful companies and helped countless others do the same.
Leave a comment telling Chris and I what tasks hold you back the most. It might be something simple or it could be something more complex. Whoever has the best comment and is genuinely keen on learning how to take their online business to the next level will win the chat with Chris. I'll also be giving copies of the book to a few of my favorite comments.