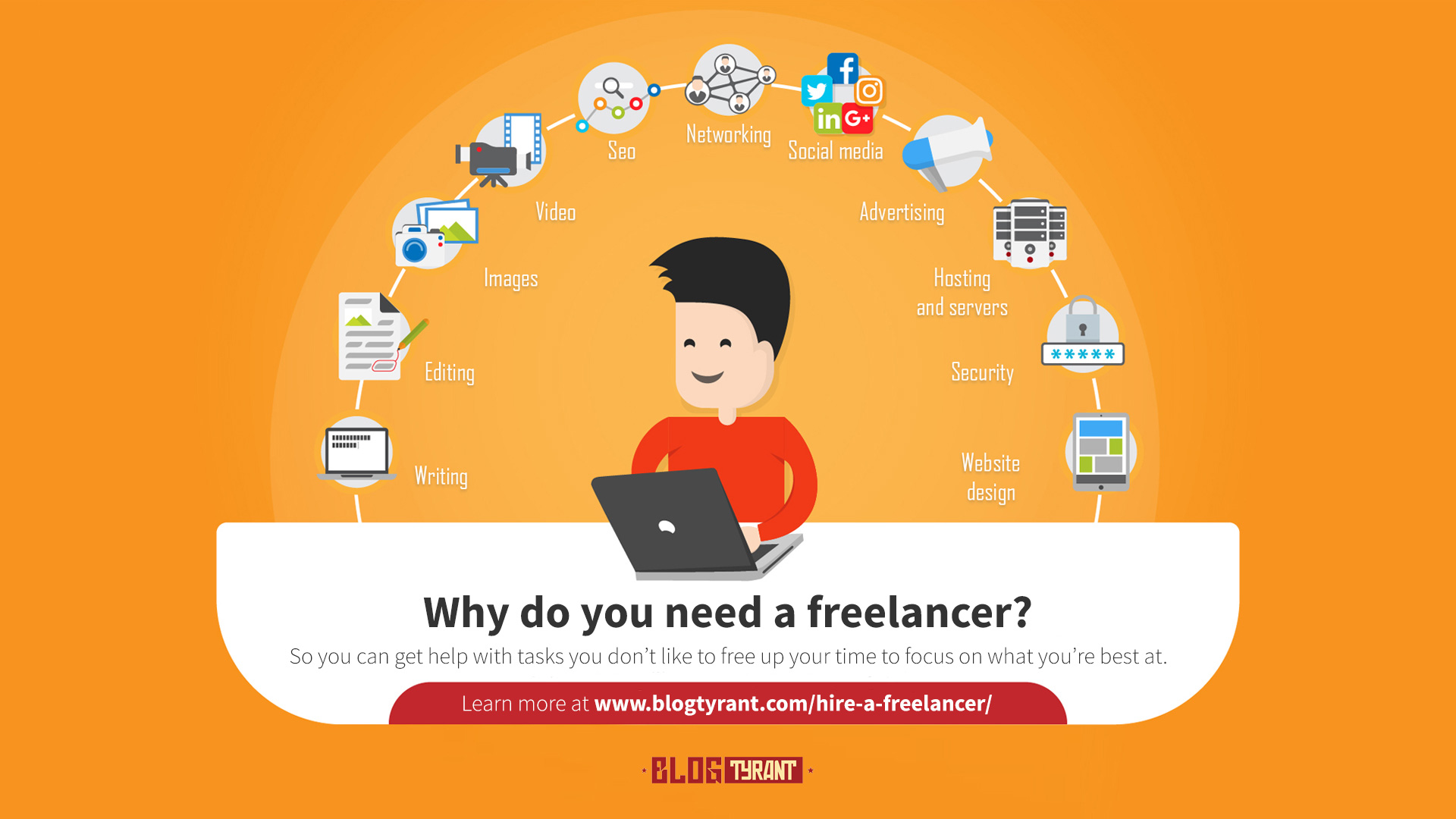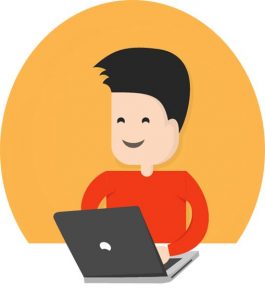 If you want to start a successful blog you might just need to hire a freelancer.
In fact, if you look at almost any blog or website that is making six-figures or more they all have one thing in common: a team of awesome people helping them out.
Hiring a full time staff member, however, can be a bit daunting and, as such, many people opt for freelancers to help outsource tasks like editing, writing, maintenance, and more.
In today's post we're going to cover:
Discovering what tasks you need help with
This is the first stage where you narrow down exactly what tasks you want to outsource and why they are important.
Finding the right freelancer
We'll look at where you can find them and some tips on choosing the best person for the job.
Creating a test job and developing the relationship
We'll learn how to create the first freelance task and then some strategies to make sure you both get the most out of it.
Oh, and if you're looking to do freelance work then you might want to check out this guide to paid content writing and this article on making money online when you blog is brand new.
Why do you need to hire a freelancer?
So let's start by taking a look at why you might want need to hire a freelancer to help grow your blog and take it to the next, professional level.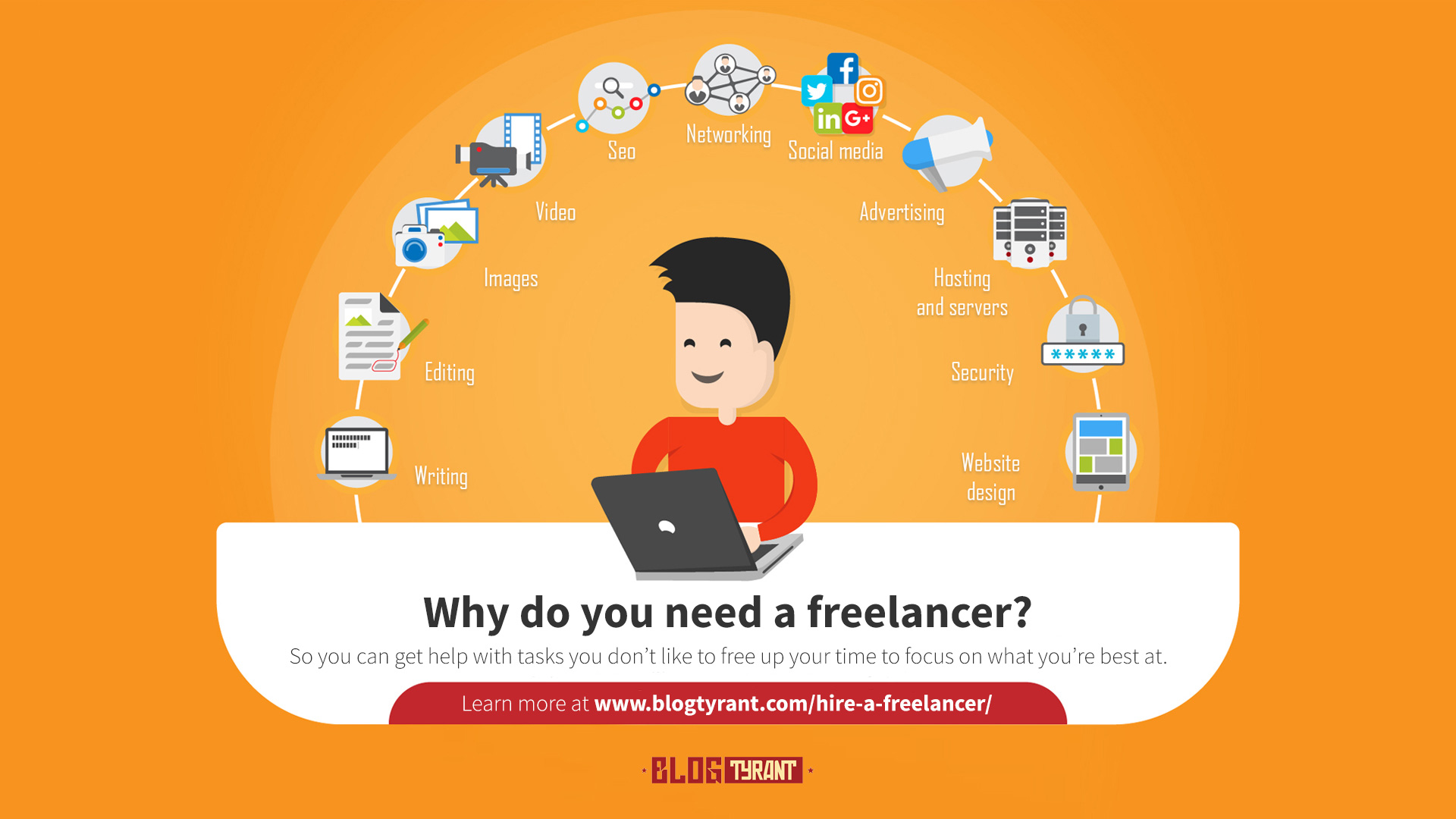 As a blogger there are so many tasks that we need to do each day. As you can see in the graphic above, on any given day you might do some SEO work, writing, editing, graphic design, website design, networking advertising, etc.
It is honestly more than one person can (or should!) be doing and it's important to recognize our limitations in this area.
There's no need to do it all alone. A successful business isn't a one-person show.

Tweet This
One of the keys to a successful blogging is freeing yourself up to focus on the tasks that you're best at, or that tasks that make the most impact on your blog.
For example, if you're an excellent writer and that is what grows your blog the most, then why not pay someone to do your book work and give you back those 2-3 hours a week?
Outsourcing in this way frees up time but it also reduces a huge amount of stress because you're not learning dozens of different things that you never wanted to learn, and instead you get to focus on your passions and the results that they bring.
As a side note, a lot of people are now relying on freelance work as the economy changes, and I think it's wonderful that the Internet allows us to exchange services with incredible people that we might otherwise have never encountered.
How to hire the right freelancer for your blog
If you have decided that you'd like some help, the first thing that you'll be hit with is the overwhelming variety of options and how difficult it can be to find someone trustworthy with the right skills and work ethic.
Let's go through it all, step by step, and in the end you'll hopefully have a good starting place.
1. Decide what specific tasks you need help with
The first step is to think about exactly what you need some help with. This is vital because a lot of failed freelance relationships happen when the employer is too vague with what they actually want from the new team member.
This stage can actually take a little more time than you might think and it's worth sitting down with a pen and paper and really mapping out where you need the help, and where the limits to those tasks are.
For example, I have one or two freelancers that I semi-regularly engage for writing tasks. This might sound simple but when you break it down it can get a little complicated with question like:
Who decides on the keywords, titles, and paragraph titles?
Do they do a draft first or just write the whole piece?
What happens if they take way longer to complete it than expected?
Do they write it straight in WordPress or just on a Google Doc file?
Who should research/choose images and photos?
How do you ensure the content is all original?
Do you pay on a per word, per article, or per hour basis?
And so on
All of these types of issues can have a big impact on the type of tasks that you get help with, and can really impact on the way you structure the setup and relationship over time.
Something I've found really useful to help overcome some of these issues is to create a document that outlines the process and the tasks involved and then laying it all out for a "test job" that you give the freelancer. We'll discuss this in detail at a later stage.
BONUS TIP ABOUT TASKS
It's important to have a clear vision about your blog's long term goals. If you aren't sure what you are trying to achieve within 6-12 months then you run the risk of creating stuff with a freelancer that never gets used. Check out our suggestions about developing a strategy for your blog to give you a start point on what to consider when making a plan.

At this point you really just want to try and come up with a list of tasks that you need help with, or tasks that you really don't want to do anymore due to a lack of experience or confidence. This will give a good framework for the next steps.
2. Decide on your budget and timeline
Budget is a really important factor to consider here because many services will be unobtainable due to the cost factor. For example, hiring an agency to manage your SEO properly could cost $10,000+ a year.
But it's also a trap to think that you shouldn't hire someone because you don't think you can afford it. A lot of small business owners fall into this mindset and end up burning themselves out because they think they have to do everything themselves.
We need to strike a balance between affordability/realism and our goals for expansion. This also entails an element of risk (all business does) because you need to weigh up how much you want to back yourself and your blog as a profit-making entity that will incur costs in the process.
There are a few things you might want to consider when working out your budget for freelancers:
What is your blog's current profit?
You need to have an idea of how much profit you are making, and then take a detailed look at whether you can increase your expenses for a time in order to bring about future growth.
Do you need to pay superannuation, insurance, etc.?
Take a look at your local laws and determine whether or not you are required to pay anything other than an hourly rate for freelancers that you hire on the Internet. Every where is slightly different in this regard.
Research the going rate for that task
Spend a bit of time looking at how much people normally charge for certain tasks. This will help you decide whether you want to hire a SEO agency (expensive) or someone to do occasional graphics (slightly less expensive).
At this point you want to sit down and try and figure out how much you want to spend over a fixed period, and then break that period down into tasks and figure out how much each of those is going to cost.
You can also do this based on certain goals that you have for your blog. For example, if you want someone to write 100 x 2,000-word articles and they charge $100 per article then that is going to cost you $10,000.
You might decide that this is too much and so you can reduce the number of articles that you want to produce, or sacrifice quality and find a cheaper writer. By mapping out the whole budget process like this you can get a good picture about what is affordable.
The best thing you can do at this stage is go and talk to your accountant and, if you don't have one, take the plunge and get one.
A good accountant doesn't just do your taxes, they also help you plan your future financial moves. For example, in this case the can help you determine how much you can afford to risk on a freelancer, how long you can hire them, and what sort of financial reward it might lead to.
3. Create a "test task" to practice the freelancing process
The first thing we want to do is create a small test task that can help us find out how the whole process works.
This is a really valuable step because it allows you to refine your goals for the freelancer as well as helps you to learn any issues that might arise on a smaller level as opposed to finding them out after you've committed a lot of time or money to the project.
So what should be included in such a task?
Summary of project
Summarize the whole project that you are carrying out, of which their freelance task might make up one small component.
Detailed description of individual task
Describe in detail what you'd like them to do and include examples and screenshots or videos to explain it if possible.
Budget and payment method
Describe the budget that you have for their task in particular and how you intend to pay them.
Due date
Have a few options for the due date and encourage rewards for faster/on-time completion.
Method of delivery
Describe how you'd like the task delivered. For example, should they create it in a WordPress format and then upload it to Google Docs, or will you give them a login?
Method of queries/feedback
How can they ask you questions and what times are you available for Skype or email conversations?
Now, many of the websites that allow you to hire freelancers will have all of this sorted out for you and you'll just be required to fill in a bunch of different fields. But it's a good idea to think about it beforehand so as to get it refined.
At this point you might need some tools to help you explain the job in as much detail as possible. For example, sometimes you will need to take a screenshot and then add some arrows and so on to explain the task like this this example: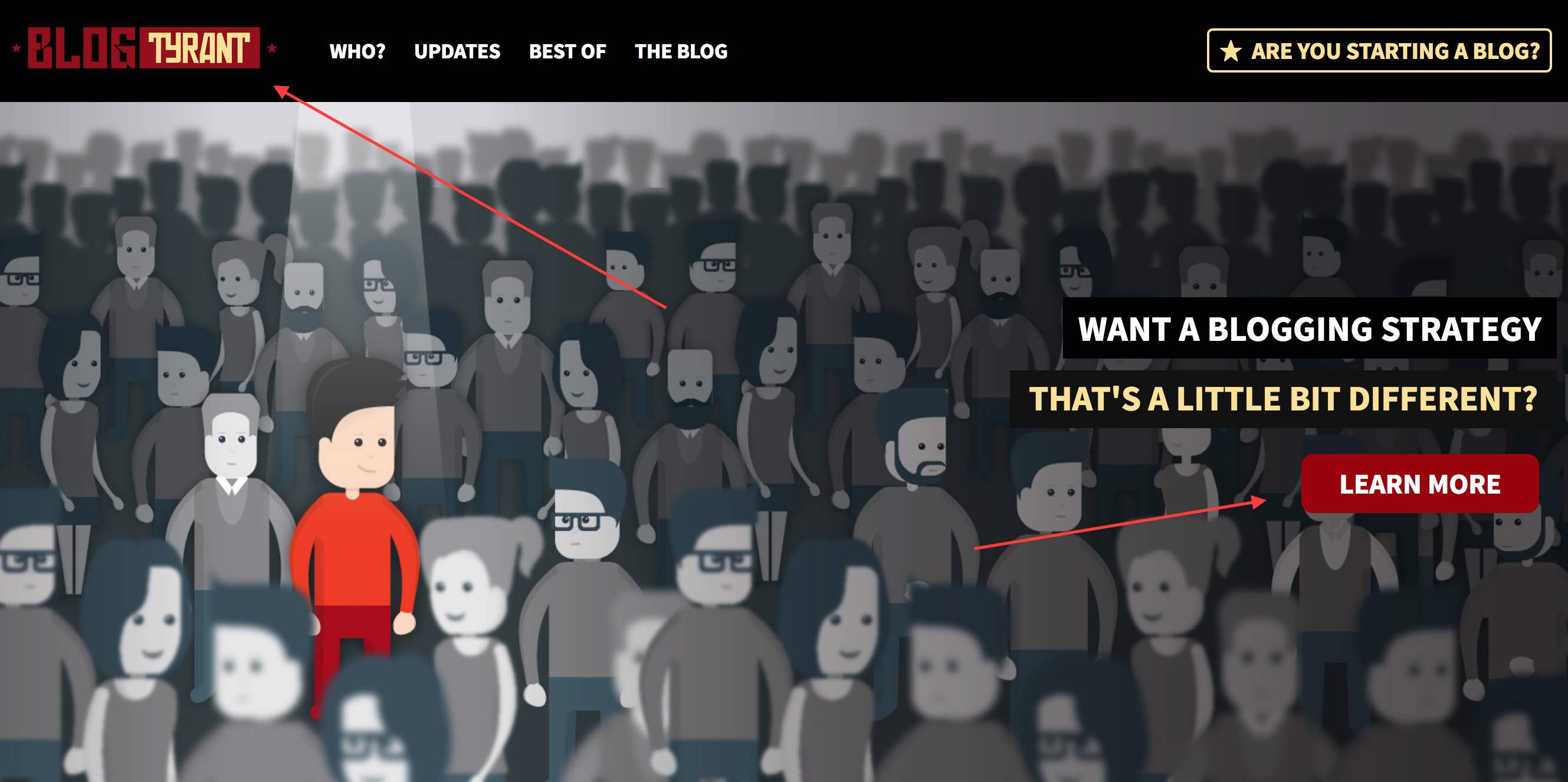 On a Mac you can do that by taking a screenshot by clicking COMMAND SHIFT 4 and then opening up the graphic in Preview and using the markup tool (the green arrows!).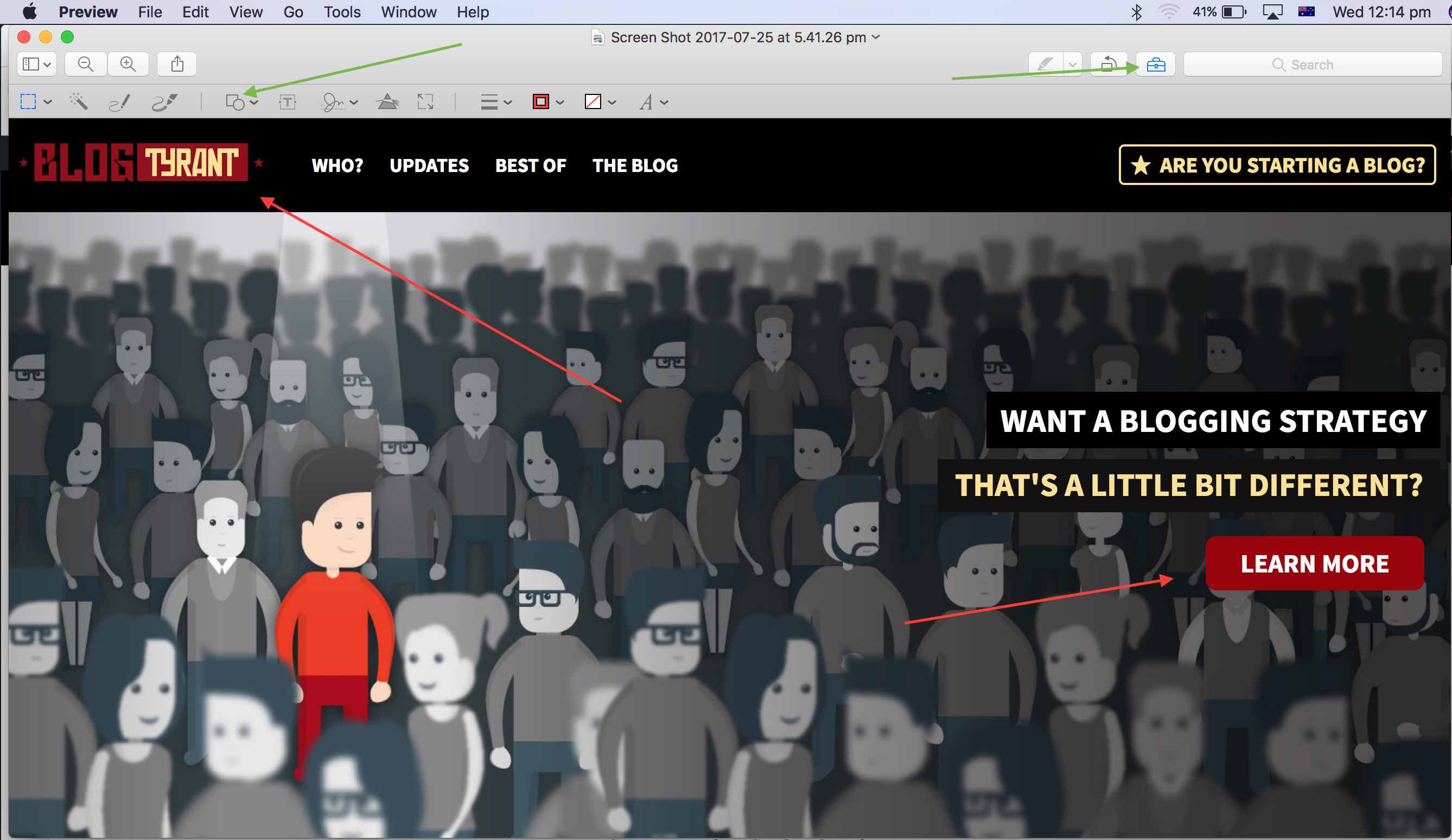 As a side note, I clicked the image instead of the actual tool about three times when making this screenshot! So meta. On a PC you can use the Snipping Tool and then edit the image in an editor like Photoshop.
Alternatively, you can get a browser extension like Awesome Screenshots that will do it all in one go plus much more.
This one also allows you to take scrolling videos of your screen and blur and mark them up, which can be very handy if you want to explain a portion of your screen without revealing everything due to privacy or some other reason.
As you can see, the goal here is to create a job that is clearly explained and defined both in written text and with images so as to ensure that the freelancer you hire has all the information she or he needs.
4. Hire the right freelancer for the job
This is the stage where we actually go out into the web and look for the right freelancer for the task that we have created. There are lots of ways to do this, so let's take a look at the best options.
The first option is to look on one of the major sites like 99Designs, Guru or Upwork. These have several advantages:
Bidding process
While not always fair on the freelancers, the bidding process means you get to list a job and then choose the "best" freelancer for the task out of several thousand options.
Funds in escrow
Quite often you pay your funds in advance to the site but the worker doesn't get them until you've chosen to release them by stating that the job is complete.
Mediation options
If a dispute arises, many of these sites will mediate the issue to try and get a good outcome for both parties. This is especially useful when a large project has been partially completed.
On-site security
By dealing with someone exclusively within one platform you're often protected by their own in-built security mechanisms and so forth and you're never swapping financial details, etc.
If you go back an look at our guide on how to find images for your blog you'll see that we've used 99Designs to come up with a lot of our Blog Tyrant graphics and designs. The process literally takes two or three minutes with their super-clean interface.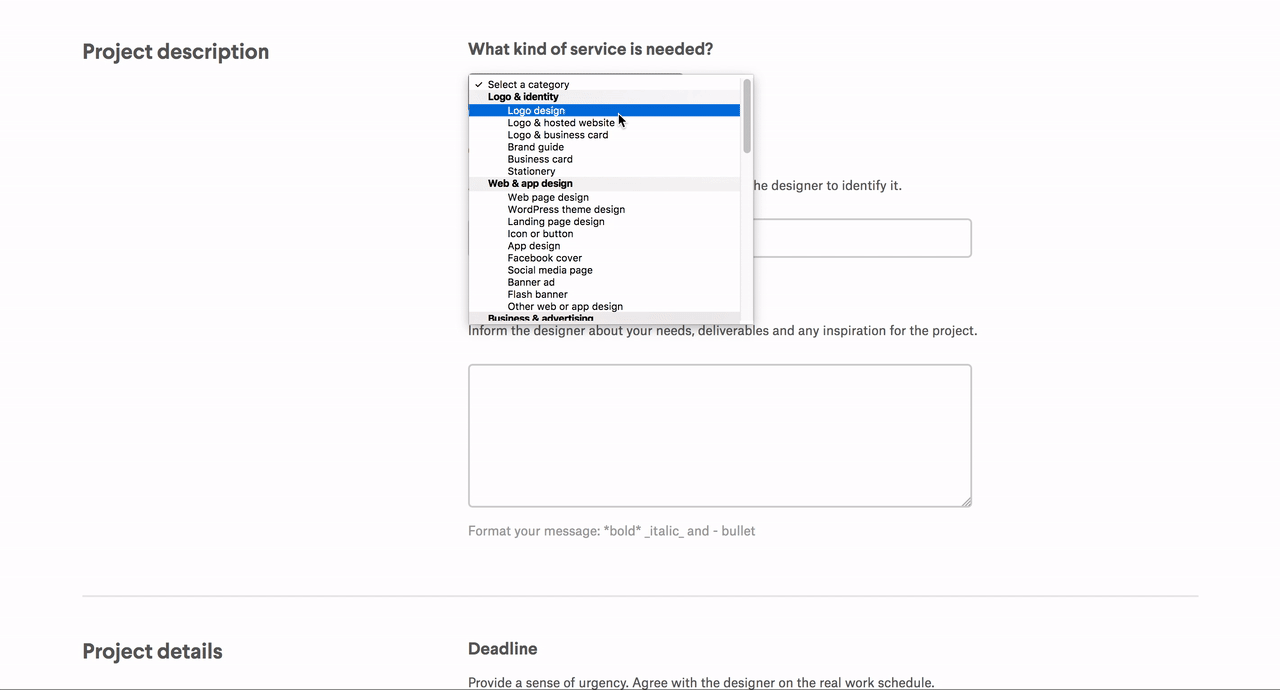 You can start a contest where freelancers bid on a new job, or you can invite a specific worker to the task and request a quote. I really enjoy this process and am yet to be disappointed by the quality of work that is available.
So, what should you look for when trying to hire the right freelancer?
Relevant experience
How much experience do they have in their field and can you verify this with reviews and testimonials and so on? Make sure you check out the sample work to ensure the reviews are real.
Skill set
Do the skills closely match the task that you are getting them to carry out? For example, someone who can make a logo might not be able to make an illustration even though they're both graphics.
Communication style
Communication is really important and sometimes it can be a little hard if you are from different countries and speak different languages. Make sure you have a conversation or two so as to ensure you can get on the same page.
To give you an example, we can head over to this audio technician on Fiverr who is an excellent example of someone who ticks all the right boxes.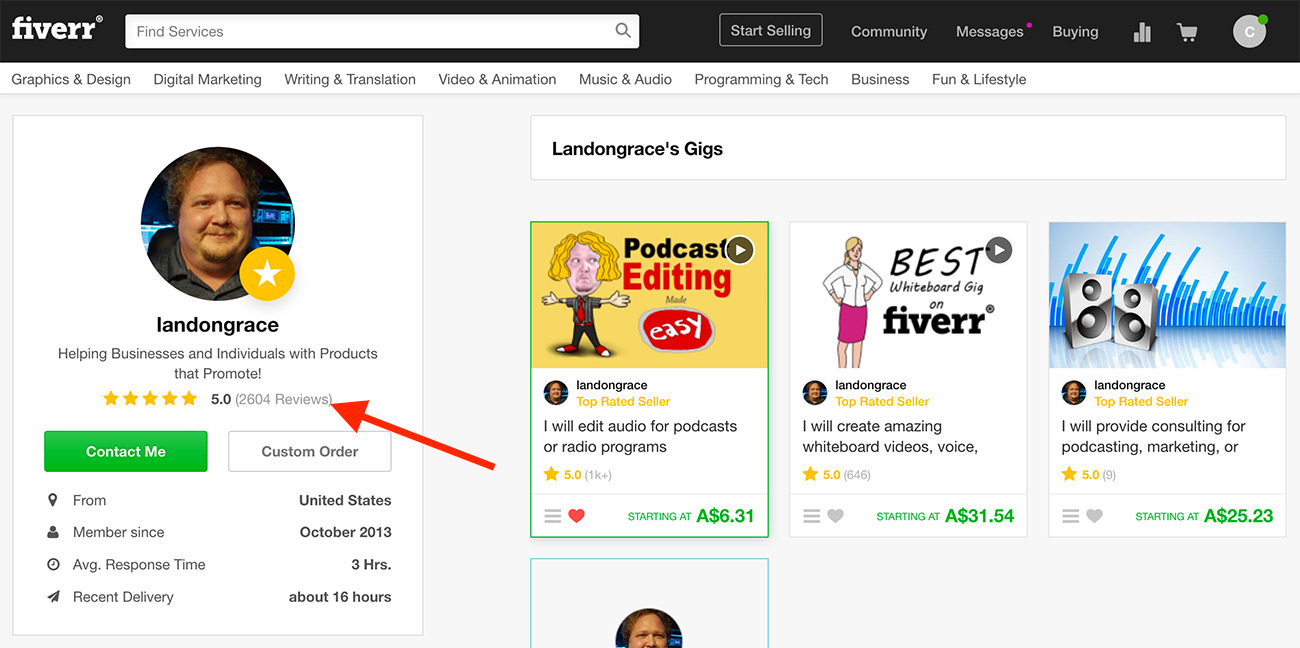 As you can see, he has a 5-star rating which is made up of over 2,000 reviews from happy customers. This is very difficult to fake, and given that he has a "top rated seller" badge from a site like Fiverr it's likely that he is pretty safe.
5. Figure out how to communicate, share files and review progress
The last stage is to figure out how you will communicate and how you will review each others progress. Of course, if you're using a site like 99Designs then most of it will happen on-site.
For external projects and freelancing staff, I like to use a site like Trello that allows you to manage projects and communicate with staff and colleagues in a very methodical and clear way.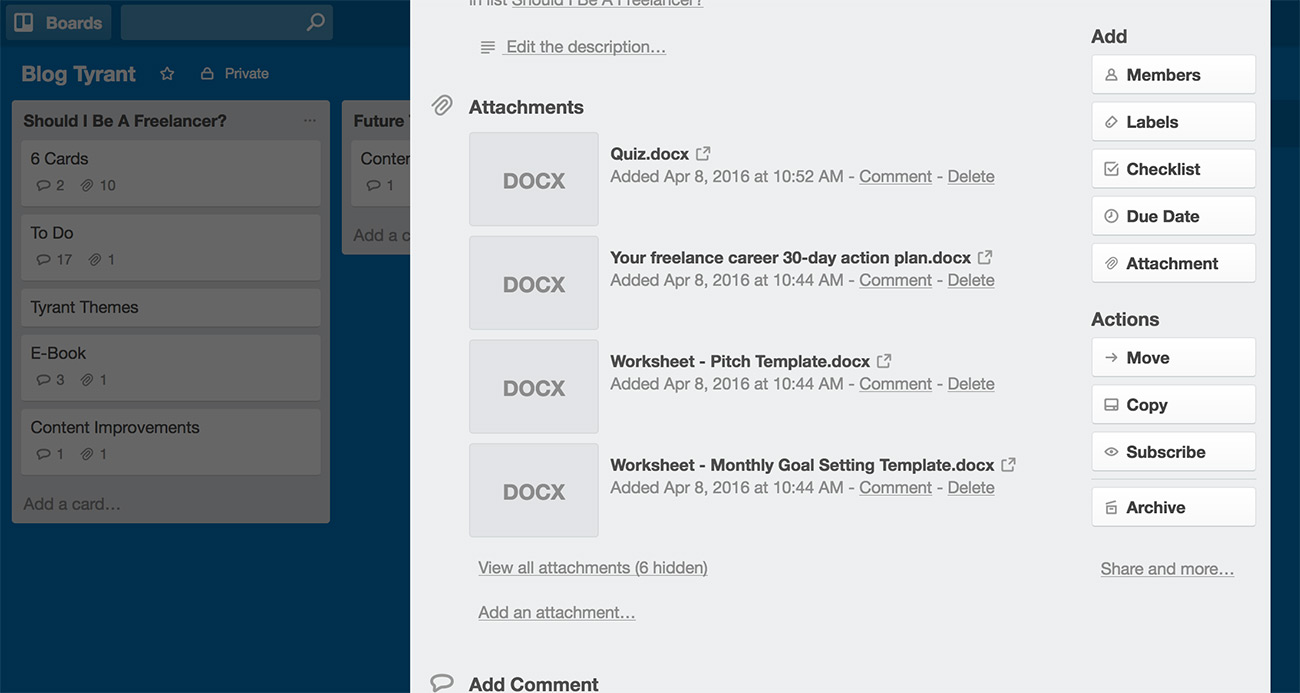 This is a screenshot of one of my Trello boards – I have different ones for different companies and projects, and within each project we break them down in to things like General Chat, Future Topics, etc.
It's a really great way to share files and manage it all as it doesn't all get lost in your email inbox such that you end up digging around for files or threads or messages for hours a week.
This approach really saves time but also keeps a record of the whole process which can be valuable if anything ever needs to be reviewed, or you want to look back and figure out how to replicate a successful freelancing project.
BONUS COMMUNICATION TIP
Try to be as patient and empathetic as possible when you are working with a new freelancer. Often we know our own blogs so well that we forget that simple tasks might actually require a lot of training and explanation for someone else. Try to find someone you communicate well with, even if they're not technically perfect.

Have you ever hired a freelancer?
If you've ever worked with a freelancer on your blog I'd love to hear about it. What worked well and where did you find them? Is there anything you would do differently in the future? Please leave a comment below and let us know as it might really help someone who is just starting out.