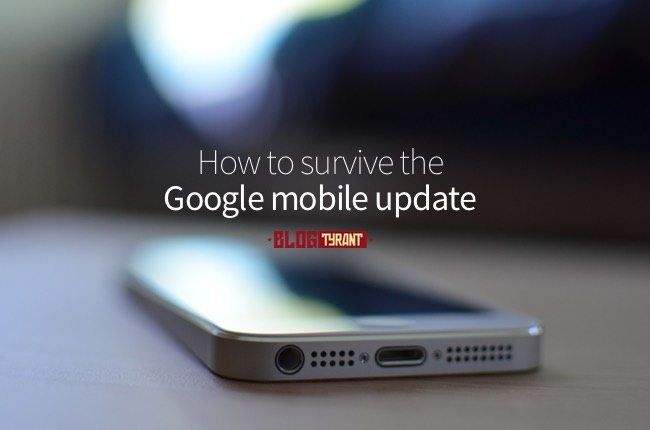 There's a lot of buzz this week about how Google is changing its mobile algorithm to prioritise websites that have a mobile-friendly website.
What this means is that if your blog or website isn't responsive or at least using a mobile-version plugin, you're going to see a drop in traffic from smartphone and tablet Google searches.
For some businesses it could even mean close of business.
I'm not exaggerating.
In this post I'm going to give you some information about this whole shebang and some quick ways you can make sure you not only survive but profit from the latest update.
Wait, what is the Google mobile update about? Is that even new?
As you all know, people use the web in different ways.
Sometimes you're on the giant PC at work, other times you're looking on your iPhone while you ignore your friends at lunch.
Well, Google has now signalled that they want to give people on mobile devices a better experience and thus will be prioritising mobile-friendly websites when searches are made from mobile devices.
If your blog does't have a responsive theme you're going to start seeing other websites appearing above you on mobile searches.
Here's the weird part – I've been seeing this happen for months.
It doesn't really feel like anything new. But, according to Google, this is going to be much more expansive and global and we all need to pay attention.
Who needs to pay careful attention to this update?
Okay so firstly I hope that all of the longtime readers of Blog Tyrant are already well set up on a beautiful mobile responsive WordPress theme.
I've been banging on about it for years.
But the people who really need to know about this update are the local small businesses out there in the "real world" who rely on a website to bring them customers.
A lot of them are going to get really hurt.
Here's why.
Google has been moving towards a local approach for a long time now. When I was in Melbourne last week for a holiday I'd open up Google Maps on my iPhone, type in "cafe", and watch Google pin me a whole bunch of locations within my immediate vicinity.
Amazing.
Now, imagine that you have a pizza shop that ranks number one in Google for the term "pizza in New York". If you've got lots of positive reviews you're probably going to be making a shit load of money just from that one search.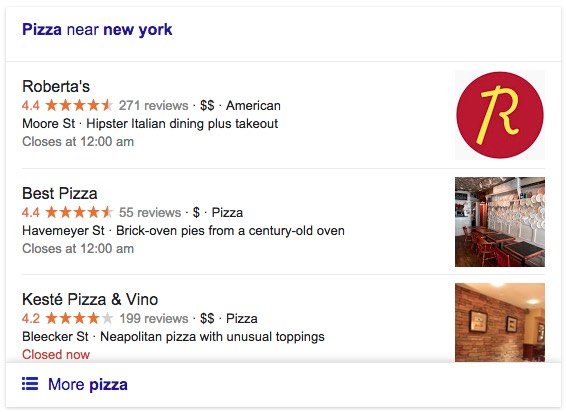 Well, if your site isn't responsive you might start to see your rankings drop and other more mobile-friendly businesses replacing you at the top.
Think about premium services like lawyers, accountants, antique stores, dentists, etc. – those rankings could be worth literally hundreds of thousands of dollars per year.
How to survive (and profit from) Google's mobile update
Now I'd like to give you a few ideas for how you can make the most of Google's latest update. A lot of this stuff will apply to people who already have a responsive website or blog theme.
1. Don't panic… SEOs exaggerate
The first thing I wanted to say is that a lot of those involved in the SEO industry (myself included) tend to exaggerate these events.
We spend a lot of time tracking and testing different SEO theories without any official feedback and so when Google actually announces something everyone goes crazy!
If your site has a very strong signal (quality content, backlinks, social presence, etc.) it is unlikely that you're going to disappear overnight. That being said, we still need to take it seriously.
2. Emphasizing mobile is a good business move anyway
Whether you're a blogger or a pizza maker it's a good idea to start placing more importance on mobile devices anyway.
It still really blows my mind when I see a local business with a non-responsive website and a very minimal presence on social media sites like Google Maps, Yelp, Facebook, etc. Just have a look at this Facebook Boost that I did this week. It's mobile users reading and sharing that stuff.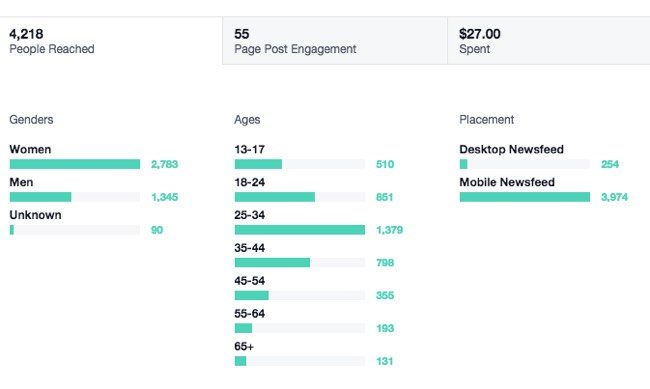 Traditional marketing is expensive. It makes so much more sense to be active on these websites so as to encourage your customers to do a bit of promotion for you. A few good reviews on Google can literally change the shape of a business (as can a few bad ones…).
3. A responsive design is best and isn't hard to implement
There is still a bit of debate amongst SEOs about whether a responsive design is better than a mobile-site but, in all honesty, there isn't really a comparison.
A responsive WordPress theme, for example, maintains almost all of the design elements like the typography, buttons, colors, etc. whereas a mobile-site just kind of scraps your main site and replaces it with a mobile version when people are on a smartphone.
If you're on WordPress it isn't hard to find a good quality responsive theme that you can upload and then tweak to your businesses needs.
If you already have a website or blog design that you had professionally created then you can hire someone like CrazyXHTML to convert your regular website into a responsive one.
It isn't expensive and can save you a lot of time.
4. Go big
If you read the official Google release above you'll notice that they talk about things like big "tappable" buttons.
Think about the user experience when it comes to mobile phones – fingers not keyboards. – Tweet this quote.
A good responsive design shouldn't involve any "pinch zooming" and should have big links and buttons for people with big clumsy thumbs.
A large font size is also a lot better for conversions because it's easier for older people and people with bad eyesight to read. Here's an article from as far back as 2011 (!) telling people to do this.
Again, most good pre-built responsive themes will have this stuff covered, but if you're working with a coder/designer to build something you need to do a bit of testing and make sure the navigations and readability is all sorted for fingers and not keyboard keys.
5. Start crafting useful content that is designed for mobiles
Sometimes the difference can be really subtle but it's important to start crafting content that is designed to be consumed and shared on mobile devices.
Sites like instagram, for example, are really only meant to be used as a smartphone app. So if you are taking beautiful photos for instagram of your store or products, etc., you are inherently more like to see users liking and sharing and leaving reviews in the places where it matters – other location-based apps.
When you post on your Facebook or Twitter account make sure the images are optimized for phones. And when you link to blog posts or relevant content, make sure it appeals to people who are on their phones.
The best thing you can do for mobiles, however, is to start focusing on email marketing. Not only do people check their emails on their smartphones all day long, the email is still the most powerful way to connect with a potential customer online. Focus on growing a mailing list and you'll be protecting your business for the longterm.
6. Start addressing complaints and talking to people
Have you ever been on a social reviews site like Trip Advisor and seen a hotel or restaurant where people are just leaving the most scathing reviews and no one from the business responds?
It's a terrible look.
And, honestly speaking, it would be costing them a lot of money. I know I'm not alone when I say that I won't book a hotel if it's got lots of bad reviews and no attempt to make the issues better. Why would I bother when there are so many other businesses who want to go above and beyond for their clients?
If you run a business where you want people to be leaving reviews then please jump online at least once a week and be present. Thank people for the good ones and promise (and mean it!) the people who had bad experiences that you'll get better.
In a lot of industries this will build a familiar loyalty with your customers and will grow your business as well as making you a lot of new friends.
7. Start asking for mobile interactions and reviews
I've never seen it written anywhere but I am convinced that positive Google reviews are a quality signal that helps you rank higher. You always see the 5-star businesses higher in local search.
One thing that is totally okay to do is ask your customers for reviews. I know of one business that offers a nominal discount to clients at payment time if they leave an honest Google review.
This is a brilliant idea.
Obviously you need to make sure you're familiar with the laws in your industry regarding reviews and endorsements (medical practitioners probably can't do this) but encouraging reviews is very good for business in a mobile world.
Why this mobile update is good for you
If you are reading this post then you have an advantage.
You see, even if you only start working on your mobile theme and marketing today you'll still be lightyears ahead of a lot of your competitors.
A lot of small business owners and bloggers are really just struggling with the day to day operations of their business – things like responsive WordPress themes really aren't a priority.
Make sure you make it a priority for your website and you'll hopefully avoid any of the nasty Google changes that people are talking about.
And, as always, try not to rely on Google too much.
What other tips do you have?
Do you have any other tips for bloggers or website owners who might be a bit worried about this mobile update? Or do you have any other questions or concerns for your own blog? Leave a comment below and we can all chat about it.