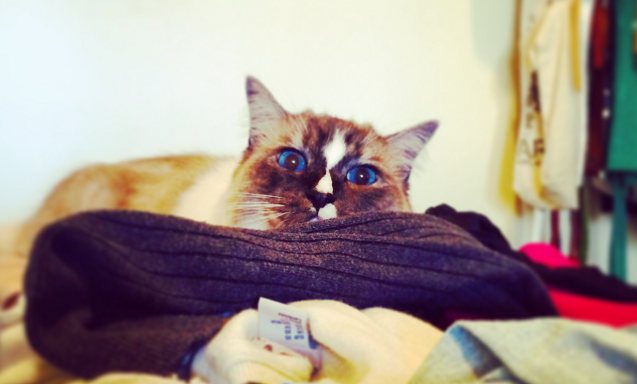 They say the ancient Egyptians worshipped cats. I wonder what future humans will say about us when they examine our Internet servers!
We all know cats are popular.
But, as I found out the other day, they can even help you get more email subscribers, brand loyalty and trust.
Yes, I'm being serious.
I'm not talking about posting cat pictures on your entirely unrelated business or health blog though. That would be mental. But I literally did use some images of my cat on Blog Tyrant to boost my email subscriber rate.
I'll show you how.
NOTE: This post contains some affiliate links. If you purchase a package by clicking from this page I'll earn a small commission at no extra cost to you. Thanks for supporting the site.
A problem in the email subscriber confirmation process
So I was sitting with my beautiful fiancée (who is also in the marketing field) mucking around on Blog Tyrant trying to create a new landing page for an upcoming advertising campaign.
She signed up to my mailing list and then said, "Ummm… that's pretty annoying that your confirmation email goes straight to my spam folder."
Yes, yes it is.
Checking my email subscriber stats I discovered that a large portion of email subscribers weren't confirming their email address – a very important step in the double opt-in process.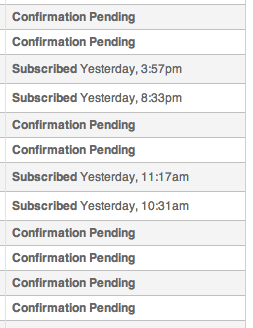 The above is a screenshot from my email marketing service showing a huge block of recent subscribers who signed up and then didn't confirm their email address.
This is bad.
Now, there are some people who have been saying lately that AWeber mail outs are getting delivered to the spam folder a lot more. I don't know if this is true but I can assure you I am looking into it very seriously as the majority of my business (other than the blog) is done via email marketing.
So what did I do?
Using custom page to ask people to confirm
Up until now I had just used AWeber's default page that asks people to confirm.
I had always assumed that it did the trick even though it was unbranded and looked nothing like my blog.
Well, last week I created a custom thank you page which people get re-directed to as soon as they enter their email address into a form on my blog.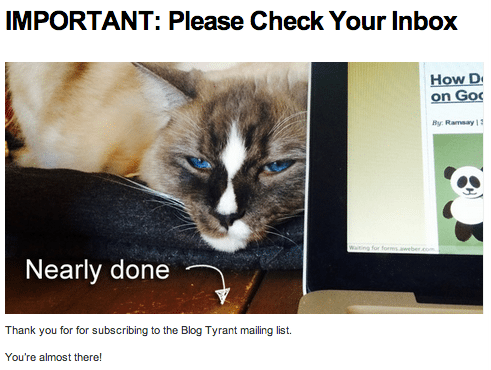 As you can see, it uses a picture of my cat to grab attention and keep the new subscriber on my site. It then uses an arrow and some text to explain to people that they need to confirm their email address and, importantly, that the email in question may go to their spam folder.
The result?
I'm starting to see a lot more people confirm their email address right away.
That means more people actively on my list, receiving my Follow Up sequence and receiving notifications about new posts like this one.
How do you make a custom confirmation page?
If you use a service like AWeber it should be pretty easy.
First, just make a Page in WordPress like mine that explains what email subscribers need to do.
Then, in AWeber you just click on the sign up form that you want to edit and then under the second step in the editor field just find the section below.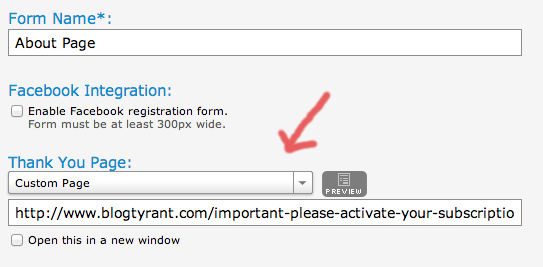 Select the Custom option and then paste in the URL of the page you want people to see once they've entered their email.
NOTE: This is a different page to the "Success" page that people see after they have confirmed their email address. This one comes before.
Too early to be sure?
I only did this little experiment last week so it is perhaps too early to tell if the increase in confirmations is entirely due to the new confirmation page.
For example, it could be that I have a different type of traffic this week and that those subscribers are more adept at finding the confirmation email.
I still like to share these things with you though because I believe that it's much better for you to try it out on your own blog than waiting to see whether it works for me.
And by publishing ideas like this I can get feedback from you on the process as well as any other similar idea that you might have had.
This is what makes the Tyrant Troops community so valuable – the comment threads are always filled with amazing ideas, test results and conversation.
So I'll keep publishing half-baked experiments!
The importance of simplicity online
This type of thing really reminds me of how important it is to keep online processes simple.
A lot of people who read your blog are entirely new to the concept and things like email subscriptions can seem daunting.
Even companies like Amazon are struggling to simplify their process to keep shopping cat abandonment down.
So what can we do?
Explain the process
Make sure you explain the process clearly to potential subscribers so they know what to expect.
Keep the branding the same
As I found out, keeping the branding the same can help people to realize that they're on the same site and just following the regular process.
Give reminders
At the bottom of my emails I now have a little reminder that tells people that they're receiving this email because they subscribed to Blog Tyrant. I borrowed this from Jon Morrow and it seems to be a good way to stop people hitting the spam button because they're forgotten.
We spend a lot of time writing really high quality content, working on SEO and crafting the perfect emails. It's super important, therefore, to make sure we're not wasting all that hard working by having gaps in the sign up process.
What about you?
Have you had a problem getting people to confirm their email address when they subscribe to your blog? What did you do about it? If you have any stories or perhaps and other ideas about this I'd love to hear from you.
Please leave a comment.
All photos by Ramsay who spends way too much time alone talking to his cat.