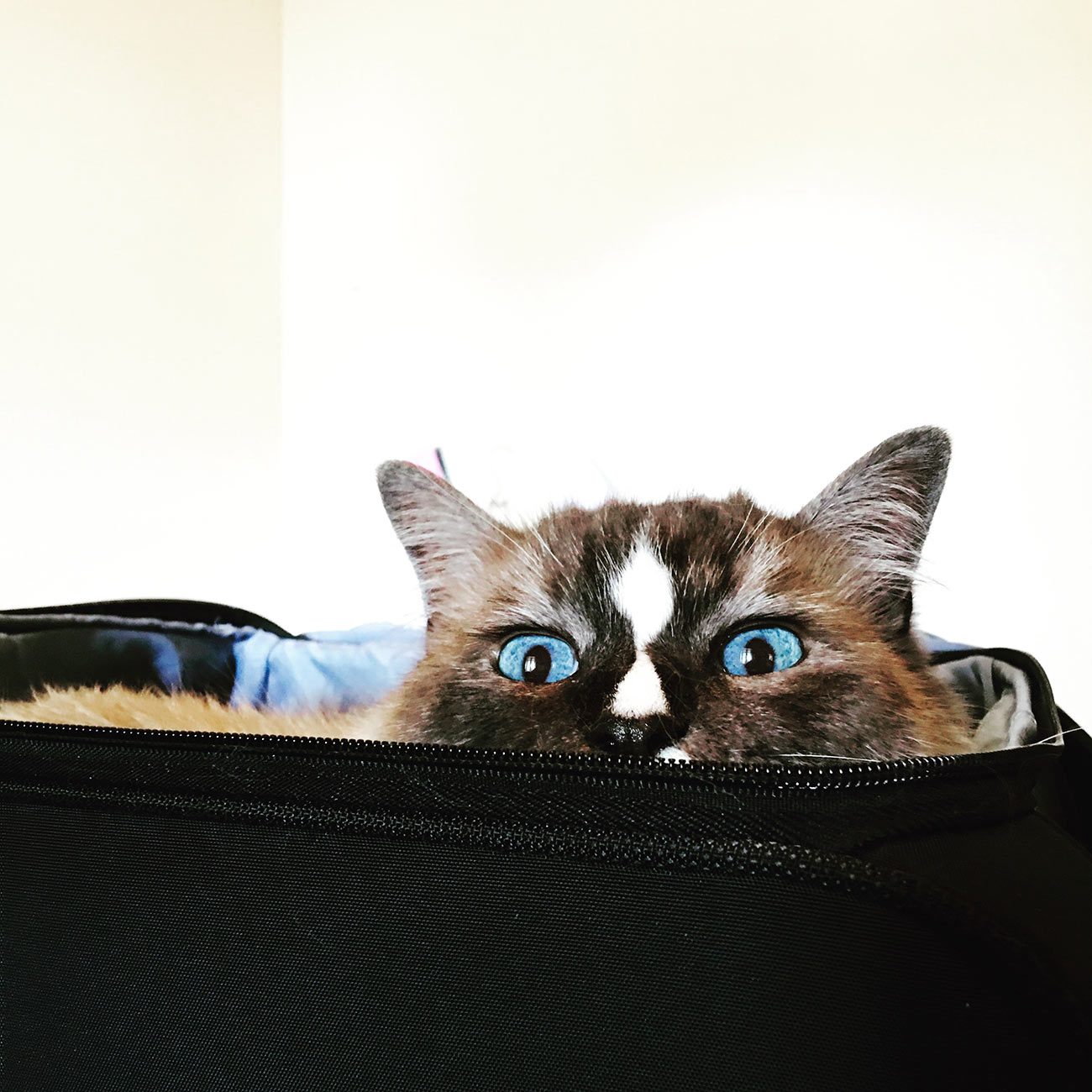 Have you met my cat? He's really in to biting people.
His name is Cino (as in cappuccino) and the other day we were sent a reminder that it is time for him to visit the vet.
A cool postcard (below) arrived with an awesome picture and a crafty little message encouraging us to make an appointment.
And this got me thinking: when was the last time I sent a reminder to my customers?
In this post I'm going to show you a few things about getting back in touch with your clients, blog readers and contacts. Its a great way to develop the relationship and eventually make more money.
The reminder card from our vet
The card was basically postcard that had been designed as a vet reminder. Here is a picture of the front and back.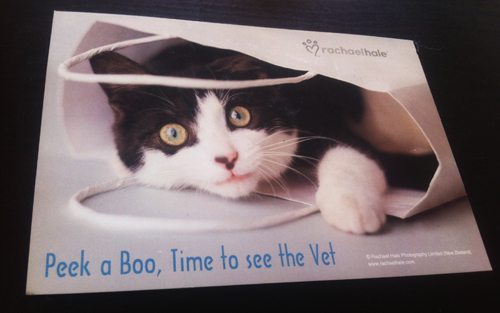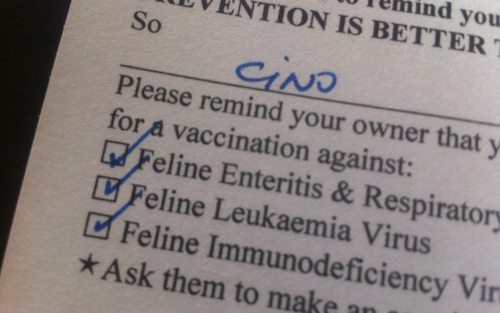 There are a few things that I really like about this particular reminder.
It is funny
The use of humor is really important because taking your pet to the vet is both horrible and expensive. Making it seem fun goes a long way to actually getting people back.
It uses the cat's voice
The card is written as if it is to Cino and not the owners. This reinforces the fact that he is a part of the family and makes it a lot harder to ignore it, if you were planning on doing that.
It has a call to action
The card tells you to make an appointment right away.
It uses fear
Fear is one of the best motivators around. This particular card tells me that my beautiful little cat needs to be protected against cat cancer… holy hell… I better make an appointment!
As far as printed reminders go, this one is pretty good. A lot of the principles you see here can be applied to the online world and almost any web business.
What can you send reminders?
A reminder needs to come at the right time and for the right reason. Some of the reminder you might want to send out include:
An invoice warning
If you have some sort of fees or invoice about to be sent out why not send them a warning if you anticipate they might have some problems with it?
A big anniversary thank you
A beautiful photo on a nicely designed card would be well received at the one year anniversary of the start of your business relationship to say thanks.
We miss you
If you haven't seen a client or potential customer in a while, why not let them know that you miss them?
Need help?
Haven't done a transaction in a while? Try sending out a reminder that tells clients about all the other things your business does and ask if they need any help.
This is not an exhaustive list by any stretch of the imagination but I do like to push the idea of just sending a straight out "reminder". You can be creative.
I bet you all have some ideas… comments!
Sending reminders to your customers, readers and contacts
Depending on what you are reminding people about and who you are reminding you will need to tailor your message and delivery slightly differently. However, here are a few thoughts I hope you will find useful.
1. Cross the web divide
If you are an offline business you can have really good results by sending an email. If you are an online business you can have really good results by sending something in print. The effect here is that you are showing your clients that you are a very well rounded business.
2. Pick a single cause
You need to have a reason to contact your customers. Don't spam them with constant updates. If you have a Christmas special on website designs then contact them about that and leave them alone for the rest of the year.
3. Tailor the message to the client
Don't send out mass reminders, it just looks bad. You need to tailor the message to the client. Think about how you know them and what their relationship to you is like. Base the message on their interactions with you in the past.
4. Learn how to write
You need to know how to write a contact letter. I'm not talking about something formal and traditional here but you should study some tips on how to get people's attention on the medium that you are using. Here is an example of a post I did on how to write emails to A-List bloggers.
5. Spend money
Please don't cheap out on these reminders. The idea here is to show people that you are a successful business looking to do more business with whoever you are contacting. Nice stationary, good envelopes, etc.
Some resources for your reminders
Here are a few things I thought you might find useful the next time you send out a reminder or two.
Have you ever sent out a successful reminder for something? Do you have any other ideas for people reading this? Please drop a comment.