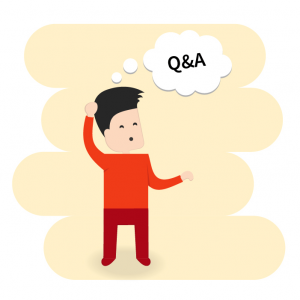 My goal for this blog is to help you guys as much as possible.
I write about tips and strategies that have worked for me over the past few years in the hope that they will save you time and money and give you new ideas.
Hopefully they also allow you to build a better blog that, in turn, grows and helps more and more people over in your neck of the woods.
But today (and for the next three days) I thought we might do something a little bit more involved and direct.
Curious? Read on.
Got a blogging question? Ask and I'll try to help.
The concept is really simple.
For the next three days (until the 11th of March) I'm going to be hanging around in the comments section of this post answering any question that you might have about starting a sweet new blog or growing a big old mailing list or any other blogging problem that you might be having.
I'll visit the website of everyone who leaves a comment in order to better address your question and get a sense of who you are and what your site does.
Sometimes we get over 200 comments on this blog so I could have my work cut out for me! *breathes more heavily*
I'll limit it to one question per person to try and make this more achievable.
What's in it for me?
As I said at the top of the post, I really do genuinely want to help as many people as possible.
But one thing you might have noticed here on Blog Tyrant is that I tend to write most of my content for beginners and this means that sometimes the longer term readers of this site find themselves a little bit hungry for more advanced topics.
A Q&A session like this can give me a wonderful insight in to what everyone is struggling with and where I should be aiming my content for the next few months so that beginners and more intermediate bloggers are satisfied.
So you'll be helping me a lot as well.
I'll be taking some of the best questions and turning them into fully fledged articles in the next few months. So there's also a chance that you'll get your question answered as well as a back link if I decide to cover your topic in more detail.
Sound alright?
Let's do this!
If you have a blogging question for me please just leave a comment below and make sure you are subscribed to get notifications for when I reply (it's the little check-box under the comment field). I'll do my best to help you as much as possible.
A quick disclaimer: None of the tips I give should be considered business, legal, or financial advice. I'm just sharing what has worked best for me but you should always carefully consider all your options.
A quick not disclaimer: If you've found this post useful please consider tweeting about it by clicking this link to tell people about the Q&A.