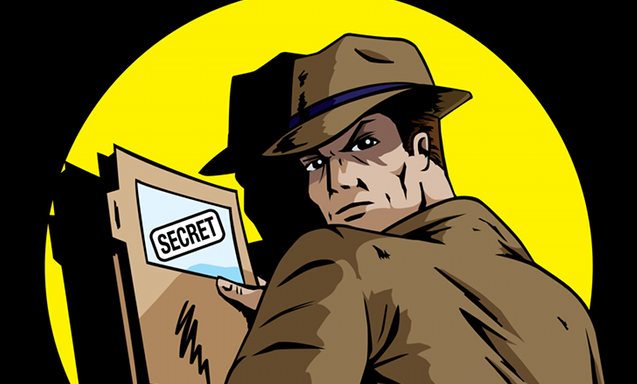 Last Update November 10th, 2014
When you first start a blog it all seems so fun and exciting.
And for the most part it is.
I still get a thrill waking up in the morning and knowing that I can spend the day wherever I like working on my own business, writing for my own blog.
But that's not to say that there aren't some really difficult things that happen.
In this post I'm going to talk about a few aspects of blogging that no one tells you about. It's my hope that by bringing them up now you'll be better prepared when they do happen.
And hey, this site and its community is always here to help you. So think of this as a positive event. In fact, I'll end with the most positive one of all.
About blogging: what they don't tell you
Alright, let's dive right into this stuff. Make sure you read all the way to the end for a little opportunity.
1. Growth is hard (and hard to believe)
Growing a blog is really hard works. Sometimes it happens really easily (like here on Blog Tyrant where I lucked out and got 5,000 visitors in my second week) but other times it can takes months and months of grinding.
And it's not just the traffic that we're talking about. Sometimes that grows fine but growing a mailing list is really difficult. It takes a lot of experimentation and, yes, failure.
The last thing about growth is that it is psychologically tough. You have to be prepared for the extra time and exposure that it brings.
2. Migrating servers is annoying (but not too scary)
If you've started out on a free blog then at some point in the future you're going to want to migrate to your own self-hosted blogging setup. The reason for this is because it gives you complete ownership and control.
Now, this can be a really messy and annoying process if you leave it for too long because you will have a lot of links pointing to pages that are now going to get a new address.
I highly recommend settling in on a solid hosting platform before you go too far along in your journey. It's just easier.
NOTE: Most good web hosts like BlueHost will help you migrate your blog if you are moving to them.
3. It needs constant work and sales are distracting
We all hear about the passive income streams that the internet offers. But what I think a lot of people misunderstand is that passive income takes work. It takes work to set up but it also takes work to grow.
To give you an example, I might wake up and have a few affiliate sales notifications in my email. It's tempting to see that and think, "Cool, I've made X dollars for the day. I'll go play tennis." But as soon as you start doing that your passive income slowly fades away. With that in mind: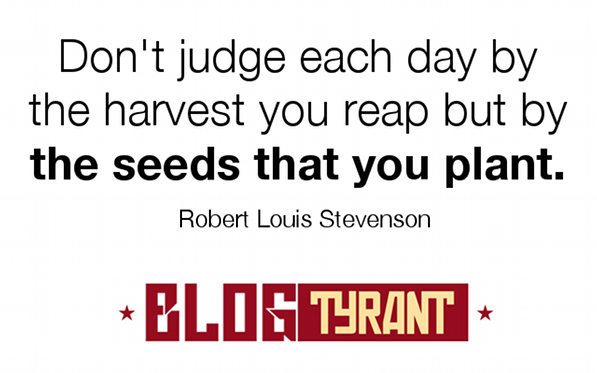 [pinit]
This is a quote I am really trying to live by this year. See if I can use this incredible opportunity to really grow my blogs and help more people.
4. Distractions come in the shape of knowledge
Last year I wrote a very controversial article called Why You Shouldn't Read Blogs. I copped a lot of flack for it because, well, people were reading it on a blog and confused about whether they should stop or proceed.
The point I was trying to get across, however, was that I had found that reading blogs had become a huge source of distraction. It was as if the distraction was dressed up as knowledge. I was telling myself I needed to know this stuff.
Unless it's literally your job, you probably don't need to know about all the tech news that happens on Mashable or what social media changes are going on over at Facebook. You certainly don't need to know the super-important stuff on BuzzFeed every day.
Just set aside a small amount of time each week and then forget about.
5. Finding your voice is crazy important
As we all know, every day there are 100,456,409 new blogs created. And if you want to stand out amongst all that noise you need a solid brand.
Part of that brand is your voice. Our medium is still primarily a written one and thus if you want people to engage with you then you need to sound like your worthwhile listening to.
I still find I'm tweaking my "voice" every time I write. I really want to move away from a "lecture" type scenario and just go along with a bit of blogging chat with my mates. That conversational tone is hard to find but very important.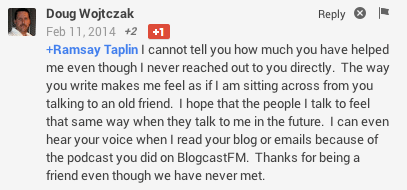 I got this feedback on Google+ the other day. This kind of thing means the world to a blogger like me who is still trying really hard to get it all right.
6. It's the same as running any business
If you are going to work from home as a blogger you have to run it the same as any business. That means marketing, sales, staff, accounting, security and all that other boring stuff.
Yes, you can get help with all of that if it isn't your strong point. After all, you should really just be working on writing and business development.
But it is very important to realize that you need to treat your blogging as you would any business. Take it seriously, especially if it is the thing that feeds your family.
7. You are accountable to thousands of people (+1)
When your audience starts to grow a little bit and you get into the "thousands of readers a day" zone you start to notice your stress levels going up a little bit.
Glen and I have both spoken about that nervous feeling you get before you hit publish. Sometimes it's a sign of anxiety but often it's just because you've worked for two days on a massive post and you don't want thousands and thousands of people to be disappointed.
The real accountability, however, is to yourself. If you go out drinking instead of publishing a new article then you only have yourself to blame. If you sleep in instead of working, same deal. When you work for yourself it really is just yourself to keep you motivated.
8. Stress and depression creep up on you in myriad ways (this really sucks)
Some people must imagine that working from home is all cafes and lunch time tennis and midday movies. Well, you can do that if you want but, as mentioned, you won't last very long.
Actually, working for yourself is more like late night troubleshooting, lonely hours brainstorming creative campaigns and not having any food to eat because you were too busy to shower today and get down to the shop. 😉
The thing about all of this is that, if you're not careful, you can start to get stressed and anxious without even knowing it. Here are some warning signs:
Not sleeping
If you can't switch off at the end of the day and fall asleep because you are thinking about work ideas then there is a good chance you are stressed.
Weight gain/loss
If you're eating too much or not enough because of anything at all to do with work then you're heading down a stressful path that can be very hard to correct. I've been there.
Relationship problems
Your husband or wife knows you well. If they are grumpy at the amount you're working or are noticing changes in you then please pay attention.
It might seem trivial but once these stresses creep in they can be very hard to solve. Think of the iceberg that sunk the Titanic. Stress is a lot like that. You only notice a small amount on the surface but there's a lot more down below that can cause you issues.
Does any of this ring a bell? If so get in contact with someone like Beyond Blue because it's more important than you might think.
9. People are wonderful
Something that is so important to acknowledge is that fact that 99% of the people that you meet through your blog are wonderful human beings. This is a tremendous source of energy and inspiration.
Through Blog Tyrant I've met hundreds of readers who have said kind words. Of those people there are probably 50 that I could literally email and ask for help and know that I'll get a response. That's quite special – especially when I'm talking about personal matters and not just a Tweet or share.
If you work hard for your readers they will work hard to support you. (Tweet this)
I hope I don't ever forget that. It's one of the reasons I reply to every comment I get, even if it takes me bloody ages because you all leave such detailed comments!
Tips for managing all of this
The best thing to do, now that you are aware of all this, is start to put in place some strategies to mitigate any of the bad stuff.
Here are a bunch of tips and resources that I thought might help you:
Okay, what have I missed?
As always, this is just a list of things to get started on the topic. What other things don't they tell you about blogging? And what resources would help people reading this? Feel free to link to your articles if you have something relevant.
Top image © Danomyte | Agency: Dreamstime.com