Ever wondered whether your WordPress theme was doing more harm than good?
I don't really like writing overly negative posts but I decided that some of my readers needed to have a think about the news-style (also called portal) themes that they are using.
Don't get me wrong, some of these themes are amazing and work extremely well for a lot of sites.
But for some bloggers they really aren't doing you any favors.
Let me explain why. This is going to be controversial.
Your theme is a huge part of your brand
If you are new to marketing principles I'd recommend spending some time reading about what a brand is. To help you out I found a quote by the legendary ad agency founder, David Ogilvy. He defined a brand as:

The intangible sum of a product's attributes: its name, packaging, and price, its history, its reputation, and the way it's advertised.
As bloggers, the theme we use plays a huge role in our brand. [Tweet this quote]
It changes the way people perceive you.
It changes the way people interact with your content.
And with some news-style and portal themes the way people interact with the content is to browse and then bugger off without taking a whole lot of action. This is a broad generalization and absolutely not true of all of them, but it is a concern I have.
The Art of War: Appearing strong
There is a great quote in the Art of War by Sun Tzu that says:
Appear weak when you are strong, and strong when you are weak.
In a way these news themes are helping you to do the last part: appear strong when you are weak.
How do they do this?
Well, they add lots of features and make things busier than they need to be. This gives the appearance that your (perhaps new?) blog is vibrant and busy and has lots going on. Sometimes this can even be a bad thing. More on that later.
1. Image sliders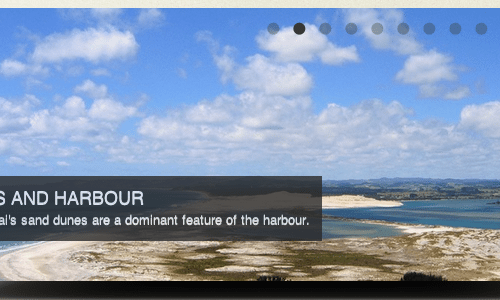 A lot of them have image sliders up the top that serve as eye-candy featured content. Some of these work really well but often what happens is they end up hiding the content you are trying to feature because people scroll down and miss the slide before it gets a change to be revealed.
2. Multiple navigations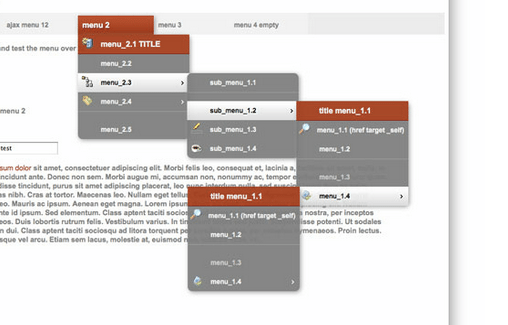 The navigation is often present in various forms (categories, archives, tags, drop downs, etc.) which confuses and congests. Sometimes these menus work great for a website but other times it is a sign of poorly organized content.
As we know, more options does not always equate to more decisions, or better decisions, on the side of your readers. In fact, it often leads to less action. [Tweet this quote]
3. Newspaper display of homepage articles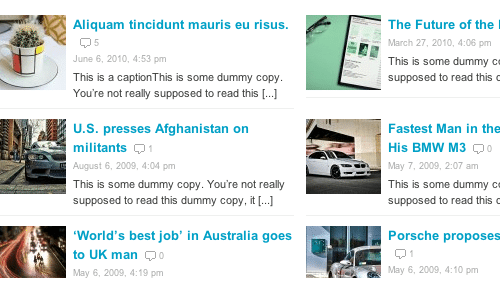 The homepage is often a collection of small sections of your latest posts with the attached image or graphic. In my opinion this really does not feature the content anywhere near enough. Even master copywriters would struggle to generate click-through interest with half a sentence.
What is REALLY being featured here?
Now here is the real thing that worries me: often it feels like the real thing on display here is the theme, not the content.
The features, design and functionality is often so cool and cutting edge that they don't really feature the content all that well.
And that is absolutely not what you want your theme to do.
I should stress again that I am not saying all news themes are bad for all bloggers all of the time. I am just putting an idea out there that sometimes I feel like these themes detract from what a theme should really be doing.
Well, what should we be doing?
The next logical question is to try and figure out what we should be doing instead.
Simplify man!
I really believe that for most of the bloggers reading this post a simple, clean and focused WordPress theme is a much better solution than a busy one with dozens of bells and whistles.
This is what I am doing with Tyrant Themes – creating WordPress themes that, in a way, take things back a little bit to when there was less noise and more intelligent minimalism.
Oh, and this site is currently being re-designed along those lines (as a few of you have seen!).
Big guys keeping it simple
What I want to do now is show you a few of my favorite bloggers who are doing well with simple designs that are focused on the outcomes that they aim for. It is extremely interesting to me that many of these big guys are opting for a "less is more" design approach.
1. Quick Sprout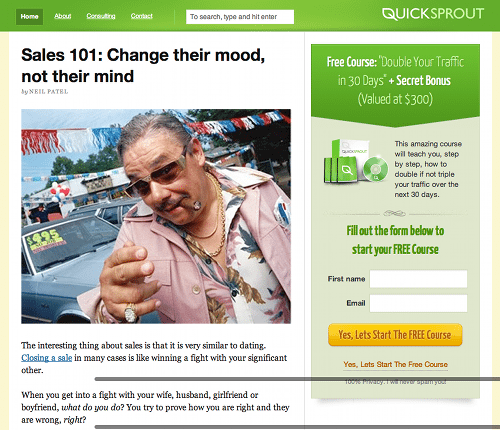 Neil is one of my blogging heroes. I've said it a few times now but this is one of the only websites where I read everything that is written. He really knows what his readers want.
And in that same way, he really understands how they want to read his content. He has even written about how he simplified things after a re-design.
2. ViperChill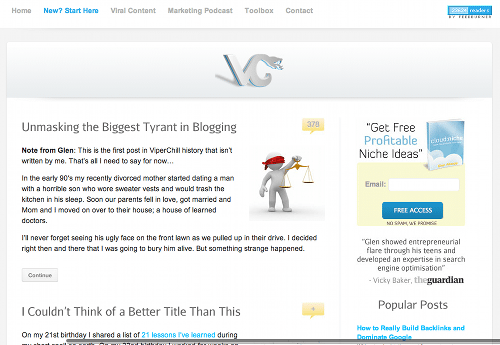 Everything about Glen is simple.
Okay, enough joking around! The ViperChill redesign that we see now is one of my favorite blog designs on the net. It is clear, focused and uses white space extremely well to keep the reader looking at the words.
And look at the categories – there are four. Simple buttons to click and navigate.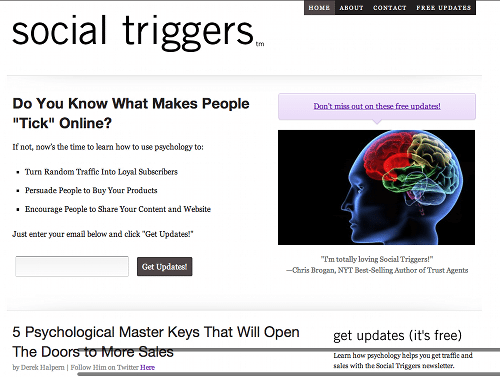 Derek from Social Triggers is someone I've been talking more and more about lately. He does a lot of things right. Oh, and he gave me some great advice recently which I'll be sharing in a post next week so stay tuned.
Social Triggers is simplicity at it's best. It's about reading the article and subscribing to the list. Other than comment and maybe send out a Tweet there isn't much else to do. And that's the way he wants it.
Final thoughts and over to you
As I have said, not all news themes are bad. Some are amazing. But you need to be very careful it fits with your brand and how you want your readers to interact with your content. It has to be a nice match.
What do you think about all this? Is your site too busy? Are you too afraid to take things away and keep it simple? Please leave a comment.