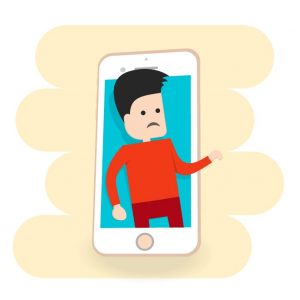 When your website or blog goes down it can be pretty frustrating while also having consequences over the short and long term. Yuck.
And while it is not the end of the world, it can be a little bit scary if you rely on your blog for an income.
When a site goes offline there is a sequence of events that take place and, depending on how you manage them, annoying consequences that follow.
Let's take a very basic look at those events and what to do in that kind of situation so that you can hit the ground running.
A general timeline of a crashed blog
Here is a quick example timeline of what can happen when a website or blog goes down, and what you might want to be doing at each stage of the process. This could vary a lot depending on your situation, so I'll try to keep it as general as possible.
1. Notification
The first thing is usually that someone lets you know that your blog is down. This might happen on Twitter or you might get an email from a reader who was trying to access the site. If you run a very professional setup you might even get a notification from your server or a monitoring service like Sucuri.
What to do here:
At this stage you'll want to get to a computer so you can begin researching what's happening. Try not to panic.
2. Identification
The next step is that you will need to try and figure out whether your site is actually down and, if it is, what is causing the problem. For example, is it a server issue, a hack of some kind, an issue with a plugin, etc.?
What to do here:
The first step is to check Down For Everyone to see if it's just you. Then the next step is to email or call your web host and notify them of the problem. Your support staff is always the first point of call.
3. Resolution/Non-resolution
At this stage your problem will either be resolved as being some simple error or temporary server downtime. If not you will need to move on to the next stage.
What to do here:
If your problem was resolved you can move on the section about prevention and backups, if your problem wasn't resolved you'll need to investigate further.
4. Further investigation
Sometimes your web host will not be able to resolve the issue if it is a more specialized problem that involves your WordPress theme, plugins, or some malware that is present on your blog. Often they will be able to identify the issue but not want to attempt to repair it due to the possibility of making it worse.
What to do here:
Here you want to engage a systems admin expert or a service like Sucuri that can look deeper into the issue. This will generally involve giving them access to your server so it's best to go with a reputable person/company. Ask for a report and quote.
5. Outside effects become noticeable
Sometime around this stage you will probably start to notice some effects of the downtime. For example, you will see a notification in Google search or Webmaster Tools that there is a security threat on your site, or you'll start to notice your Google rankings changing/dropping in response to the server no longer being reachable. Keep an eye on your important backlinks as well. If you throw a 404 error for too long there's a chance that the linking site will change to someone else.
What to do here:
At this point you might want to publicly acknowledge that there is an issue by posting to your social media accounts and advising readers what is happening and how they can help. Here's a good example of how to do it.
6. Start researching alternatives
Unfortunately, if your issue is not resolved quickly it might mean that a more complicated solution is necessary. For example, you might need to migrate your domain name and/or website to a new host due to some issue with the current one.
What to do here:
Start looking around Google for people who have had similar problems to this and seeing what pith advice they have. Start emailing other providers to find out about the migration process should that be necessary. Look for staff who might be able to help you re-build any damaged or broken bits.
7. Final resolution
Some point in here the damn thing will be fixed and you'll wonder why you got into Internet business in the first place. You'll also experience some pretty great relief.
What to do here:
You can do this but also move on to the next step.
8. Put in place future protections and backups
If you didn't have them in place initially, an event like this will really motivate you to start thinking about how to prevent future incidents. This involves better server set ups, security protocols, backups, monitoring, etc.
What to do here:
Make regular backups. My Blog Tyrant server makes a full server back up every two days, and once a week sends a full copy to a completely separate server as a secondary backup. Harden your website's security using measures like these. Talk to your server staff about improvements that can be made or pay an independent expert for an audit.
Has your blog ever crashed?
I'd love to hear from you in the comments below if your blog has ever crashed and how you dealt with the situation. What steps did you take and how effective were they? What tips or steps would you say should absolutely be added to the article above? Please leave a message below.