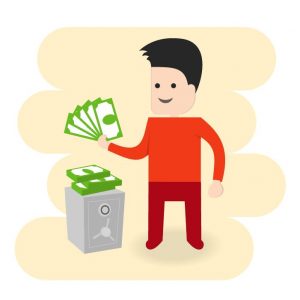 George C. Parker was known as the greatest con-man in American history, managing to sell landmark items like Madison Square Gardens, the Statue of Liberty and, you guessed it, the Brooklyn Bridge.
In fact, it is reported (whether it's true is another matter) that he sold the Brooklyn Bridge at least twice a week, one time for as much as $50,000. Sometimes the police would have to stop the "new owners" from setting up toll booths in the middle of the bridge.
So what can we learn from this naughty con man?
Let's take a look.
Why the heck am I writing about con artists?
Currently, two Australian comedians called Hamish and Andy  (who have the world's most successful Podcast) are in New York to do a 10-week series.
It was them who discovered the story of George Parker. And, if I was a betting man, I'd guess that they were going to try and sell the Bridge too!
So I got to thinking — how could an individual be convinced that the Brooklyn Bridge was for sale, that this guy in front of them owned it, and that it is only going to cost between $50 and $50,000? What part of the human brain is failing here?
And why does it remind me so much of some of the things I see running an online company?
Doing business online without the trickery
Whenever we talk about making money online here at Blog Tyrant we always go to lengths to talk about ethics, making sure your content is useful, and genuinely trying to help people as much as possible.
But, having worked online for over a decade, I also hear a lot of stories from people who fall prey to all sorts of scams, cons and people out to earn money through deception.
Over time you notice some common themes:
…they exploit a person's need to feel part of a group…
…they falsely use exclusivity and scarcity…
…they find knowledge-gaps and then pretend they can help you…
…if that fails, they use intimidation or force…
But the results are always the same.
The person that lives their life tricking others gets caught and the short-term wealth evaporates, and there are serious consequences for all involved.
Remember, things like endless sales and fake time pressures are illegal in many countries.
The point of this post is simple:
There are no shortcuts.
Building a business takes a long time and is hard work. Don't give up on your blog or online company, and don't fall prey to either using or being duped by someone who is promising short term solutions.
They usually don't work.
So what happened to George?
George Parker got caught, sentenced to life in prison and was sent to Sing Sing where he eventually died. Not a glamorous ending. Not worth it at all. Have you ever been tricked online or seen someone selling something that was clearly a scam? What do you think made it so effective and how can we avoid it?