When you first start getting interested in blogging, online marketing and social media you feel like you need to be everywhere.
You start with your blog and then slowly (or not so slowly) branch out into writing on other people's blogs.
Then there is Twitter, Facebook, YouTube, LinkedIn and Tumblr.
And now we have Pinterest sending more traffic than a lot of those things combined.
So at some point you have to ask a very interesting question: how important is it to be everywhere?
Let's take a look shall we?
ROI: The all important return on investment
The logical place to start this post is with a quick chat about the definition of the term ROI or return on investment.
So, putting things simply:
Your return on investment is the amount of money you gain or lose when you make a specific investment.
A high ROI mean that you are gaining more than you are spending. A low ROI means you are losing money.
Now, you can get a lot more technical than that and talk about the maths behind the profit margins, the actual rates, etc. But in terms of social media ROI it's just useful to know that you should be aiming for some kind of positive return.
What's the catch?
If you have come to this article after working in social media marketing for a while you will realize something extremely annoying: it's near impossible to measure a financial return on investment when it comes to social media.
Why is that?
It's not just money you're investing
When you work in the social media marketing game you know that it's not just a flat sum of money that you are investing (as opposed to buying a TV advert). You are also investing time. So how do you calculate your time spent Tweeting, checking in to Foursqaure, etc.?
Your goal isn't just sales
The second thing that hits you is the realization that you aren't just trying to make sales. Social media campaigns are often about building community, growing a mailing list or creating some buzz around an event. How do you measure those things financially?
Some very smart people have tried to measure those things accurately but, to be honest, I don't think it can be done. Every social media platform needs to be measured differently and even different activities on the same platforms have different goals and outcomes.
The Twitter example
Let's take Twitter as an example. You might calculate that every visitor that comes to your site from Twitter is worth $1. But what about the one visitor that engages you to build a $5,000 website? He may not have found you unless you'd done 500 tweets that only brought in $20.
And what about all the Tweets you do addressing people's complaints? Are they equal in cost to all the Tweets you do promoting your blog posts?
What about the Tweets you do promoting other people's material or making jokes to appear personal and likable? Are they all costing your business the same amount?
So can you measure ROI in social media at all?
Don't get me wrong. You can measure and track a lot of these things if you are that kind of person or work for an organization that has money to spend. I'm not saying you can't calculate any ROI for any social media activity.
You can.
And you should.
Because if you are spending money on staff that do your social media stuff (or spending time doing it yourself) you want to make sure you aren't just guessing at what's going on.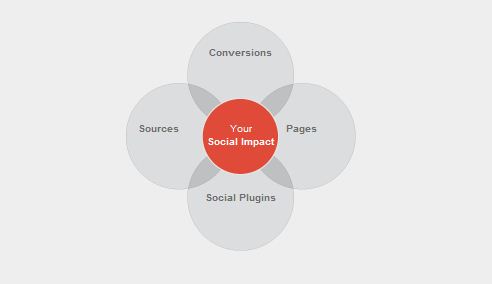 A screen grab from Google Analytics social section illustrating your social impact.
Google Analytics now has a whole section devoted to the behavior of your visitors in terms of social sharing. You can see how many people are engaged and how many don't do anything at all. And, most interestingly, you can set up goals to see how many social media followers are converting to certain outcomes.
Jenn Deering has written a really cool post over on KISSmetrics about how to measure and track certain social media campaigns.
So if you have the ability to track your social media efforts you should do it.
So what should be the ROI in social media? Should I be everywhere?
If you've read this far you're probably more confused now than you were when you started.
Sorry about that.
But it is a good thing if you're confused because it means you are thinking about things.
Some social media strategists have an approach where you just throw everything at the wall and see what sticks. That is a lazy approach.
Other social media strategists have an approach where you do something on Twitter and then blindly hope that's what caused your traffic spike. That is a stupid approach.
You are at least attempting to figure out what works and why. And that is very important.
Personalized limits and goals
In my opinion your social media return on investment should be based on personalized limits and goals that you set for yourself or your organization.
Now, these goals might be:
Financial goals
Product sales, ticket sales, Adsense clicks, etc.
Non financial goals
Email subscribers, increased Facebook likes, better search engine rankings, etc.
The idea is to develop your goals and then set limits on how you will achieve them, when you will achieve them and on which platforms.
What this means is that you don't have to be everywhere all at once, but you should give almost everything a go at some point in time.
You should then create primary and secondary goals for your campaigns.
For example, let's say you are running a Facebook competition. Your goals might be:
Primary
Get people to spread the word about the competition on Facebook (shares).
Secondary
Increase email subscribers on website.
This gives you multiple opportunities to track and measure your ROI. Indeed, it gives you specific ROI metrics that you can follow.
Not all social networks are created equal
Something that a lot of new comers don't realize is that not all social networks work the same for your business type.
I work with a lot of "bricks and mortar" companies to help them with online marketing and what I find is that often they have heard about how big Twitter is and as such want to throw heaps of money at it.
That's fine, but Twitter doesn't work so well for construction companies in Australia.
Sure, you could have staff on Twitter talking about their latest projects and addressing complaints that existing clients have. But that shouldn't be the major place you put your online marketing budget. Wouldn't it be better to upload professional photos on Facebook, tag the location and ask recent clients to share the album with their friends?
Often it is also not about what is possible, but what you can manage. Some companies just can't afford to train all their staff on Twitter and G+ behavior and best practices.
You don't need to be everywhere but you should take time to research as many social media networks as you can to see how well they perform in your industry.
What do you think?
How important do you think it is to be everywhere? Do you think that money is the only true measure of a return on investment when it comes to social media? And how do you measure the non-financial aims like growing a community or a reputation?