I don't do much right here on Blog Tyrant (due to laziness) but it is clear that I do get a lot of comments. Normally its between 60 and 90 and sometimes as much as 250.
And as much as I bang on about the importance of email subscribers, the comments I get on this blog from my amazing readers is what keeps me going. It is what makes the blog appear alive and well and it is those comment-leaving angels that spread the word on social media.
In this post I want to show you some of the most engaging comment areas that you will find on a blog and talk about why they work so well. Hopefully it will inspire you to update and tweak your own comment areas in order to make them more attractive and enticing to your readers.
Getting comments ain't just about your writing
I have written quite a lot about getting more blog comments over the past few months. Ever since Blog Tyrant exploded on the scene and started getting huge comment numbers after just four or five posts I have been getting lots of requests about how its done.
And while I normally tell people that it is about things like reader engagement, scarcity and personality, it is also about the way your comment area looks.
If you can make your comment area attractive and enticing then you give your writing a little leg up. Having an attractive comment area is not going to magically make people want to chat with you on your blog, but it get a few who otherwise might have left.
Before we start
Before we start I should mention that there really are two parts to a good comment area:
The link text/area
This is the text at the top or bottom of the post that encourages people to leave a comment and shows a comment count.
The comment area itself
This is obviously the part where you write your comments.
To have an engaging blog comment area you want to make sure both of these are rocking.
The most engaging blog comment areas
Let's dive right into it and take a look at some of the best comment areas out there. And, as usual, if you know of one that I have missed please leave a comment and let me know.
1. The Huffington Post: Video game style commenting
As much as I don't love the Huff Post's journalistic style, there is no denying that Adrianna Huffington has built a hugely engaging blog. In fact, it is probably the most successful blog of all time.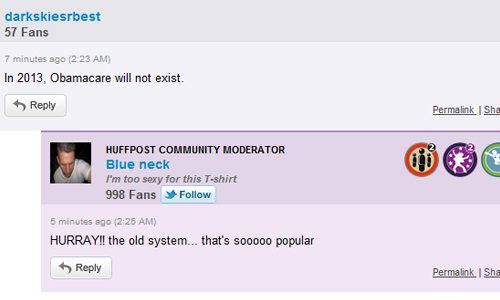 Color for top users, Twitter feeds, following ability and rewards.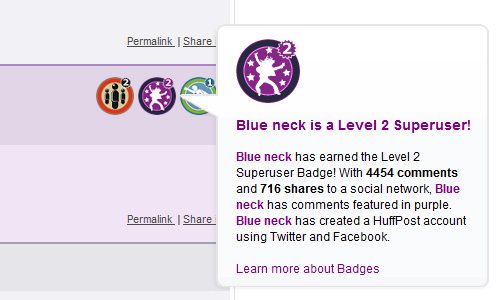 A shot of what happens when you put your mouse over the comment reward badges.
And as far as blog comment go, it is massive. Many articles get well over 2,000 comments. It is the absolute pinnacle of how to get people engaged because they have their own extremely addictive system where people register, log in and then get awards for commenting a certain number of times. You can even follow people's comments, vote them up and recommend them to friends. It is a hugely engaging comment area.
If you look at just one of these selections today it should be this one. Go and study how they do it and then find a way to incorporate it on to your blog.
Mashable understands that tech-savvy people need lots of stuff to share. We become bored easily. And their comment area is just that; a simple way to interact with people and share your knowledge of the web's "coolest" news.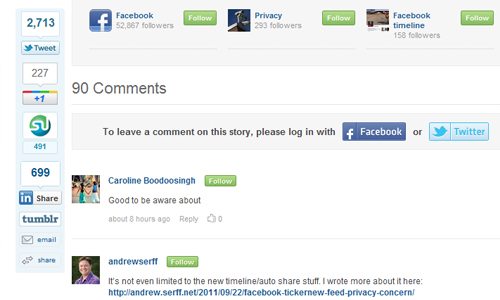 As always, Mashable doing it right. Social comment areas are important.
Take a look at the screen shot above and you will see that everything you need is right in one place. Actually visit the site and you will notice that the sidebar full of social media sharing icons travels along with you as you go down the page. You can also follow other commenters, vote up your favorite comments and, like at Huffington Post, earn some lame little badges.
And while I trivialize those badges, they are HUGELY important for making people feel part of a clan. This is the best way to grow your user engagement over the long term. I wrote about it on Problogger here.
SEOmoz is probably the leading site for learning about SEO. And it is owned by Rand Fishkin who, apart from having ultra cool sneakers, once told me that he liked my About page. Their comment section is unique because it gives you stats and shows your status on their site.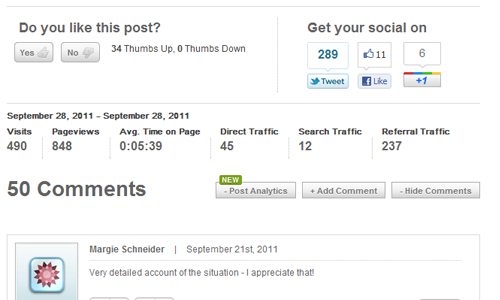 This really is just cool.
As you can see here, if you click the little stats button it crunches some data and then pulls up the statistics of the post. Very cool. This is all in the comment area which helps to get people engaged and, I imagine, encourages them to often go down to the bottom where, funnily enough, the comment section resides.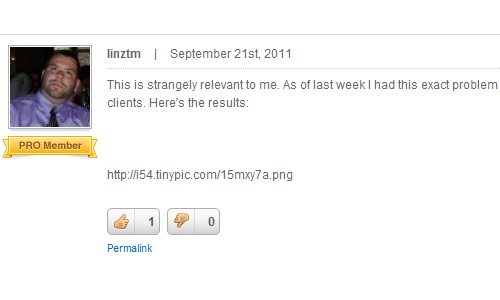 Nice tie. Showing the yellow ribbon helps to promote your premium space as well.
The second part to their engaging comments is the little yellow ribbon that shows which successful soul has purchased into their pro system. This is fantastic for engagement because, as mentioned with the others, it elevates people's status and makes them feel special.
4. Copyblogger: Simplicity and order
I often mention Brian Clark in these posts because he is a lawyer and I am scared of him. No not really. I mention him because I want him to Tweet out my post.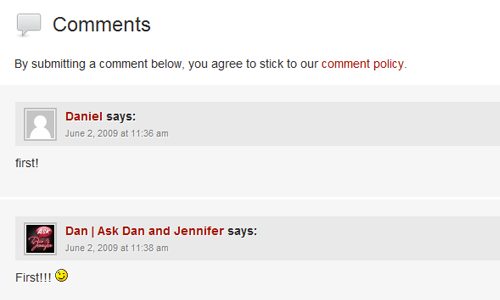 Simplicity is one of Brian's best qualities.
Seriously now. What Copyblogger does so well here is keep it simple. The latest re-design of the site keeps every minimal and functional and has very limited fluff to confuse readers.
But, the hidden feature here is the prominence of the "Comment Policy". Its a well kept secret that by adding a comment policy and creating some rules you often encourage more engagement because people know the playing field.
Don't doubt the power of outlining it for your super-inexperienced readers.
5. Smashing Magazine: Simply the best… comments
Smashing Magazine is one of my all-time favorite websites that constantly produces huge and magnificent articles on stuff you just would never have thought about. The comment section is alright.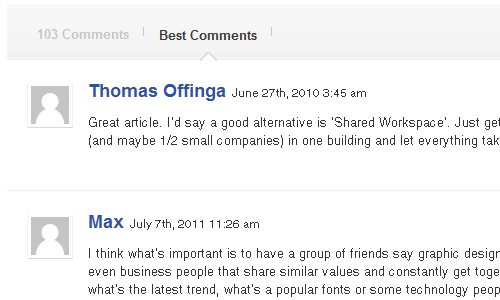 Filter out what you don't love.
The thing I really like about this is the ability to filter the comment by timeline or by most popular. It is a good way to get rid of all the "Great post!" comments that people like to leave.
This is very important for your non-commenting readers as it gives them a very useful resource. I would really like to implement that here because we have so many incredibly useful conversations in the comments section and it would be nice to filter them according to popularity.
Some handy comment plugins and resources for WordPress
A lot of these features require some pretty advanced coding. But some of them don't. Here are a few little plugins that you can add to your blog to spice up your comment area.
Which is your favorite?
Getting comments on your blog is a really nice thing. By changing the way your comment area looks and works you can sometimes make it more attractive and addictive to your readers. Please let me know which one (or feature) is your favorite and why. I'd love to get some feedback on this.