Blogging is a visual format. Images and photos play a huge part in how your readers perceive you and your brand.
The sad fact is that no matter how good your written content is, if you don't display it well you will lose readers. And one of the best ways to ensure your content gets the attention it deserves is to use well selected and carefully chosen images and photos.
In this post I want to show you how bad image choices can threaten your blog's success and a few ways you can do it better. I'll even throw in a few examples from the big guys.
What makes for a bad image choice?
I should be clear right from the start that bad images choices don't just mean out of focus photos or "loud" gif graphics that give everyone the heeby jeebies.
Bad images choices are actually a lot about strategy.
And that is why I used the Obama poster as the main image because it is an example of a brilliant strategy and one with some potential problems. So let's talk about that for a bit.
The use of imagery in Obama's campaign
Anyone who has studied English will know that imagery is more than just the photo you choose. Its the whole message that is portrayed. So when we look at Obama's campaign material from 2008 we see that everything was carefully tied to the idea of hope and change. And they did it extremely well.
They used:
Coloring – Colors like blue that are calming and royal.
Leadership photos – Obama often has a far away stare and beaming smile in his photos that make him feel trustworthy, thoughtful and far sighted
Fonts – Strong fonts that feel solid
Now, I'm not saying that it was the photos and images that won it for him but they did play a huge role in the Obama "brand". And his genius team knew that early on.
One consideration to make at this point, however, is that Obama may forever be tagged with that "hopeful" brand that promised to bring about drastic change. From what I understand, many pundits blame his poor performance in the polls on the fact that perhaps people thought he could do more than was actually possible.
And so Obama's campaign images are an example of both a fantastic marketing exercise but one that also might have a few problems. Either way, it was probably the most well carried out and influential marketing campaign in history. I certainly will never forget 2008, even though I am an Australian.
Images and imagery
This article is about the images that you choose but I really wanted you to understand (through the Obama example) that images are more than just decoration.
They can set the tone for your whole brand.
They can change the way people feel about what you do.
They can make you recognizable in a crowd of millions.
And, as the did for Obaama, they can radically differentiate you from the competition.
Bad image choices can have a massive impact on how people interact with your blog. I kid you not, there are blogs I will never visit simply because the choice of photos and images give the wrong impression.
5 Ways to do images better on your blog
Okay so now let's take a look at some ways you can do all of this image stuff a lot better. Ideally, these changes should lead to better conversions, interaction and eventually profits.
1. Images should form part of your brand, not confuse it
I spend a lot of time choosing images for the articles I write. Usually I want the image to say something clever, perhaps even hidden, about the topic I am writing about.
Sure, not everyone gets this subtlety, but Scott always seems to pick it up when I do. And it makes for some wonderful commenting.
The idea here is that I want my chosen photos to be part of the Blog Tyrant brand. As soon as you see a post you should recognize that you are on my site because the style and layout of the photos is always the same.
To put it as simple as possible: branding is about communicating something to your customers. Its not your logo or your domain name, its what all of that stuff put together is communicating.
Example – Viper Chill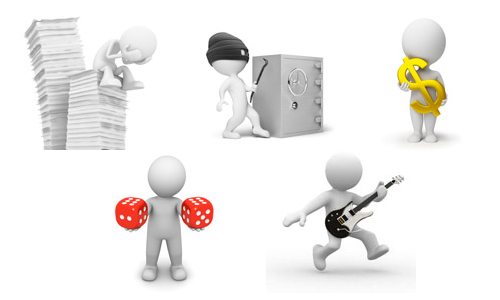 One of the best examples of this consistent branding through images comes from Viper Chill. Glen uses these little white men at the top of every post. Immediately you know where you are when you see them. A few other sites have started to copy him but most people know where they started.
The first person to do this really well in the blogging world (in my opinion) was Maki from Dosh Dosh. The site is now long gone but he used to use a Japanese anime character for each post. It was totally different and people loved it.
2. Images should enhance content, not distract from it
One of the biggest image mistakes I see on beginner blogs is people choosing huge portrait photos that totally distract from the content. They stick out too much and create a huge chunk of white space around them.
It looks ugly and it distracts from the meat and potatoes – your written words.
The images and photos that you choose on your blog should enhance your content, not distract from it.
Remember the old adage that a picture is worth a thousand words? Pretend that is true for a second and then go through your blog and imagine if your images were actually a thousand words of content. Are they up to scratch?
Each image should help your reader to understand something.
Example – Digital Photography School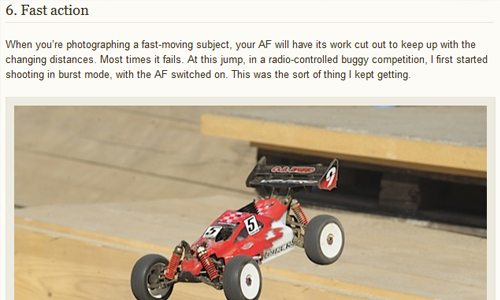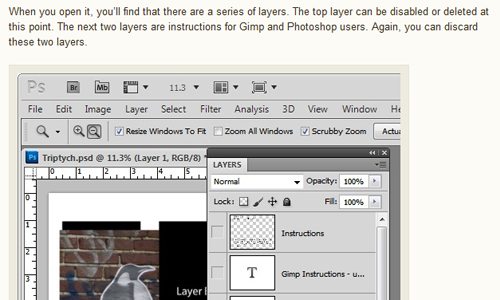 The best example of this is over at DPS where Darren has a lot of tutorials. Each textual component is usually accompanied by a photo that illustrates the point being made. It makes for some wonderful, easy to read and nicely scannable content.
3. Images should encourage conversions
One of the most important places to think about your photos and images is when you are building a page or area that is aimed at selling a product or getting a sign up.
Photos on these types of pages need to convey certain emotions as soon as people see them. Things like:
Fear – An image that creates fear might encourage them to interact with your solution
Trust – A trustworthy image might be a head shot the face of someone in a testimonial
Envy – Why do you think landing pages have photos of the things that money bought?
Pages that are used to convert people into subscribers or customers need to have extra attention paid to them.
Example – Quicksprout's new landing page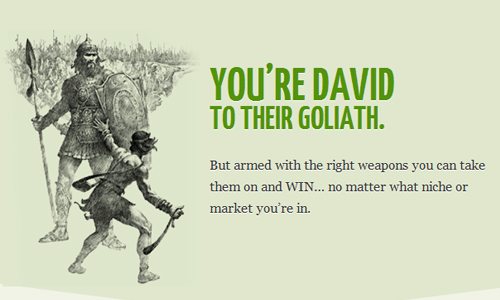 One of the coolest ways I've seen this done is on all round nice guy Neil Patel's new landing page on Quicksprout.
You might have to get through an email subscription page to see it but it is a brilliant sales pitch for his new traffic product complete with amazing colors and graphics that really motivate you to feel energized about what he is selling.
My favorite image on the page is the one of me killing Goliath with my newly bought traffic product. Well, that's what I felt like looking at it.
Example 2 – eCovers for your eBooks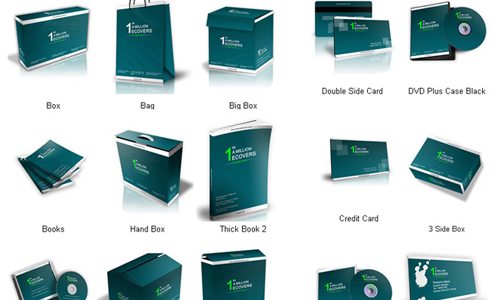 Another example of how images can encourage conversions is by taking a look at all the online marketers who add these eCovers to their landing pages to make it seem like you are buying something physical.
The reality is that you are buying a PDF or access to a forum but by adding these covers you can make it feel more tangible and more like it value for money.
Final advice and tips on photos
I thought I'd finish off this post with a list of advice and tips and resources that might help summarize the post and get you started on better blog images.
Don't skimp
Buy images for premium blogs. Dreamstime sells them for not a lot.
Use Photdropper
The Photodropper WordPress Plugin lets you add images from Flickr to your post and a credit at the same time. I use it.
Get Gimp
Gimp is a good free tool for editing photos. You need at least some basic photo editing tool to get by.
Size matters
Keep all of your images the same size (width and height) so people know what to expect.
Placement matters
When writing blog posts make sure you use images in the same spot every time so people recognize your style.
Create emotion
Don't add images and photos for the sake of it. Create an emotion that will have a result on sales.
Use Stock Xchng
If you don't want to spend any money you can try this site and selecting Royalty Free although the quality is not as good.
Base posts on images
Occasionally it can even be a good idea to write a post or two based on some super good images that you have. Its also a way to generate new ideas.
Tie them to your theme
If the color scheme of your photos is totally different to your WP theme you are in trouble. Make sure they match.
How are your images?
So how are your blog images going? Do they need work? The more I think about it the more I feel I could do better with my own selection of photos and graphics – especially in terms of keeping a minimal-feeling theme. Leave a comment and let me know if you've seen a blog do it particularly well.