Did you know that your blog has certain hot areas that get more attention than other places on your blog? Did you know that the way you use these hot areas can actually have a significant impact on how successful your blog and its content will be over time? Well now you do. In this article I am going to show you where these hot spots are and, more importantly, how to use them to your advantage.
What exactly is a hot area?
Before we jump into the potatoes of the post I want to talk a little bit about what exactly these hot areas or hot spots are. Basically we can say that they fall in to two categories or types:
The eye catching areas
These are the parts of your blog or website that the eye naturally gravitates to. Web designers will tell you that you can manipulate where the eye goes using clever design and I agree. But that being said, there are several areas on a blog that people's eyes are used to landing. These areas are important.
The high clicking areas
After the eye catching areas you have the high clicking areas. These are the parts of the blog or website that are more likely to get clicks by your users. Yep, you heard right. Not all parts of a website are equal when it comes to clicks.
If you can tap in to these hot spots and hot areas you will be surprised at how much more success you have with things like generating revenue, subscribers, interactions and so on.
The 3 hottest areas on your blog
So lets get into the juicy part. There are three super hot areas on your blog that you need to know and exploit to your advantage. As always, if you have any questions or objections I would love to hear them in the comments section.
1. The top left corner
The top left corner is traditionally thought of as one of the hottest parts on a website. Why? Because over the years web users have become accustomed to finding the important parts located in that general area – things like the about page, the logo and a description of some sort. Quite naturally you will find that your eye gravitates towards that section and as such it is one of the hottest areas on your blog. Your first blog post title is an extension of this hot spot as the first few words fall right in to the eye-catching area.
How to use it best
The drawback of this particular area is that it is normally already taken up with the stuff I just mentioned. But the one saving grace is that first headline. This is something that you need to think very carefully about: are you distracting users from the headline with a header graphic or some other piece of design? If so then get rid of it. Here on Blog Tyrant I make the headline crisp, loud and large so that there is not change that some other fluff will distract you from focusing on my best weapon – my writing. Clear out everything in your top left that isn't to do with a logo or the first headline.
2. The right hand side, in line with your first title
I am actually expecting some debate over this one because a lot of people do not think that it is a very hot area. And in some respects they are right (more about that later) but for the most part I have found this to be a very profitable place on my blogs. On Blog Tyrant you can see that this is where I clearly place the most important thing on my site; the place where people can get a free eBook and give me their email addresses.
So why is this area so hot? Its actually not what you might think. The reason this area is so hot is because of your old mouse. Think back and remember what your mouse was like five years ago and the way you browsed web pages. What was missing back then? The scroll function! Back in those days we didn't have the nifty little scroll thing on the mouse and as such we had to manually take the cursor over to the right hand side to make the window move. Because of that we are now in the habit of looking over to that area because that is where our cursor is most likely to be. Aside from that, this area is right in line with the title which is (as mentioned above) an extension of the hottest spot.
How to use it best
Now, remember I said that people were sort of right when they said that this area wasn't that good? Well the reason for that is because it doesn't work at all for ads like adsense or banners. Almost every blog you visit will have a 125×125 square advert around this area and for that reason people have become quite blind to them in that spot.
Content based items, however, work very well here because people are looking at your main headline and developing interest. If you give away a free eBook it should be advertised simply in this position at the very top of your right sidebar. I would go so far as to say that your email subscription box along with some well thought out copy should be the only other thing appearing in this area. If it doesn't promote your content then don't put it here.
3. The end of your articles
The end of your articles is the third hot spot on your blog and the reason is obvious: people are looking for something else to look at. If a reader has made it to the end of your blog posts then the chances are they want to interact in some other meaningful way. Even though this part of the site is below the fold I have found it to be an extremely powerful place to get attention to the right things.
How to use it best
Depending on whether you are running a blog or a website and what your goals are you will use this section differently. On Blog Tyrant I use the bottom of my posts to do two things; promote my free eBook by telling people that if they liked the article they will like the book, and by giving some other related posts to look at. On my product sites, however, I have a large square adsense advert there with the colors perfectly matched to the background of the website and the links in the post. They always get very good click rates if the content in the article is readable.
But what about all those social media icons? Shouldn't they go there? Well, to be honest, I don't really believe in them. I don't think people use them. Social media sites are already easy enough to use and if someone is a regular on them I don't think they need buttons to help them very much. I still keep them there of course, I just don't make them too important.
A word of warning
Now for a word of warning. Everything that I have said thus far can be undone and untrue depending on a million other factors. For example, if you place blazing big Adsense ads in the top left corner you might find that people ignore the area pretty quickly. Or if you use a free theme that people have seen a thousand times before they might start navigating a little differently. Google publishes a well known heat map which shows you the hot areas on your site and, yes, they are different to mine because they are talking about Adsense units.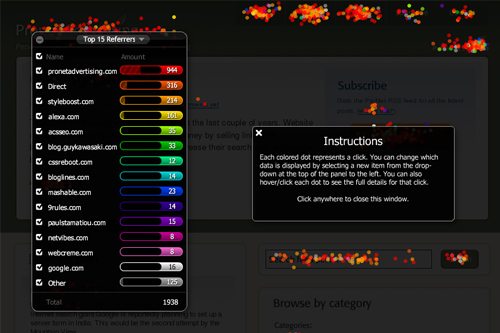 What you need to do is track and test for yourself. And the way to do that is with Crazy Egg. This is a very cool piece of software that allows you to see where people are spending time on your website. The image above shows their confetti feature which shows you all of the clicks that you have had on your website; each color representing something different. This is a wonderful way to take the guess work out of it all. As I mention in my new eBook, you need to start split testing this stuff and see which works better for you as an individual.
Conclusion
Hot areas on your blog are vital if you want to capture more email addresses, get more clicks on your ads or get your readers to delve deeper in to your blog. Make sure you pay attention to them and track and test different options instead of just guessing. If you have any experiences with changing the positioning of certain items on your site and getting a better/worse result I would love to hear about it. Please drop a comment and let me know.