Want to grow a successful blog? You need to teach your readers a few things.
As my blogs grow (this one in particular) I realize that there are a few key lessons that I need to teach my audience if I want to succeed.
In this post I'll talk about what those lessons are and why they are important.
The balance between teaching and traveling
I have always thought that the best voice for a blog is one of a fellow traveler.
That might seem ironic given my site's name, but I still really try to stay open to new ideas. In every single blog post I will ask a question or request help from my wonderful community.
And so before launching in to the lessons I wanted to touch on the subject of voice and say that we are not ordering our readers or lecturing them like a father. We need to be skillful in the way we approach these issues.
Some finesse and creativity is required.
5 things to teach your readers
As always, if I have missed out anything I would love to hear from you in the comments.
1. Teach them how to use your site
One thing that you need to remember is that a large segment of your readers are newbies. Only a very small part of even the most successful site's readership is returning readers.
That means you really need to educate your new visitors on how to actually use your site.
This might seem a bit silly; surely everyone knows how to navigate a blog right? Well, no.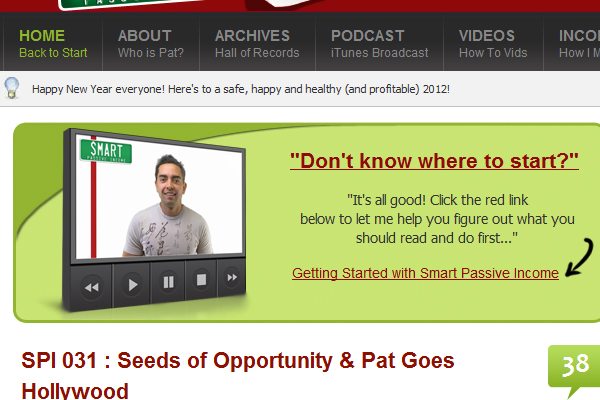 Pat from Smart Passive Income does this extremely well with his "Start here" section that you can see at the top of his home page. Not only does this introduce his new readers to how the site works, it also acts as a trust builder as people get to meet him right away.
He also mentioned that this particular page gets him a lot of new subscribers.
Teachings your readers to use your site is so important for stickiness. You want your readers to stay as long as possible so why not give them a tour or an introduction?
2. Teach your readers how to share content
One of the big learning curves for me is that not everyone knows/wants/could be bothered sharing your content on Twitter and Facebook. You need to show them how.
Some people aren't on Twitter so you need to educate them on the benefits.
Others don't like retweeting content and so you need to teach them that it is an excellent way to make new and important alliances.
I'm not just talking about a 101 lesson on how to click a Share button here; I'm talking about creating a community where people want to thank you for your work by sharing your stuff. This has a lot to do with writing amazing content but it also has a lot to do with showing your readers that you are thankful for their sharing.
Some things you can do include:
Saying thank you
Try and thank every single person who Tweets your content. They'll be more likely to do it.
Share their stuff first
Create some good karma and teach by example.
Ask
Don't be afraid to drop a few hints in your articles. I do this all the time. On of the best places to do this is right after the sign up to your mailing list. Just let them know that you appreciate any shares.
Don't assume that everyone knows how to do these things. Help educate.
3. Teach them about backlinking
In my recent post on blogging SEO I talked about how important it was to link to other sites.
The result?
The next day I got more backlinks from reader sites than almost any other time. I was quite amazed at how well this subtle indication had worked.
Now, you have to be creative about doing this. Especially so if you aren't in a blogging niche. For example, a fitness blog can't exactly do a post on the benefits of backlinking.
What you can do, however, is run things like contests that encourage people to link back to your site without appearing spammy. My friend James Chartrand is doing that right now with her Damn Fine Words contest.
Does this count as an entry, James?
4. Teach them about value
One of the most important lessons you can pass on to your readers is the idea that value is key.
This lesson has two parts: teaching them how to recognize value and teaching them how to provide value.
Why is it so important?
Because when your readers become more successful, you become more successful.
When your readers make more money, you make more money.
When your readers recognize value they will possibly pay for it.
Now you might think that this just applies to the blogging about blogging niche but it doesn't. By providing great value on any blog in any niche and educating your readers about what value is you will be more likely to sell a product at launch time or grow your reputation over the years.
Let's take a fitness site as another example. You provide a lot of value and then some of your readers get inspired and decide to lose some weight. They succeed and then start a blog about their journey and reference your blog as a source of inspiration. The value effect has flowed through.
Some ways to teach people about value include:
Less small update posts
I abandoned small little update posts a long time ago. Save your blog posts for amazing, detailed and highly valuable content. It will teach people that everything that you write is worthwhile and rare.
Be altruistic
Make sure you do everything with the motivation to help people. When readers see that you are about helping them get results instead of just getting their wallets out they will associate you with value.
Solve problems
Value is all about solving problems. If you can solve a problem with every post, paragraph and comment you will be well on your way.
Help your readers to not only provide value on their own sites, but recognize value on your own. When they see how well it works for them they will love you even more.
5. Teach them about the people above you
The last lesson I wanted to talk about is the fact that you really need to start educating your readers about the influencers in your niche.
The more often you can refer to the big players in your niche the more likely you are to get on their radar. This is especially true if you can mobilize your "army" and get them talking about and sharing those guys' content. They will be grateful to you.
This is a wonderful way to build relationships and trust as well as developing new deals, getting guest posts, etc.
Don't just reserve your Facebook posts and Tweets for your own content. Be generous and share a lot of stuff from your idols, mentors and even competitors. They will, in turn, share your content and thereby help to grow your brand and business.
It also brings the other points in to play by teaching your readers about good value, how to Tweet and Share and how to backlink.
What have I missed?
What other lessons do you think we need to teach our readers? Do you have any good methods for teaching via a blog so that it is more effective and less pushy? Leave a comment.