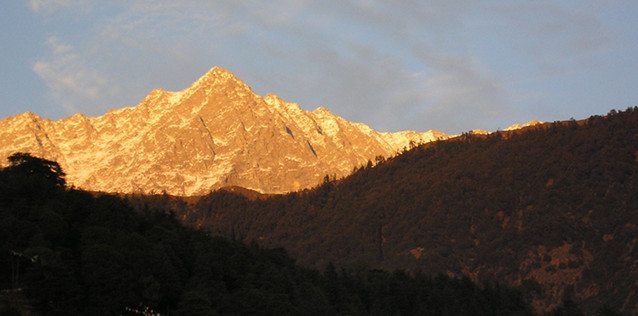 Sunset in the North-Indian Himalayas.
With an anxious stomach I dusted off the suitcase at the top of the cupboard. Throwing in socks, shirts and jumpers I packed lightly and then halved it. Tomorrow I'd be gone from here.
After a restless sleep I woke up before the alarm – way too early. But I was awake so decided to double check everything. It felt like I had forgotten something, but you always feel like that.
Three hours later I'd cleared customs and made my way to the brand new Airbus A330-300 seat.
Four or five on-demand movies later I was in India – bound for the fresh air and pine forests of the chilly Himalayas.
Ten days with no email, phone calls or websites.
Constantly plugged in but tuning out
When you've spent as much time as I have at home working for yourself you start to notice a few personal trends.
You're always working because no one else can take care of it.
Stress arises in disproportionate waves when even the most minor of hiccups occur.
You put things like friends, exercise and healthy food down the bottom of the list.
But most worrying (for me) is the fact that you're always plugged in. You can't go five minutes without checking social media on your phone or reading the news. There's a constant need for instant gratification that makes you anxious, dependent and murders your creativity and energy levels.
The more time you spend plugged in the more you tune out to actual human events and emotions. It becomes very hard to enjoy the simple things in life and, as all the wise people say, they are the things that bring the most happiness.
So I went to India for ten days and didn't check my emails once.
A battery re-charge out of my comfort zone.
Why I went to India for 10 days
To be perfectly honest the trip wasn't all about escaping and re-charging. A dear friend wanted to visit and I had always promised that I'd show them around as I've been there so many times before.
But every time I go there the effects are similar:
A new perspective
When you spend a lot of time indoors you lose perspective. Internet memes and events seem to become really important. Time away helps you reset or gain a new perspective and outlook.
A battery re-charge
As I said before, going overseas can really re-charge your energy levels and help you get out of a self-created rut. Meeting new people, seeing new things and developing new ideas in a foreign place.
A new commitment to help others
When you go to a place like India where there is extreme suffering at every corner you find that compassion and a wish to make a difference arises naturally. This can have a flow on effect to all areas of your life and make your work a lot more meaningful.
And although I find myself tired and sick now that I'm home I also feel renewed, alive and ready to put more of myself into my work and, most importantly, my much-loved readers. I've got so many ideas that I've had on the back burner that I now feel ready to put out into the world.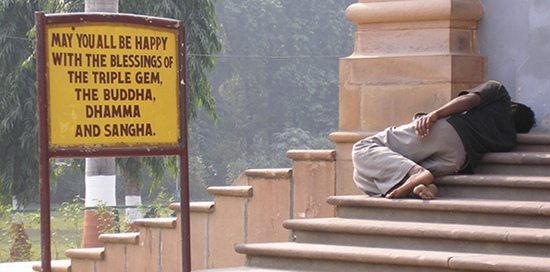 A man sleeping in Sarnath – the place where the Buddha first accepted a request to teach.
Could you go offline?
Going offline is one of the best things you can do for your online career. – Tweet this.
It can, however, be a really hard thing to do. We spend so much time setting ourselves up as internet business people and every part of our life is, in some way, tied up with what we do on the computer/phone/tablet.
But it is worth it.
I want to challenge all of the Tyrant Troops to think back to the last time you logged off and left it all behind for a period of time. How long ago was that? How long did it last? What effect did it have on you?
Lastly, if you haven't spent time offline in a while I'd like to know whether you reckon you could manage it. Is it something that you think would benefit you? Is it something you could afford/have the time to do?
Please leave a comment and let me know.