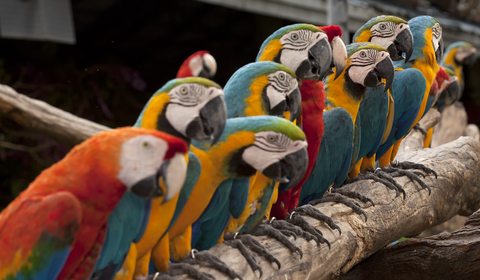 When I launched Blog Tyrant over a year ago (can you believe it?) I instantly got lucky.
I hit the front page of Delicious in the first few weeks and had tens of thousands of visitors who subscribed, tweeted and told their friends.
My career as the Blog Tyrant was born… thank heavens.
And from the beginning I decided that I wasn't accepting any guest posts, even if Seth Godin himself wrote to me. A lot of people thought this was a strange decision.
So why did I do it?
Well, the reason was simple really: I wanted people to get to know my brand and my style.
I wanted people to become familiar with the way I did things on the site.
I wanted my brand to be solid and recognizable across the blogosphere.
Sure, it would have been easy to let the guests posts flow in because I already had a lot of subscribers and traffic and loyal readers. I could have stepped back and let other people fill out the blog with mediocre content as we are seeing so many other blogs do nowadays.
But I didn't.
I decided to do things the hard way by producing long, detailed, exhausting articles that really helped my readers as much as possible. I stuck around answering every comment and replying to every email. And now, all these months later, I feel like I'm ready to open the site up.
But be warned. I'm doing guest posts a little differently.
Guest posts done differently
You see, I am really attached to this site. I am attached to what I've built up and I really don't want my readers to think any less of me because of the guest posts that I accept.
For this reason I am making some really strict but hopefully not too restricting guidelines.
Here they are:
1. You have to know your topic better than me
I once heard Tim Ferriss say that he doesn't accept guest posts on topics that he could write about himself. As soon as I read that statement I initially knew he was right – guest posts are not about filling out your blog with content, they are about featuring authors who can educate your readers in a way that you can't.
So, if you want to write a guest post on Blog Tyrant you'll need to know your stuff pretty well. I don't have the largest readership in the world but I do care a lot about them and their careers.
That being said, I am keenly aware of my shortcomings and am very open to learning from other people. Even on blogging and online marketing there are so many bloggers who know a sh#t tonne more than I do.
2. You have to be a good person trying to help
Another borrowed philosophy: I once heard John Mayer that he was happy to feature Taylor Swift on his album because he knew that in ten or twenty years she'd still be a good and decent person and he wouldn't have any regrets.
I feel the same about this blog. I don't want to feature and promote people who then go back to their own blogs and do dishonest things.
I guess this means that I am going to check up on all the potential authors I feature. I'm not talking about police background checks and going through your garbage but I will read through your old posts and make sure I think you mean well.
3. You have to be open to criticism
I think I'm going to find this aspect of accepting guest posts pretty difficult – saying no. But I promised myself I'd be tough.
You see, as soon as you open up for guest posts people start submitting crap. I've experienced it on a lot of my other blogs and I know a lot of other bloggers who talk about it. They just want to get featured on as many blogs as possible to get those juicy backlinks.
The funny thing is that I'll probably hold people to a higher standard than I hold myself, at least in the beginning. I'm strange like that. And I apologize in advance.
4. You have to be a good blogger
Notice I didn't say a good writer. I don't care if you are a good writer. I want you to be a good blogger.
What's the difference? Well, a good blogger knows how to write but also how to make those words work on a blog. They use headers, dot points, links and photos to sell their ideas. And their ideas are clever and provide a new perspective on something that we all do everyday. And they can push their content socially.
Keep in mind that this means you can do videos or podcasts or a mixture of everything in between. Blogging is an artform (or an anti-artform) that I hope guest posters have some ideas about.
5. You have to be open to regular contribution and collaboration with me
The last thing that I really want to try with my featured guest posters is coaching and collaboration. Now, this won't work in every situation but I had the idea that many new bloggers might want feedback on their posts and promotion in the long term.
What this means is that I would like to pick only a small handful of guest posters to regularly feature on the blog instead of dozens of random one-timers.
Those regular guest posters will have access to me whenever they want to discuss their ideas, post structure, promotion, etc. I want their posts on Blog Tyrant to not just help my readers but also grow their careers.
What do the readers think?
What do you think about Blog Tyrant being open for guest posts? Are you upset that things are changing or are you interested to see who gets a post live? Please leave your thoughts below.
Photo: © Anekoho