When I was 16 I sold an eBook for $65 to a lovely man from Holland.
Actually, it was less e-Book and more real-book; I printed it out with a nice hardcover and literally posted it to the other side of the world.
As clumsy as that transaction was (I made him send me the money via Western Union) I am only now realizing something vital about that day.
And I'd like to share it with you.
Hopefully someone out there reads it and doesn't end up wasting all the years that I have.
WARNING: Self-involved stories and lame nostalgia ahead. Proceed with caution!
Making that first sale…
You might have heard this story before.
When I was in high school I was obsessed with Kung Fu and Bodybuilding. I thought I was like some young Bruce Lee from Australia.
I used to train three or four hours every single day – often at the expense of exams or study or angst-ridden high school relationships.
But I also got pretty good (or so I thought!).
And so I decided to start a fitness website.
Looking back, it kind of makes me cringe. It had a flaming logo and a lot of scrolling marquee text on a black background. I also had no formal qualifications as a trainer – just a lot of lessons learned by exercising an unhealthy amount.
(If you want to avoid making your first website a crappy one like my first one please read this post.)
So I put all of my training routines and ideas into a fitness manual and posted it up on the site. Within a week I received an email from a guy who wanted to buy it.
*heart starts racing*
I'll never forget the feeling I had when I caught the bus into the city to collect my $65 from a Western Union outlet.
Yes, I caught the bus.
I was ready to take over the world. And although I've never forgotten the feeling of that day, I've let it slip into the back of my mind far too many times.
And that has caused a lot of problems.
I think I hate my University degree…
I went to University and studied a degree that I hated for a few years.
I'd rock up to lectures every day and then right when the class was going in I'd lose my nerve and go and muck around in the computer rooms.
After a few months of this I realized that I was wasting my time (and money) at Uni and dropped out with one subject to go.
Yes, one subject.
I'd just sold a blog for almost $20,000 while working in the computer labs instead of going to tutorials.
There was that feeling again.
It was time to take blogging seriously.
I think I hate my business…
And so I got to work on building blogs.
Some of them worked (I sold a couple of others for 5-figures) and some of them failed hard.
But I was working from home building my own assets.
I was hooked.
The problem started when I began to run out of money. One too many blogs failed and eventually I started to take on web design and copywriting-type work in order to pay the bills.
And then my life became about finding and servicing clients.
Work became a chore. And I found myself not very well equipped to deal with the stresses associated with hosting medium-sized company websites, managing their emails, building new business and keeping everyone happy.
A few years in and I realized that I hated my business.
The goal was to use web design clients to pay the bills so I could build and grow more blogs. But I ended up getting lost in the day-to-day stuff and completely forgetting about what I actually wanted to do with my life.
While I was grateful for my clients and their money that allowed me to work from home, I knew it wasn't me at my best and I knew it wasn't a sustainable situation for my health or happiness.
And then I registered BlogTyrant.com
I haven't told many people this but initially Blog Tyrant was meant to be a marketplace for buying and selling blogs, finding writers, photos, coders – anything you might need to run a blog.
But before I had all that built I decided to write a few articles and get the domain name ranking on Google.
The third article I wrote hit the front page of Delicious and brought in nearly 10,000 unique visitors in the blog's third week. Here's some proof: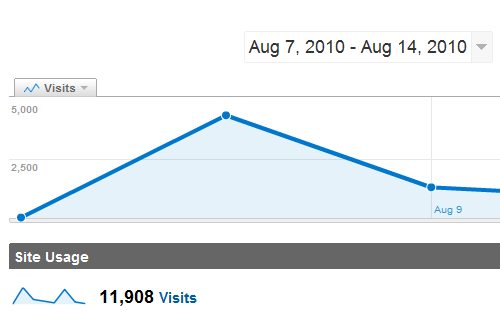 There was that feeling again.
It was exactly what I needed – a reminder of what I was supposed to be doing and what I was good at – writing useful blog posts and building sites up in different niches.
And nothing against my clients, but it felt so good to be focusing on building my own business again instead of working night and day to build someone else's.
Do you remember that feeling?
It took me years and years (and an income hit) but I'm finally working on the business that I want to be.
I love this website and the community that has sprung up around it. I've made genuine friends with other website owners and, most of all, the awesome people who leave comment-essays every week.
Every time I publish an article I get a little version of that feeling I got when I sold that eBook all those years ago.
And it makes me want to do more.
If you've lost that feeling I encourage you to figure out how you lost it.
And then work like crazy to get it back.
What about you?
Are you working on the business that you want to be?
Are you following the initial motivation that first compelled you to register a domain name and start a new blog?
I'd love to hear about your own journey and how you balance working on something you love with making enough money to pay the bills.
Please leave a comment and let me know.