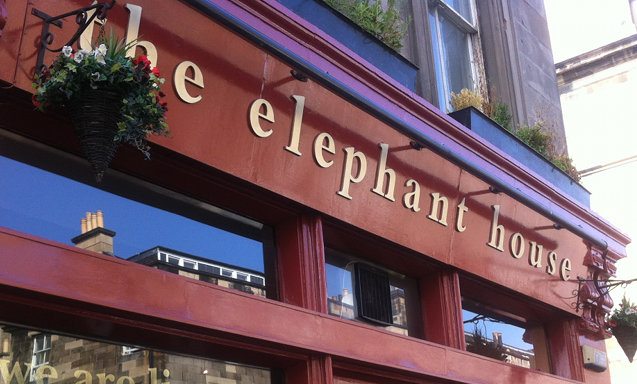 I'm writing this post from a couch exactly like the one in the photo on my About page. Except this couch is in a cafe in Edinburgh, Scotland – probably five minutes walk from the cafe where JK Rowling wrote Harry Potter.
I'm looking out at cobbled alleys, old stone buildings and the bustling crowds that are here for the Edinburgh Festival Fringe.
And as I type from this same couch in different part of the world I realise that the very act of doing something new has made me feel creative, energised and full of ideas.
I wonder if that's how Harry Potter was thought up?
A year of changes
This year has been a year of huge changes for me.
My fiancé moved to Edinburgh to work at the Festival, my brother got a placement as a junior doctor at a hospital in the country and my best friends moved away.
I also changed the direction of my business (to work more exclusively on Blog Tyrant) and launched my first ever membership site for bloggers who want to strategically take their blogs to a new level (it's closed now but get on the mailing list if you want to know when it opens again).
And for a while all of those changes made me feel literally ill.
I would stay awake a night trying to plan out all the details in my head.
"Where will I work from?"
"What if my cat gets sick or my mum needs me for something?"
"Do I really have enough money to travel around for months on end?"
"Will people really pay for (and love) a product that I developed?"
The list goes on.
And so did those long, sleepless nights.
But I did it anyway. And so far it has made all the difference.
Why we hate change so much but need it so badly
From what I understand, human beings are physiologically designed to hate change. Our brains and hormonal systems go into panic whenever we think about doing something different because, long ago, doing something different might mean losing shelter, food or water.
But if you pay attention to any of the great thinkers of the past you'll start to realise that change is about all we can rely on.
"This existence of ours is as transient as autumn clouds. To watch the birth and death of beings is like looking at the movements of a dance. A lifetime is like a flash of lightning in the sky, rushing by, like a torrent down a steep mountain." – The Buddha
The worry and anticipation that comes before a big change is, for me anyway, usually a lot worse than the change itself. In fact, when things change I often find myself having a really good time or taking care of the situation in a pretty calm and cool way.
I still hate it though.
But, now, I'm starting to think that it might be necessary.
It might even be a very, very good thing.
I really didn't want to move house to my current location. But when pressed by my fiancé I found that we not only saved a lot of money, we found a new house with a housemate that has since become one of my best friends. I'm a lot happier there (I really didn't want to share a house again) than I thought I would be and it's opened up a lot of new doors.
When I decided to build a sweet new training course I was terrified for two months that people would hate it or that it would have never-ending technological problems that would leave me with crippling amounts of support emails. So far it's going well, there have been next to no support emails and the amount of knowledge I've gained from launching something new on a foreign format has been like completing a new college degree. It's quite astounding what new ideas that process has given me.
And then I bring you back to the fact that I'm writing this post from Scotland, not Australia. A few weeks ago that thought would have made my mind accelerate into a whirlpool of fear, doubt and worry. But at the moment I feel shockingly good. My head is bustling with new ideas and creative energy. And my heart (or wherever bravery comes from) is feeling like putting a few old ideas into development – things I've always been too scared to go after.
Oh, and for all of you who really wanted to see were Harry Potter was written here's another photo I took for you: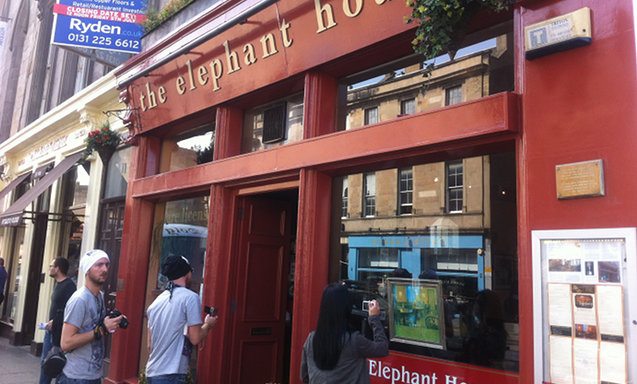 It's not actually a great place to write anymore – constantly busy with camera flashes coming in the windows!
Conclusion
Change is inevitable. Nothing is going to last. But as human beings and bloggers (or creatives or business owners) we should perhaps start seeking it out instead of just learning to cope with it. I might be writing another post in a few weeks about how everything has fallen into a big heap, but so far the new scenery has really given me a huge gift.
How do you deal with change?