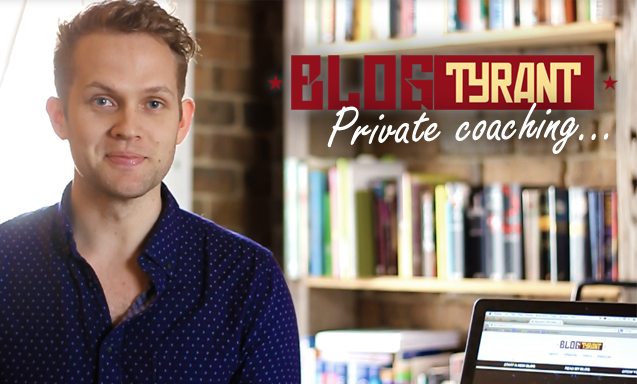 You love your blog.
But it's just not going anywhere.
No real traffic.
No blossoming list of devoted email subscribers.
And, of course, not a lot of income hitting your bank account.
Worst of all, you're spending too much of the most precious thing that a person can spend – your time.
Blog Tyrant Private Coaching is about giving you serious, dedicated help to build an individualised growth strategy for your blog.
But I'm only going to work with five people.
WHAT'S THE ONE POWERFUL INGREDIENT THAT EVERY STRUGGLING BLOGGER IS MISSING…?
Every single day I get emails from people who are struggling to grow their blog.
Most of the time they hate their job, work way too many hours, and are desperate for something to change.
They want their blog to be that change.
And what so many of these bloggers are asking for is a coach.
Someone to help them wade through the masses of conflicting ideas out there.
Someone to give them individualised help to build a strategy that has been proven to work.
Someone who'll chat with them directly, check their writing and landing pages, and give them the confidence to take some risks.
And that's exactly what I'm doing for just five people.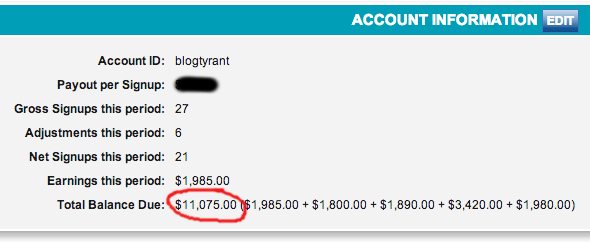 Above is a screenshot of some earnings from just one of the affiliate products that I promote. This didn't happen overnight (I don't believe in that crap) but it was part of a deliberate strategy that we can replicate with some brains and discipline.
By the end of this month period you'll no longer waste your days wondering what to work on. You'll stop umming and ahhhing about which strategy to follow. You'll write articles that bring you traffic, subscribers and customers.
I'll show you how I do it.
HOW CAN
YOU

GET PRIVATE, PERSONALISED, ONE-ON-ONE COACHING FROM ME FOR ONE MONTH…?
Okay, so here is how it all works.
I am going to select just five people to work with over the next month.
In that time you'll:
Get a full branding, strategy and SEO audit of your blog (normally valued at $500+) to kick things off.
Replicate the effective blogging strategy that I use on my blogs with fortnightly tasks.
Learn my method for building a funnel that gets the right people on your mailing list.
Find out how to tap into big traffic sources to build a sustainable online business.
Brainstorm your articles, ideas, headlines and campaigns with me personally during the month period.
Get connected to some of my marketing friends for power-networking.
Get shown my strange SEO trick that NO ONE is talking about but that works incredibly well.
Find out my grey-hat tactic for reaching the front page of sites like Delicious and Reddit to drive masses of visitors.
Be able to contact me on my personal email address whenever you need.
Most of all you will get confidence that you are working on the right things – a tested strategy that's worked for me in multiple niches – and a hand to hold while you get it all set up.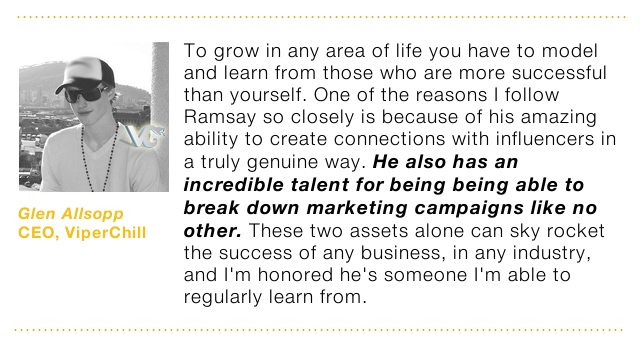 This is not some online course. There won't be module after module to proceed through.
I am keeping it much more organic and natural so that I can work with you directly on your blog and tailor each moment exactly as you need. This is how I have always done it with my clients and it works extremely well.
WHY ONLY FIVE PEOPLE?
I've thought long and hard about this and the reason that I am restricting this to just five people is because I think that is a comfortable number of people for me to work with personally over a month-long period.
I also want to make sure that each person who I work with is in the right frame of mind and has similar goals to me. If I'm spending a month working with you on your blog I want to make sure you're serious about it and that we get along well.
Do NOT submit your payment unless:
You are willing to work hard.
You are open to new ideas.
You are happy to change direction if needed.
You are willing to give your blog at least one year of dedication.
You want to work on a sustainable and long-term strategy.
I may also request that I use your blog as a case study to appear on Blog Tyrant. This is completely up to each individual, but may be a nice additional promotion for your site.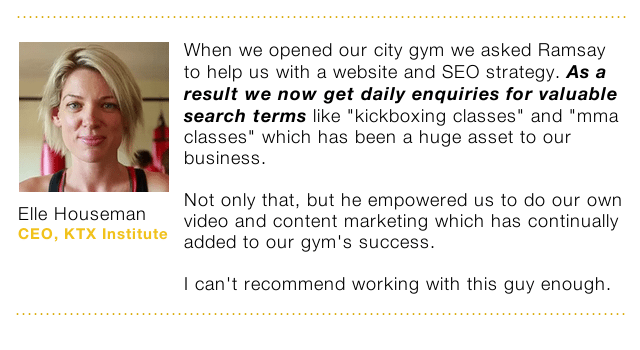 WHAT HAPPENS NOW?
Apologies! All five places have now been filled! Please enter your name and email address below to go on the second-chance list. You will be contacted if the Private Coaching opens up again in the future.


GOT QUESTIONS?
Got any questions? Feel free to get in touch with me at tyrant (at) blogtyrant (dot) com and I'd be happy to have a chat and try to clear anything up. Easy!