If you want people to read your blog you need to give them valuable, useful content.
If you want people to become loyal to your blog you need to give them an authority statement.
In this post I want to talk about what exactly an authority statement is and how it can have a dramatic impact on your blogging career.
I'll also show you a few examples of people who have done it extremely well.
What is an authority statement?
First things first.
An authority statement is basically a truthful way of communicating to your audience that you have some authority or expertise in your field. Its basically something that gives people a reason to trust what you are saying.
It can be something overt or something more subtle and gentle.
You might not have thought about it but we see these statements all around us:
A police badge/hat/horse
A police badge, hat or horse communicates authority because you associate those things with power, safety and so on. They are used to differentiate the police from regular citizens.
A luxury watch
A luxury watch can communicate an income level or status to the people around you. This seems trivial to us but can mean a lot to a manager or person involved with other high powered business people.
A college degree
Ever walked into an office and seen the framed college degrees on the wall? Those are there to make the person feel more authoritative.
Authority statements are extremely important for blogs. In fact, most of the time when I do blogging consults for people who are struggling to grow an audience I find that they really lack a communicated position of authority. In other words, there is no reason to read their writing.
Examples of authority statements in the blogging world
I thought the best way to help you understand this concept would be to show you a few people who have done it extremely well.
1. Shoemoney's Adsense check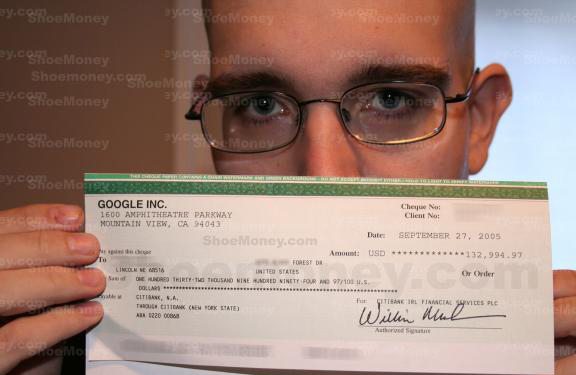 Perhaps the best authority statement in the blogging world is Jeremy Schoemaker's Adsense check for over $100,000.
I remember when he posted this years and years ago and how quickly it skyrocketed his blogging career. With one single photo he communicated to the blogosphere that he knew about SEO, blogging, Adsense and a whole lot more.
This is a very simple and overt way to make an authority statement. And it is quite similar to the next one.
2. Pat Flynn's income reports
Pat from Smart Passive Income does monthly income reports where he details how much he is making and from what sources.
Now, I don't think Pat was the first blogger to do this (it might have been Darren Rowse) but I do think he does them extremely well. And the reason for that is because he talks about the ins and outs of the business. Its not just a breakdown of income sources, its a complete look at his strategy, plans and, yes, even failures.
This is an extremely good way to show your readership that you know what you are doing. And, as with most things Pat does, its done in a gentle and very unassuming way such that you feel like you are getting to know him better instead of feeling more competitive.
Are income reports a good idea?
I have to confess that I don't think I will ever do income reports for this site. I feel uneasy talking about money (perhaps I'm superstitious) but I also don't like the idea of people knowing that much about my business. If I start earning huge multi-million dollar amounts I'd be worried about criminals and readers getting jealous, and if my income levels dropped I'd be worried about feeling like I had to keep up appearances.
That being said, it works really well for Pat and a bunch of other bloggers who I know do it regularly.
3. Tim Ferriss' experiments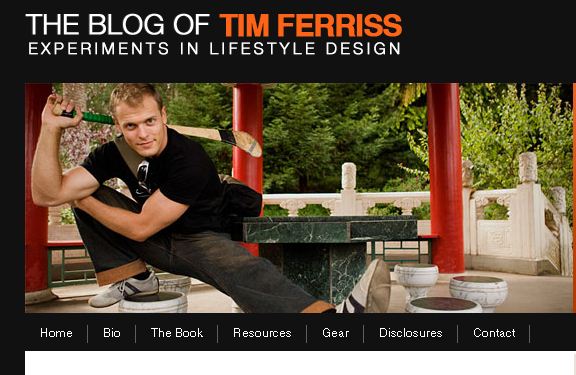 Everyone knows Tim Ferriss – he wrote two hugely popular books about doing a lot of stuff in a small amount of time (The Four Hour Work Week and The Four Hour Body).
Now, this one is a little different because his authority statement is his whole blog. Its his photo galleries, posts and products. His whole angle is that he will try out all these insane things and then show us how to do them quickly.
Sure, Tim uses a whole lot of amazing references on his biography page to build authority, but the main bulk of the trust comes from the fact that he does all these self-science experiments and then shares them with the world.
Developing your own authority statement
The important thing now is to go away and develop your own authority statement.
But you have to be very careful that it matches your style, niche and bodes well with your readership. Here are a few ideas:
Be gentle
I really don't like overt statements about how fantastic you and your blog are. Try to keep it quite gentle. This could be an Australian thing but talking yourself up really turns me off.
Use other authorities
One of the best ways to build authority is to reference other authorities who are talking about you. For example, have a look at how Greg from Sparring Mind referenced me in his About Page in order to elevate his own authority. Works very well.

If you've been mentioned in newspapers and big websites feel free to mention them or add their logos to your blog.

Remember your initial reasons for starting
Sometimes if you hark back to your reasons for starting your blog you will find some kind of authority. For example, if you run a fitness blog because you lost 15kg and wanted to share your methods with others you will find authority in the weight loss.
Use photos
Photos are an excellent way of communicating a point.
Be relevant
Make sure your statement is relevant to not only your blog but also the authority you are trying to build. For example, telling people that you lost 10kg is a good statement for a fitness blog but only if you want to focus on weight loss.
Do you have an authority statement on your blog?
Have you ever seen a blog or website that does one really well?
If you need some help developing your own please drop a comment and I'll do my best to make some suggestions. I'm sure the troops will as well!
Photo credit: Ed Callow [ torquespeak ]