AWeber is my favorite email marketing tool.
And I'm not just talking about my favorite tool for getting more email subscribers – I use AWeber for much more than just a simple opt-in form.
In fact, I can confidently say that this simple website service is responsible for me being able to work from home and earn a living from the couch.
Without them I'd be lost.
In this post I'm going to show you five features that every blogger needs to be genuinely competitive in today's online world. You might even decide to switch to AWeber yourself!
Let's do this.
Disclosure and quick interruption – I started my first mailing list with AWeber and have now partnered with them to help you start a mailing list. If you sign up through one of the links on this post I'll earn a small commission at no extra cost to you. They are a great place to start and I'm happy to promote them!
What is AWeber exactly?
If you're not entirely sure about what this thing is I'll give a very quick summary.
Basically, AWeber is a website-based service that allows you to create opt-in forms, grow a mailing list, manage your email subscribers and, most importantly, carry out all kinds of experiments to make sure that you are operating as efficiently as possible.
Now, it does cost money to use. This will put some people off, unfortunately, even though the fee is quite small compared to how much you can potentially grow your business.
Hopefully after a read of the information below you might think again.
The AWeber features that every blogger needs
As we all know, the blogosphere is a super competitive place. The barriers to entry are so low that almost every person who has thought about it has started a blog.
That doesn't mean they are all directly in competition with you, or that they are even any good, but it does mean that you need to go above and beyond if you want to stand out from the crowd and really take your blog to the next level.
Note: Some of these features are available in Mail Chimp and other similar services. I choose to use AWeber because the mix is right and, honestly, I find the others too complicated to use.
1. Split testing opt-in forms
Okay, so you've got an opt-in form in your sidebar that asks people to subscribe to your mailing list. That's nice.
How do you know it's performing as well as it could be? What if by changing the color of the "submit" button from red to green you could increase your sign ups by 1.5%? That might be an extra 5,000 subscribers over the lifetime of your blog.
AWeber allows you to create a split test where you run two forms against each other and see which one performs the best. All you do is design the forms in their little generator and then install the code on your site. AWeber will then show 50% of visitors your first form, and 50% of visitors your second form. At the end you get stats to see which one is doing best.
Here's an example: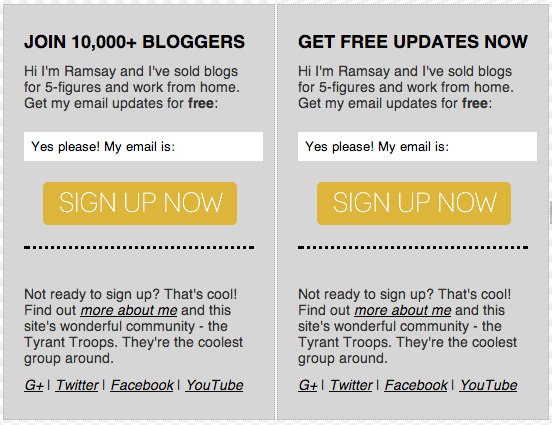 Even small changes can make a huge difference to conversions.
This is such a vital tool because it takes away all the guess work involved in your on-site marketing. I was watching Mad Men recently and found myself constantly amazed at all the assumptions marketers make. Nowadays we can split test and track the results.
2. Automatic follow up emails
When someone signs up to your mailing list it is a really smart idea to send them an automatic follow up email. This simple action that takes maybe 10 minutes to set up can solidify your relationship with the subscriber, push them back to your website and, importantly, earn you more money.
Some of the things and automatic follow up email can do/address include:
Sending a free eBook
If you've ever wanted to send a free eBook to people who sign up for your blog, this is the way to do it.
Ensure they've seen your best stuff
A new subscriber might not know about your best viral articles from two years ago. But you can introduce them to that stuff with a follow up.
Create buzz
If you are planning on using those email subscribers in a particular way, the follow up can be used to create buzz for an event that is coming up soon.
Establish some expectations
One of the most important things this simple email does is set up expectations for the future. Tell them what you're going to send, what it will look like and how it will benefit them. That reduces a lot of friction.
Promote affiliates
If you want to be a bit more direct in your marketing you can even start to send out follow ups with pre-sell information on affiliate that you promote. This means that your entire list gets exposed to a promotion over time, as opposed to a blog post which slowly loses visibility.
The great thing about this feature is that you can create as many as you want and set them to go out on certain days of the week and at certain times of day.
And you get stats to show you what is getting opened, clicked and so on.
3. The pop up opt-in form
Yeah, yeah, yeah. You hate pop ups. I know.
Well, they work. So it's a good idea to use them. In fact, on Blog Tyrant I get about 10-15 subscribers per day from my pop up – a simple opt-in form made in AWeber.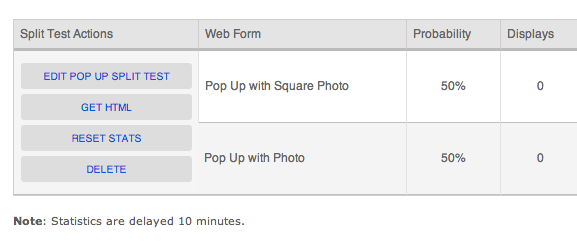 The above is a screen shot from a split test that I created using pop ups. I wanted to mix points number 1 and 3 to show you how powerful AWeber stats can be.
I've created a test between my regular pop up and a new one with a smaller, squarer image that, theoretically, will appear higher up on a reader's computer screen. After a couple of days I'll post the results as an edit to this post, if you're interested.
4. Split test mail outs
The main purpose of a service like AWeber (other than getting email subscribers to sign up) is to send out emails that promote your blog, service or product.
But what a lot of bloggers fail to realize is that you should be split testing the emails that you send out as well.
The reason is simple: if you capture 100 email subscribers and then send out an email to all 100 but only 23 open it up, that's not great. But what if you split tested two groups of 50 and found that one title performed better.
Or perhaps the email body text might be different.
Or perhaps the link size, color, or anchor text.
The possibilities are endless. And over time you can learn some really valuable things from this type of information.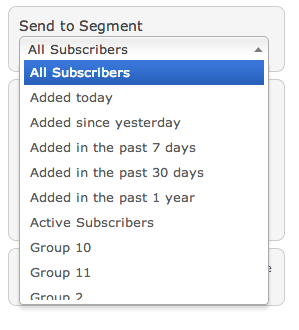 Create segments and send out tests.
AWeber lets you segment your mailing list into different groups. You might have a group that contains all your subscribers that signed up before a certain date. Or you might just want a small test group of 500 subscribers that you test your two variations on.
Interested to know if anyone does this already and what their preferred method is. Leave me a comment if you have any cool ideas.
5. The most awesome support possible
I debated for a long time about which feature to include as the fifth item on this list.
Their endless stats? Their incredible deliverability rates?
In the end I decided that I wanted to mention their flawless support staff who are incredibly good at replying, even with mundane issues (they love the complex ones!).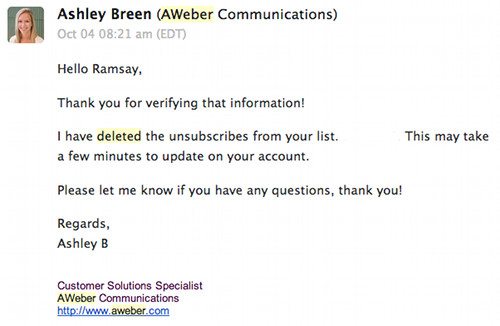 Recently I deleted about 2,000 email subscribers from my list as part of a regular clean up that I do of unresponsive subscribers. It was late at night and just as I was about to hit "delete" I chickened out when I remembered how many mistakes I make when up working past midnight.
I shot a quick email to AWeber and asked them to do the clean up for me and within five minutes it was completed.
When you're experimenting with conversions and trying to improve them it is so important to have responsive staff there to help you. I rate the AWeber team as the top two support staff I've ever encountered online.
They do a wonderful job.
A note on their recent problems
A few weeks ago Aweber and a bunch of other companies (like NameCheap and Get Response) were hit with a massive cyber attack that took down their website for almost two days.
Sadly, this also meant that all of our forms went down and we couldn't capture or send out any emails. It was unprecedented and, honestly, a little bit scary.
I don't know if AWeber or the FBI/Police have any more information about those attacks (and why they were targeted) than we do, but it was quite shocking to see how vulnerable even such well resourced websites can be.
After the first day people began jumping ship.

It's understandable. Some people we're losing a lot of money by not being able to send out emails or capture new subscribers.
But I decided to stay with AWeber. And the reason is simple. For years these guys have provided an incredible service. The team take a lot of ownership over the company and the culture there seems to be really, really strong.
I trust the techs to have the best protections in place for next time. Unfortunately this type of attack is going to get more and more common and I think these guys are well placed to weather the next big thing.
It's a good lesson for all of us to have backups and plan B's in place.
Do you use AWeber?
Are you a fan of AWeber? What is your favorite feature that they offer? I'd be really interested to find out. I'd also be super curious to hear whether you use another service because they have a feature that AWeber don't have… Drop a comment!
© Photographer: Alphaspirit | Agency: Dreamstime.com.