Free eBook
The money is in the mailing list. That is the crucial point here. If you want to grow a successful online business you need to start capturing as many loyal email subscribers as possible. My free eBook will help you do that.
Listen to me talk about what is inside:
Why do I need email subscribers?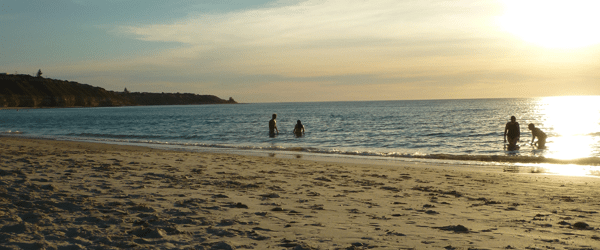 The beach! That is why. This is the beautiful Port Willunga in South Australia. Voted Australia's most beautiful beach and the place I sometimes go while every one else is at work.
That is why you need email subscribers. It allows you to grow a solid home business and finally get out of the rat races.
It also allows you to sell your blogs for $20,000 and up.
One of the main reasons Darren Rowse, Shoemoney and Brian Clark are all able to rake in millions of dollars every year is because of their massive email lists. These lists of interested and highly actionable fans allow you to:
Promote new products
Imagine having a list of tens of thousands of people that you can promote your new products to. Its like having guaranteed sales already lined up. This is the main advantage of having a large email list.
Launch new websites
Never start from scratch again. If you ever launch a new website you can just email your list and you've got an instant readership.
Promote affiliates
Some bloggers are able to have $20,000 days by just sending out an email to their list promoting a highly useful and relevant affiliate product. This is the easiest money you'll ever make.
What you get in the eBook
In this free 13 page eBook I am going to show you how I increased my email subscribers by 120% overnight. These are some really super simple strategies. You'll learn:
where to place your email subscription boxes on your blog
one piece of WordPress code you need to know
the right persuasive language to use in the "advert"
one marketing concept vital to getting people interested instantly
Exclusive emails (very rarely) on my current tactics that I don't publish on the blog
These are tactics that I use on all of my blogs and websites and have had some very good successes with them. I am sure they will work for you too.
How do I get my free eBook?
All you have to do to get your copy is subscribe by email using the form below. Once you have confirmed your subscription your eBook will be emailed instantly and you will also receive the blog updates and an exclusive newsletter that goes out once every couple of months. You can unsubscribe whenever you like.