Every now and then something in the offline world hits me like a tonne of bricks and makes me re-think my online activities. This article is all about one of those moments. It happened while watching a documentary and as soon as it finished I realized that I would have to re-structure the way I went about my blogging.
In this article I am going to talk about the SARS virus, sexual partners and Kevin Bacon and what these random elements can teach you about how you blog.
Trust me, you'll want to hear this.
So what is all of this about?
A few months ago I was watching an absolutely fascinating documentary called How Kevin Bacon Cured Cancer on the Australian ABC. This unique program was all about how the internet game called Six Degrees of Kevin Bacon literally changed how we think about the natural world. Everything from terrorism to the behavior of viruses and how people have sex has changed since scientists studied this game.
Say what? How did Kevin Bacon cure cancer?
He didn't really – its just a catchy title. What really happened is far more interesting. The game Six Degree of Kevin Bacon is all about the phenomena known as Six Degrees of Separation; an idea that everyone on Earth is separated by only six other people. In the game you try to link Kevin Bacon to everyone else in Hollywood (or so I'm told I've never played it) but some scientists (namely Albert-László Barabási) decided to study the phenomena further.
What they discovered was quite amazing. Here is the trailer:
It turns out that its not just humans that are separated by six degrees. Its everything. Scientists are now discovering that diseases, genetics, sexual behavior and even terrorist cells are linked by what is called networks. The discovery of these networks is changing the way scientists look at the world; and it all started on the internet.
How do these networks work?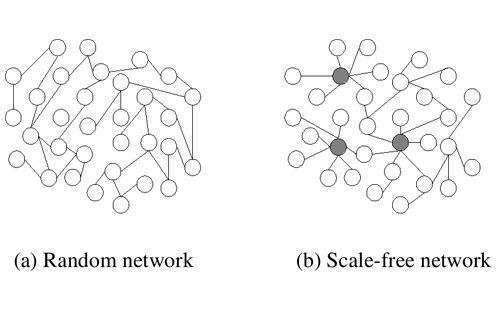 Image: Wikipedia
I highly recommend you watch the documentary to get a full understanding of how all of this started but until then I will give a really simplistic overview of how it works and can be applied to us bloggers. Please remember that I am far from being a scientist; this article is about how the Theory of Networks can be applied to blogging.
If there are any scientists out there who can pick up any mistakes I've made please do leave a comment.
The internet is made up of networks and hubs
The documentary starts by talking about how the internet inspired a group of physicists to look in to how similar networks work in relation to the biological world. On the internet they discovered that websites and traffic are not totally random, they are based around hubs. Wikipedia tells us that:
The scale-free properties of the Web have been studied, and its distribution of links is very close to a power law, because there are a few Web sites with huge numbers of links, which benefit from a good placement in search engines and an established presence on the Web. Those sites are the ones that attract more of the new links. This has been called the winner takes all phenomenon.
So what you find is that the majority of the traffic on the internet goes only to a few major websites. It does not spread out randomly amongst every website. This is illustrated above in the image where you can see the Random Network and the Scale-Free Network; the grey dots in the latter might represent websites like Facebook, Google, Yahoo, Youtube and so on. These websites get thousands of links and drive a lot of traffic to associated websites, partners and so on.
Can you why scientists were so excited when they realized that disease and terrorism also behave in this way? It means that if you can isolate the main hubs you can influence the outcome of the problems.
Let's take AIDS as an example. Originally scientists thought that sexual partners were like the random graph above; everyone did roughly the same thing. But they now know that sexual behavior more resembles the scale-free model where most people have a small number of sexual partners while a few people have an absolutely enormous amount. These people can, effectively, have a massive influence on how a sexually transmitted disease spreads.
How can we apply this all to blogging?
After watching the documentary I realized how important it was to tap in to the main hubs in my niche. Sure, sites like Google, Facebook and Twitter are massive hubs and we all know how important they are. But I wondered whether there were "micro-hubs" within my niche; sites that I could connect to to get connected to everyone else.
Turns out there are. Blog Tyrant's fast growth is proof of this.
The best example of this in my niche is Darren Rowse the Problogger. After doing several guest posts on his site I realized that I was becoming connected extremely quickly. I got massive amounts of traffic, email subscribers and, interestingly, a lot more connections with other big bloggers. This in turn has allowed me to become a hub, albeit a much smaller one than Darren.
Take a look at the graphs above again and think of Darren's site as a grey dot with thousands and thousands of other websites pointing to it sending him traffic and authority. By featuring on Darren's site I was able to attract links of my own which then enabled me to connect to other hubs like Copyblogger, Smart Passive Income and Daily Blog Tips.
By connecting to Problogger I was able to reduce the number of links between me and the other big websites out there. If I had not done those guest posts there is a good chance I would not be enjoying the relationships that I am today on this relatively new blog.
Applying this to your niche
The important thing to take away from this is that there are networks and hubs in each niche. Forget about the big ones like Google and Facebook for a second and start searching for the big ones in your niche. Who has the majority of the traffic? Who gets the most links? Who is experiencing continual growth because of those links? Most importantly, can you tap in to those network hubs in order to set yourself up as another hub with other websites pointing to it?
To discover which blogs and websites in your niche are the hubs look for things like:
Subscriber numbers
Twitter followers
Facebook followers
Number of back links (use Market Samurai)
Number of comments on their blog posts
Remember, from a blogging point of view we can understand that not all big hubs are useful. For example, you could appear on the biggest website in the world but unless you are able to get that website to send you links and traffic it is mostly irrelevant. You want to isolate the ones that are big but also active and engaging.
How else can we use networks?
I'd be really interested to hear if anyone else has any experience with this type of thing or whether you can think of another way we can use the theory to benefit our blogs. I find the whole idea fascinating but my extremely small brain sometimes struggles to see the best ways to make use of ideas like this. I'd love to hear your ideas, experiences and even ways of isolating the hubs in your niche.