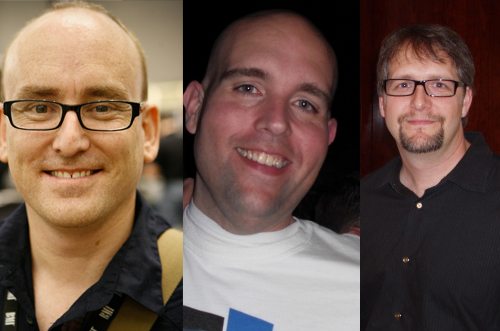 In the blogging world there are three names that everyone knows. Darren Rowse the Problogger, Jeremy Schoemaker from Shoemoney and Brian Clark the Copyblogger. These names are synonymous with blogging success, influence and, yes, making good money.
In this post I want to show you the three reasons why these guys are rich. Hopefully we can learn something from their example.
Reason 1: Money is in the mailing list
The first thing that these guys do very well is summarized very well in the old marketing saying "the money is in the mailing list". Each of them command extremely large lists of email and RSS subscribers that they have grown over the years. These lists allow them to do a wide variety of activities that earn them a lot of money. More about that in a minute.
The numbers
Let's take a look at how many subscribers we are talking about. That might help you understand the value of these lists a little more.
Darren Rowse
Darren Rowse has three main sites – Problogger, Twitip and the Digital Photography School. Problogger has 140,000 subscribers, Twitip has 33,000 and DPS has 480,000. Combined that is over half a million people that pay attention to (almost) everything that Darren publishes.
Jeremy Schoemaker
Jeremy is a little bit of an enigma. Why? Because he has lots of projects on the go at the once so it is impossible to tell how many subscribers he has. We can make guesses though – one of his sites called Fighters.com has 201,000 on the day of writing this post. For some reason he isn't displaying this stat on Shoemoney.com at present.
Brain Clark
The guy behind Copyblogger.com is currently sitting at around 123,000 subscribers for his content based blog.
As you can see these lists are comparable in size to Will Smith's wallet. Big. This gives them an extremely good base for turning a profit online. Each site has over 100,000 people that they can contact at any time they wish.
Why the mailing list matters
What I want to do now is take a look at why these mailing lists and RSS subscribers are more important. I am going to base this discussion mostly around mailing lists because I believe they are, for the most part, much more valuable than a plain old feed subscriber.
You have guaranteed traffic
When you have a mailing list of 100k+ you can be assured of one thing – your traffic is going to be okay. If Google turned you off tomorrow you would be alright because a good percentage of those subscribers are going to visit your site when you write posts. If you are serious about growing your blog you should think of this as your main source of traffic and everything else as ancillary. Of course its not, but its a good frame of mind to be in.

Example:
John Chow was banned from Google for a very long time but thanks to a massive subscriber list and a lot of loyalty from his readers his traffic (and earnings) continued to skyrocket.

You can promote affiliates or advertisers
Affiliate companies love mailing lists. Why? Because they are targeted. Imagine if Darren Rowse sent out an email about buying a new apple peeler. He wouldn't get many bites (zing). But if he sent out an email promoting a new ebook that only costs $17.95 and shows you how to make an easy $100,000 a year with your blog he would do alright. Why? Because his subscribers are all people interested in making money with blogs. Your email list provides you an amazing opportunity to promote advertisers or affiliates that pay you a commission and add value to your readers.

Example:
Shoemoney is constantly sending out emails promoting his friend's new offers. Usually it is some training system that helps you make money online and he does extremely well from them. He recently stated on a video (that I can't find) that he is often the number one seller of these affiliates by a very long way.

You can launch new sites/products easily
Do you remember the first few months of your blog's life? No subscribers, no traffic, no earnings? Not these guys. If you have an existing website with 100k emails in your list you will never have trouble launching a new product or website again. Chances are most of them will be very interested in what you are doing next.

Example:
The latest product launch out of this group has been the Shoemoney System which sold out in a matter of hours. But, Darren has also launched the Problogger Community as well as his book and Brian Clark kicked off his (and Chris Pearson's) Thesis Theme with an enormous bang. Everyone knew about these launches and it all started with the mailing list.
As you can see, growing a mailing list is a big part of why these guys stay successful. Sure, they had to have a good level of success to get that many subscribers, but that is a lesson for later. All I want us to recognize at this point is that we need to make the mailing list a major focus of our blogging. In this next couple of weeks I am going to do a complete post about how to grow your mailing list in a very short amount of time. Make sure you are subscribed so you don't miss this one as doing so could cost you a lot of subscribers!
2. They leverage their strengths to add value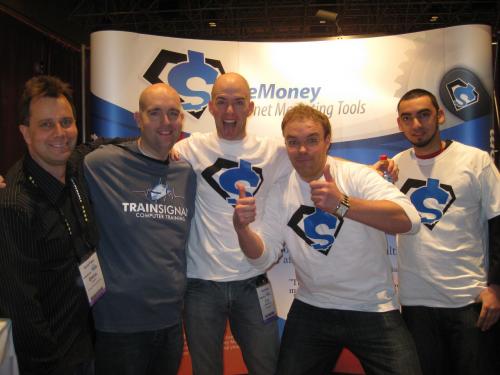 Jeremy and his loyal pals
The second thing that these three guys do is use their strengths to add value to people's lives. This statement can sound a little bit airy fairy but I will try to explain as best as I can why this is actually one of the most important things you can do.
What does it mean?
Basically, what this means is that our chosen trio add value to people's lives by doing what they are good at. This is an age old concept but when it is applied properly to blogging (or business in general) it can have quite amazing results. Darren, Jeremy and Brian are all keenly aware of their strengths and they take advantage of them. Let's take a look:
Darren – producing volumes of content, managing a team, creating communities
Darren has a lot of strengths but the three main ones, in my opinion, are producing volumes of useful content, managing teams of people and creating communities that become very important to the participants. Problogger has, for as long as I can remember, put out and article every single day without fail. In the early days I remember Darren saying that he would sometimes write up to 20 posts a day. He now outsources most of the writing to guest bloggers which reduces his workload considerably. That is where the management comes in. Finally, he has a knack for creating amazing communities – his DPS site and forum is full of experts and beginners who love interacting with each other. These sites have a virtual life of their own now.
Jeremy – capitalizing on opportunities, taking risks, creating connections
Jeremy is known around the blogging world for his amazing projects that seem to take off and earn a lot of money really quickly. The best example is his ebay ads website that made it super easy for bloggers to place ebay listings on their website. He sold it for a small fortune. He is constantly taking risks with new projects and in doing so he makes a lot of new connections with people that he can team up with to tap in to new markets. Jeremy often refers to himself as being a beginner or a student of marketing which, aside from being sign of humility, shows that he knows that he needs other people to succeed. Taking risks and teaming up with a variety of people is how most of the richest people got rich – Jeremy does it well.
Brian – teaching, producing volumes of content, expanding the niche
Brian Clark is one of the best teachers you will ever read. I have never met him or heard him speak but his blog articles helped me earn a living over the years in a very indirect way. What do I mean by this? Well I make it a point to read whatever Brian writes and over time I have changed the copy of my websites to fit his instructions. Almost every time I do this I see an increase in conversions or interactions. Brian teaches you without lecturing or being bossy – you learn things without even knowing you are learning. He has also expanded into related niches by creating the Thesis Theme. A very clever step forward (or maybe sideways).
When you hear people say do what you are good at you very rarely hear them follow up with the in order to help people. This is what these guys do well. They do what they are good at in order to add some sort of value to people's lives – building a better blog, making more money or becoming a better writer. You have to make sure that your blog is always enriching people. Without that altruistic undertone it is very difficult to make a significant and profitable breakthrough.
3. They consistently work hard
photo credit: Clare & James
See the guy in the hammock? Its not Darren, Jeremy or Brian. I could be wrong but I doubt these guys spend very much time lounging around. From what I can tell they are all extremely hard workers that understand the value of putting in blood, sweat and tears. The idea of the instant internet millionaire is not something that any of these guys really push – they all have worked extremely hard for their fortune.
Hard and smart
I want to put a little subtext here – they also work very smart. I don't think you would find them spending too much time mucking around with a color scheme for their background (something I did for about an hour last week). Rather, they spend their days planning projects, developing new ideas and, of course, writing blog articles. As I said up above, these guys produce and enormous amount of content (Darren and Brian more so than Jeremy) and that takes a lot of work – even if you are just managing guest posts.
The word "consistently" is very important here because one thing that these guys do is stick at it. Jeremy has had some well publicized problems and actually used them to make new progress. They don't stop when it gets hard (or boring). It is very important to apply this to our own situation.
Don't stop when you get some money
My good mate (also an internet businessman) and I always talk about the fact that it can sometimes be tempting to slow down when you have had a small success or two. For example, lets say your blog is making some money, getting lots of traffic and gaining heaps of subscriptions – it can be tempting to take a week off and kick back a little bit. Maybe sleep in, miss a few posts, stop planning ahead. This is an extremely dangerous fault to make and something that the best and brightest simply do not do. Make sure you have your ongoing projects and don't stop working when you feel like you have done enough. You never know what's around the corner.
Conclusion
Darren, Jeremy and Brian are good examples to follow but they are really only that – examples. If you feel inspired by their work ethics, methods and success it is really quite pointless unless you put it into practice for yourself. Find out your strengths, build your mailing lists, work hard and keep forging new connections.
Is there anything about these three that you think they do extremely well? I would love to hear your thoughts.
top photos from Danger Brown, RemarkaBlogger, KK