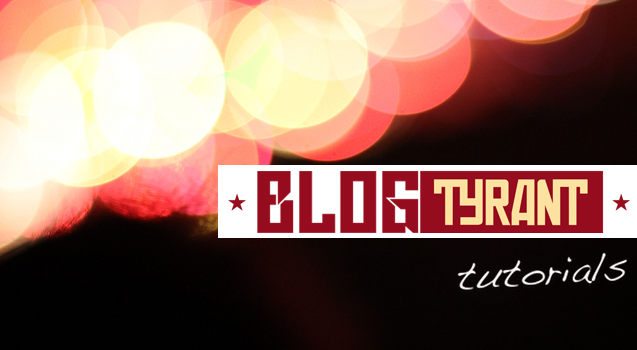 NOTE: I am currently trialling a different social plugin on Blog Tyrant to test performance.
If you run a blog you'll know how frustrating it can be to get some nice looking Facebook, Twitter and Google+ social sharing icons that actually work.
I've tried dozens of plugins and all of them seem to fall short in one way or another.
Sometimes they're not responsive.
Sometimes you can't add them to the best location.
Sometimes they don't aggregate your shares correctly.
But two weeks ago I found a plugin called Mashshare that allows you to simply add some social media sharing icons in the style of the popular blog Mashable.
Check it out.
NOTE: This post contains affiliate links which means if you purchase the plugin I'll earn a small commission at no extra cost to you. Thanks for your support. It means a lot.
What does this social sharing plugin look like?
Let's just start by giving you a quick demo of what this thing looks like.
You'll find it at the bottom of all of my articles by default but you can also add it anywhere else you like by using a little short code.
Now, I have my version set up to only show Twitter, Facebook, Google+, LinkedIn and Pinterest. But the premium version of the plugin allows you to add pretty much any network that you like.
As you can see, it looks almost identical to the sexy sharing icons that Mashable uses on their posts (this is a screenshot – don't click it!).

I was instantly struck by the visuals of this plugin. Normally I find social sharing icons really clumsy and always look as if they've been "tacked on" as a second thought.
But the Mashshare plugin really seems to overcome that problem. I was so impressed that I even left a 5-star review on the plugin's WordPress page: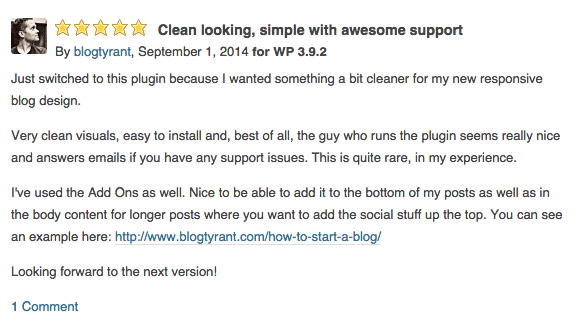 This is not something I normally do but was just feeling a bit gooey about finding a solution for this social icons problem at long last.
Features of the Mashshare social sharing plugin
Okay, this plugin has a truck-load of features while still remaining pretty lightweight. I'll go over some of my favorites and let you explore the rest for yourself.
Please note that some of these features are only available if you've purchased the Add On for €18.00 per year which gets you all the extra icons, email support and so on.
1. Select icons to show and which ones you want enlarged
The first thing that I liked was the ability to choose how many icons you want to display. Here's just some of them.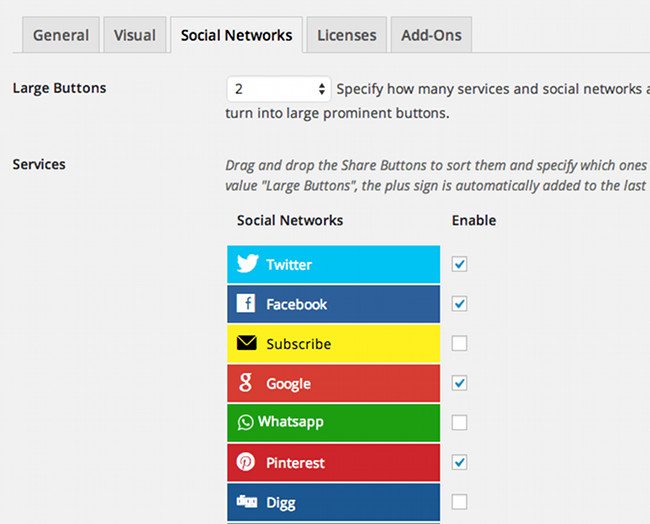 You can also select how many "big" icons you want to appear before the plus sign. For example, you can see that I've just chosen the Twitter and Facebook icons to be the main big ones. But you could have Google+ and LinkedIn or even Facebook and a Subscribe button.
2. Set the color of the big number
I love the green numbers that Mashable use so I just copied that, but you can set the share color to whatever you want. This is a nice touch as you can tweak it so that it fits your branding, stands out from the rest, etc.
3. Add an email opt-in button or link
I really like this one. You can set one of the social icons to be a mailing list subscribe form or a link that goes to a mailing list landing page. This is really cool if you want to have an opt-in area at the bottom of your post but can't afford to pay a designer to make you something custom.
4. Set the caching time and post exclusions
You can set the numbers to refresh at a time gap of your choosing.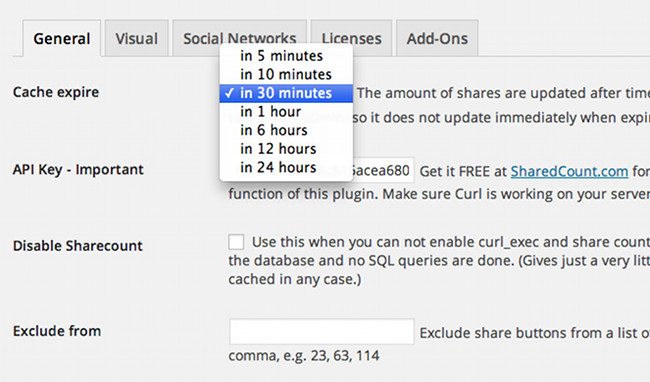 This is cool because, if you're like me, you'll want less requests taking up server juice.
You can also set the plugin to exclude certain pages or posts if you don't want the sharing icons to appear in some places. This is nice as I often see people with social icons on pages that no one would ever share like an About page or whatever.
5. Get support from the developer
One thing I really like about this plugin is that it seems be be run and operated solely by the creator, Rene, who is a really lovely guy. I've sent him a few stupid questions and he always responds really quickly and with a friendly response.
6. Enjoy a "stacked" responsive design
I'm not sure that anyone uses social sharing icons on their mobile devices but it's at least nice to know that the icons won't muck up your sexy responsive WordPress theme by not being compatible.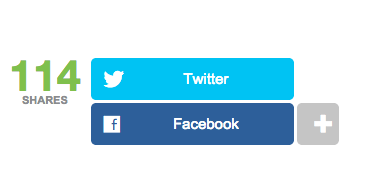 The above is a screen grab showing you how the Mashshare icons "stack" when on a mobile device. This is so much nicer than having teeny tiny icons that no one can see, or icons that get cut off outside the content area.
7. Lots more for the tech geeks (and some cheating?)
If you're into things like styling your own buttons, designating what order the plugin executes in, and even adding a loading animation to the number then you're really going to enjoy playing around with this.
One of the features that I don't use but I know that a lot of new bloggers might enjoy is the ability to add "fake" numbers to each post so that you're blog doesn't look totally empty.
I'm not sure about the ethics of this (and any SEO impacts?) but I know some people might like adding a few counts so it's not on 0-5 all the time.
How to install the Mashshare social icons on your blog
As always, this plugin is only for people who are on a self-hosted WordPress set up. This is yet another reason to get your blog installed on your own host – there is just so much cool stuff you can do with plugins and widgets.
To install Mashshare just go PLUGINS > ADD NEW and then search for Mashshare.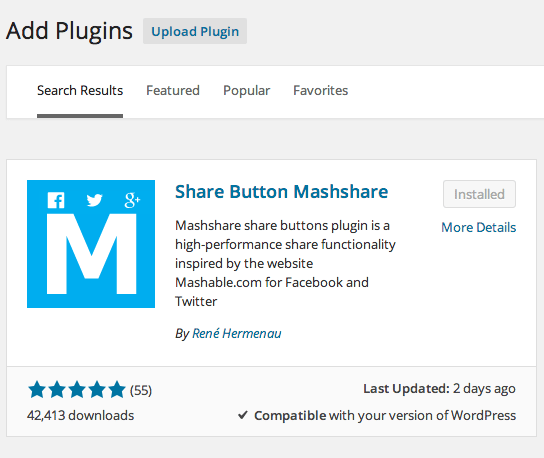 You then just click INSTALL and ACTIVATE and you're ready to go. Head over to the Settings tab and set it up how you'd like to see it. If you purchase the Add On you'll have to upload a new file but the instructions come with the download and are very simple to follow.
Note that this plugin has an excellent amount of positive ratings and has been updated recently. These are two things you should always look for when installing a new plugin.
What social sharing icons do you use?
Have you found a social sharing plugin that you really like? Are there any limits on it that you wish existed somewhere else? I'm really interested to know what solutions every one has for this common problem. Please leave me a comment and let me know.