Your blog is bleeding. Hemorrhaging in fact.
Every day you are losing valuable readers because of tiny cuts and gashes all over your blog. All that hard work you did crafting headlines, writing original content and marketing your work is going to waste.
In this article I am going to show you how you can stop your blog bleeds and retain more visitors to your blog.
Diagnosing the blog bleeds
The first thing a doctor does when he or she sees a patient is takes a history. In fact, 90% of all diagnosis' are done from the patient history. Apply that to the blogging world and it means you can solve a lot of your blog bleeding by just knowing where it is taking place. A lot of people have no idea.
What exactly is blog bleeding Tyrant?
Okay, so maybe I should talk a little bit about what blog bleeding is? Basically it is places on your site that allow or cause people to leave.
You might not know this but I visit almost all of my readers' blogs. If you leave a comment there is a good chance I will check you out. And one thing I am constantly seeing is a few mistakes that cause me (and others) to leave. That is why I decided to write this post.
Isn't that just Exit Pages?
If you go to your Google Analytics account you will see a link under Content called Exit Pages. This is the stats relating to the pages that people leave from. Blog bleeding is more than just Exit Pages though. Sure, Exit Pages show you where people left from but they do not tell you why they left from there. That is something entirely different and much more important.
How to find and stop your blog bleeds
Let's jump right in to the problems and the treatments. I would really love to see some comments from you about your Exit Pages and why you think people are leaving from those.
1. Form and Email Submit pages
The first place that your blog bleeds a lot from is your email submit pages. Here on Blog Tyrant, for example, I get a lot of people leaving by the Free eBook page. This makes sense because this page sees a higher percentage of people entering their email address to get the eBook and then leave to confirm the link. This is the best kind of blog bleed you can have because it is a type of goal conversion.
It is still a bleed, however.
How to fix it?
One thing I do is put some posts in the confirmation email telling people that they can check these articles out while they wait for the eBook to arrive. This has the effect of getting them back on to the blog itself and engaging the content in a new way.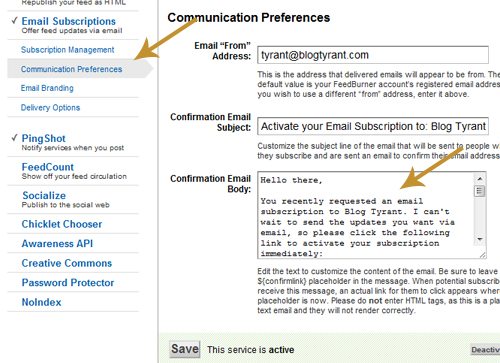 If you use Feedburner you can change the confirmation email by going to Publicize > Email Subscriptions > Communication Preferences and then editing the Email Body. Very easy stuff and a good way to get some readers back.
2. After reading the headline
Sadly, the most common place that most blogs bleed is after the headline. And it is often design related. More and more I am seeing people write brilliant headlines that attract my attention only to lose me with horrid designs that do not promote the content at all. If you have a super high bounce rate this could be part of the reason. I wrote about this in my Problogger Guest Post on Three Problems that Make Me Leave Your Blog in Three Seconds.
How to fix it?
The first thing you need to do is clean up your design so that it draws the eye down. This can be done by adding more white space, removing clutter and using a theme that is designed for content. I talk about this a lot in my article on increasing conversions; you have to appear trustworthy.
Above all, remove those darn Adsense ads that you put below your header. Sure, it might get a high click rate there but you are losing readers. Unless you are building a website that is designed for Adsense you shouldn't be sending your readers away for just a few cents. It doesn't make sense at all when you could be promoting an eBook or a sign up link and retaining them for 10 or 15 years.
3. At the end of an interesting article
If a visitor has arrived from a social media website it is likely they did so because they found the headline (and hopefully the article) interesting. The problem then is that they might not think anything else on your website holds water. The end of articles presents a challenge because you have to get the reader to look at something else as opposed to just closing the window and searching for something new.
How to fix it?
The most sure-fire way to fix this problem is to understand your niche. It is both a blessing and a curse to be a niche blogger because on one hand you only have a small topic to write about but on the other hand you only have a small topic to write about! You may have just done a killer piece on email marketing but lost interest because your next article was about Twitter.
The end of every post should display a list of relevant articles that might interest the reader. You can do this by installing the Related Posts plugin and then setting it to categories. You also need to make sure that every article you write has relevant internal links throughout the content. An ideal situation is to get people to visit five or six pages off of the one article.
4. Inconsistent image size and post structure
Humans love things to be the same. They like to be able to predict outcomes. And visually, humans like things to have clean lines and a smooth flow. All of that is lost when you use images that are different sizes or content layouts that do not encourage scrolling. Quite often I visit a blog only to leave because the lack of space and the varying images left me confused about where I was supposed to look.
How to fix it?
The best thing you can do is get a professional theme like Thesis and stick to the posting and image guidelines. These themes are designed for blogging and have very well designed Stylesheets that make your headers and titles and link all fit together perfectly.
If you cannot afford a theme then pick one with lots of white space and make sure every image you use is the same size. One way to do that is to install Photo Dropper for WordPress because it searches for images from Flickr and inserts them all at the same width and height. Then edit your Stylesheet so that your h1, h2 and h3 tags all look clean and nice. If you need some help with this code drop a comment and I'll see what I can do.
Where is your blog bleeding?
So where abouts is your blog bleeding from? Have you ever looked at your Exit Pages and wondered what it was that made people leave? I would really love to hear about any stories or ideas you have because reader retention is a very big interest of mine. Leave a comment and let's get talking.