Let's be clear. This is not just a post about raising funds. It's a post about building a community.
And yep, that figure is totally real.
A company called Double Fine used Kick Starter to raise over $2,000,000 from random individuals in just over two weeks.
It was totally amazing.
In this post I want to show you how Kick Starter works but also show you a few really important community-building lessons that you can learn from this amazing online event.
What is Kick Starter?
Kick Starter is a sweet website that allows you to post project ideas and raise money from individuals around the world who like your idea.
For example, let's say you have an idea for a really cool iPhone App. You would go on Kick Starter, tell everyone your idea and then ask them to help you fund it.
Donations start at $1 but often get a lot higher for really cool projects.
The really interesting thing is that this website is not about loans. You don't have to pay all this money back. These people are donating to your idea because they believe it it and you and want to see it happen.
The Double Fine event on Kick Starter
A few months ago an adventure game company called Double Fine posted up a listing on Kick Starter asking for help to develop a new game in a struggling niche.
Within eight hours they had raised their aim of $400,000.
Within two weeks they had raised over $2,000,000.
*Sound of jaw hitting floor*
Now there are two really cool things that we can learn from this wonderful event:
Kick Starter is awesome
This really shows us how powerful this website can be for raising funds on cool projects that genuinely have something to offer the world.
Double Fine did something VERY right
The second thing we can learn is that their listing must have done something really, really right in order to get all that support.
Let's take a look at some of the techniques that Double Fine used in their listing to grow such amazing support in such a short amount of time. These kinds of lessons can be applied to our blogs and online businesses in a very helpful way.
The lessons from Double Fine's Kick Starter campaign
Let's start this section by watching the video that formed the basis of their listing.
You can see the full listing and the current bidding amounts here.
1. Humor is important
One of the first things you notice when you watch the video is how funny it is. From the knocking over of the drum kit to the exclamation that one of his passions is "…charity… or something".
Humor is so important for building a community because it helps your readers see the real you. It breaks down barriers and it takes a brand or a company into a very personal sphere.
Be yourself when you write your blog. Write as if you are talking to a friend. Let humor be a part of all your blog posts.
2. Rewards get results
On their pitch you will notice that these guys aren't just begging for money, they offer rewards for people who take part.
This is important for several reasons:
It acts as an incentive
Money for nothing is an unlikable thing. But donating money to get something in return is a pretty good incentive. Especially if people were going to get involved anyway.
It increases a sense of ownership
If you want to grow a community you need your readers to feel like they have some ownership in the business or blog. Rewards are one way to do that.
Reward your readers regularly on your blog. Use plugins that show your top commenters or mention readers' websites in your post. That backlink is often enough to make people feel very loved.
3. Niche, niche, niche
These guys aren't just talking about developing a new video game. There are heaps of video games. What they do talk about a lot, however, is the fact that they want to develop an adventure video game – something that is not happening very much any more.
By appealing to a smaller niche you mobilize the troops much better. People feel a sense of loyalty to their passions and if you can tap into them in a very direct way you have a lot more luck than if you just mass market to everyone.
Your blog needs to have a niche but you also need to make sure your products and offerings on that blog are very niche specific.
Take blogging as an example. Within the niche of blogging you also have sub-niches like:
Guest posting
Email subscribers
Social media marketing
Affiliate programs
Product development
Etc.
So you need to know what sub-niche your readers are interested in if you want to get them really excited about something.
4. Transparency means trust
One of the things I noticed in the 6,000+ comments on this listing is that a lot of people are impressed with the idea of a tell-all documentary.
I think this basically equates to the fact that people trust you more if you are transparent. People like to know who they are dealing with and what the project involves. So you might need to show more steps in the process than you initially thought. You might need to give more details that you think people need.
So what about Blog Tyrant? Why don't I show my face?
Well, I was interested to see whether I could build a brand without people knowing who was writing the content. And it seems I did it pretty well. I also noticed that you don't really need a face and a name to be a transparent and trustworthy person.
But the exciting news for the long term readers out there is that I will be posting a photo or two of myself in the next couple of months.
I think its time to introduce myself to all my friends properly.
5. Have a damn good product
A lot of people have been asking why Double Fine did so well with their pitch and aside from the awesome video, the individual rewards and so on the reason is that they have an amazing product.
The sketches and the samples look really cool. The concept looks different. People interested in this niche would be paying attention.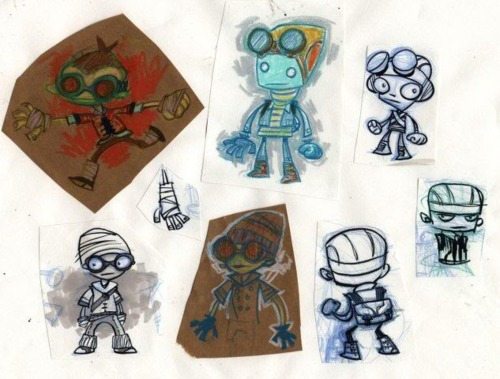 Some of the sketches from Double Fine's listing.
It doesn't matter what tricks or ploys you use to sell your product if it is a crap product. You might have a nice bout of initial sales but you will get flooded with returns and refunds and no one will pay attention to your next offering.
Make sure everything that you attach your name to is a quality and helpful thing.
The importance of finding a bank roller
The last thing I want to talk about in this post is how important it is to find someone or some WAY to bank roll your projects.
As a blogger you will be filled with amazing ideas for plugins and websites and services but unless you have money coming in to set aside you will need to find an outside partner to help you finance those projects.
It is something that not enough bloggers embark on though because they feel scared about failing. And that is natural.
Whether you use a site like Kick Starter or go to a private individual, try and find someone who will be willing to finance your projects over the years. Offer them a share in the profits of the creation or some equity in your company. Or simply offer to pay them back with interest.
Yes its a risk but you really need that risk to get into the next levels.
What do you think?
What do you think about Double Fine's listing? Did anything stand out to you? And what do you think about finding someone to bank roll your projects? Does anyone else have experience with this?