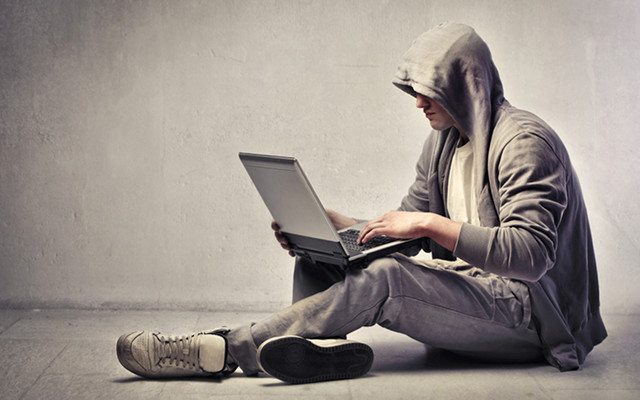 Last Update September 12th, 2014
As you know, Google Plus is now too important to ignore. It's deeply linked to SEO, local business listings, and the second largest network of people on the internet.
We gotta be on it. I'm right here.
And with all that in mind I went to one of the most active Communities on Google Plus and asked the experts for some of their top tips. What followed was pure gold that I just had to share in a post. What you'll find below is a list of tips and tricks from those experts as well as some others that I've found useful.
Let's check it out.
Who you calling "geek", geek?
As I mentioned, I got a lot of these tips from the Google+ Discuss Community which is full of incredible people who seem to be online all day talking about G+. They're not really geeks. Well, not all of them.
I've tried to credit everyone in the right places. If there isn't a name with the tip it's one I added. Or I made a mistake – quite likely.
I'll just get to the tips now…
1. Tag people
David Iwanow said that one of his best tips is to "… tag people who created or originally shared the content when you can." This ensures they see your post and will often lead to them interacting with you as a result. Any time you tag someone they get a notification (unless they have them turned off) so it's a good way to get in front of people.
2. Use the rel=author tag on your blog
This is called setting up Google Authorship and means you can have your photo next to your articles in Google search results. I've written about this before (and made a video) because it is extremely important for SEO and increasing your click through rate in the search results.
NOTE: This is feature is no longer operational.
This and the next five tips are all from Thanh Pham.
3. Use the rel=author tag on your guest posts
Just like you did on your blog, you can also set this up on guest posts in your little bio section. Not every website will let you do this but most are now getting into the idea. This is a fantastic idea because it associates your name with some really big blogs.
4. Post valuable content on Community pages
This is something a lot of G+ users really don't understand. You don't get a lot of traction from just posting "public" unless you already have a lot of followers. What you need to do is find relevant communities and share content there. They are full of people interested in your topics. This helps you tap into group of people that might otherwise never know you existed.
5. If something is popular on Twitter and Facebook, cross post it to G+
Another tip by Thanh Pham here. I'm not sure I entirely agree with this because sometimes people will get sick of seeing your content three times if they are following you on all platforms. Maybe just use this one sparingly. Personally, I try to something a little bit different around the place because I want to avoid making people feel like I'm just syndicating my content.
6. Write long messages in G+ and then Tweet the link
If you want to share a longer message on Twitter you can always write the post in G+ and then share the link to that post on Twitter. That has the dual effect of giving you more room as well as showing your Twitter peeps that you are on Google Plus as well.
7. Launch products with Google+ Events
I've never done this myself so I can't really comment on it but Thanh tells us that this function will automatically email your circles about the launch as well as adding the event to their calendars. Interesting.
8. Use saved searches
You can search for your name or brand in the event that someone mentions you without using the "+" function. This means that you have a page open on the home screen to monitor what's being said about your work. Massive thanks to Thanh for all those awesome tips!
9. Devote serious attention to your profile
Our friend Jimmie Lanley reckons it is extremely important to ensure your profile section is filled up with useful information so people know who you are and what you're about. Spend a lot of time on this just like you would on your actual website About page.
10. Use a well-lit headshot
This is another tip from Jimmie that I wanted to expand on further. I think you should actually go so far as to have a professional photo done, especially if you are using social media to promote a business. It really helps take your stuff to the next level. At a minimum, however, select a friendly photo that isn't out of focus.
11. Use keywords you want to be associated with
Another good tip from Jimmie is that you should use keywords in your profile page if you want to be associated with them for your blog or business. I have a feeling this will become more important as Google emphasises G+ material in search in the future.
12. Be nice
This tip is so simple but I had to share it. We all love communities like Reddit and imgur where people are generally pretty nice as opposed to YouTube where it seems like everyone is mean. If you want to grow your reach on these networks do as Nick Purcell recommends and just "be nice".
13. Use images for more attention
A really good tip from NewRayCom is to grab the image from a post when you are sharing it and upload it separately. It comes up much bigger and gets more attention. You can then write a new title and tag the person who wrote the post for maximum exposure.
14. Send feedback
Google seems to be really interested in receiving feedback so if you have a problem just shake your iPhone to send them a message. Pretty cool tip from Kamal Tailor.
15. Treat it like a dedicated blog
A really nice tip from Eros Peterson is to use Google Plus as if it was your own blog. There is lots of room for writing articles which means you can post quality content and images. A lot of people find this leads to more shares and interactions. Darren Rowse does this really well.
16. Use the same email address for email campaigns
When you send out an email from Aweber for your mail campaign your Gmail subscribers will see your photo and Google+ profile on the right hand side of their window.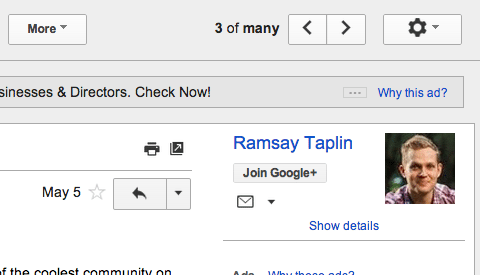 This can lead to a lot more followers on G+. If you use a different email address for your campaigns you miss out on this free promotion.
17. Start a Community
You don't have to join a Community if you don't really feel like you fit with the ones out there. If you have a blog about a special interest you can always start your own Community and invite people along to it. This has the dual effect of giving your readers a place to hang as well as helping them create content that further exposes your brand.
18. Make your posts consistent
Probably the biggest user on Google+ is Guy Kawasaki. In his profile he has this message:
I publish approximately five-ten posts per day. The topics that I focus on are marketing, enchantment, social media, entrepreneurship, innovation, venture capital, science, and photography.
It's a really important thing to do because it sets expectations. If you weren't aware of this you might find his constant updates way too much to handle. But by letting us know in advance it really shifts it to being something valuable.
19. Use bold and italics
A lot of people were really excited when I shared this tip on the Google Plus community. It's pretty basic but a very nice tip from Amy Lynn Andrews.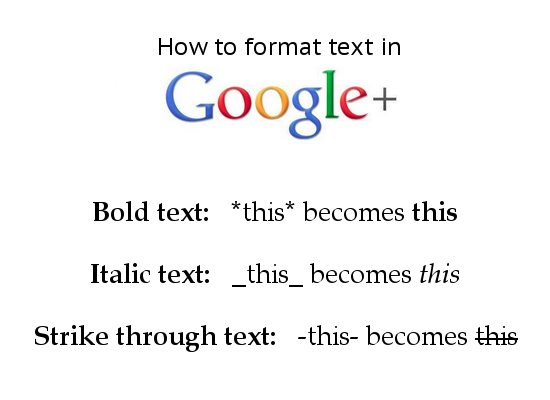 Here's a little image I made. Feel free to share it with your Google+ circles.
Just *do this* for do this. Just _do this_ for do this. Good way to add some more emphasis to parts of your posts and updates.
20. Remember that you don't own it
Google+ is a social network owned by Google. It is not your asset. I know you probably think that I harp on about this a lot but it's important to remember that you need to use it to build up your brand or blog, not just build up G+ and forget about the rest. Always focus on the things you own.
21. Comment on your hero's posts
One of the most simple things you can do that will help you get in front of the right people is to just comment on their posts in an engaging way. A lot of times people just say "nice post" or "ha ha ha" but if you engage the person, often politely criticising or complimenting their ideas, you'll find you often get a response or a circle.
22. Write compelling titles
It's important to remember that Google+ is not Facebook or Twitter. We're not just making a quick status update about our dinner – we've actually got room to write some pretty cool things and that includes titles.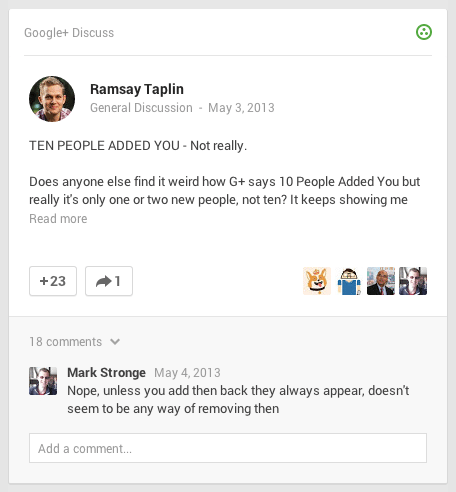 Here's a shot of a post I did on Google+ that got quite a bit of attention and interaction, partly, I assume, due to the title that grabbed attention. You can also use the bold command above to make it stand out even more.
23. Emphasize Google+ on your blog or website
I often visit blogs and notice that the Google+ link is hard to find or not even present at all. I think the time has come for blogs to put a little bit more emphasis on G+, especially given how important it is becoming for SEO. Make sure you are linking to your G+ profile in a prominent place on your blog, and make sure you also do it when you mention the site in your blog posts.
24. Track, test and tweak
Another really important habit to get into is the idea of tracking and testing the different things that you try on these social networks. You can do this by setting a goal for your posts and then seeing if you can improve that goal by trying various approaches.
For example, if your goal is to drive traffic to your website you can post pictures, videos, articles, long form articles, etc. and see which one results in the most shares or new follows. It's a good idea not to just blindly post publicly and hope that people see it.
25. Mix your email campaigns with your Google+ posts
Something that you can try once in a while is to mix your email campaigns with your Google+ posts. This is a great way to get new followers to your Google+ accounts.
The way it works is that you write a nice long and helpful post on Google+ as you would on your own blog. You then send out an email to your mailing list letting them know that there's a new post up but this time it's over on Google+. The result is usually a lot more followers.
Of course, you don't want to try this too often because, as mentioned, you don't want to write too much long form stuff on an asset that doesn't fully belong to you.
26. Ask for help regularly
I am still struck at how complicated Google+ can be. There is no way, for example, my mum could start an account and figure out how to use it. It's especially so since all your Google products can be integrated together.
The great thing is that the Google+ Discuss Community is very active and has constant streams of people ready and waiting to answer your questions. Get on there regularly, make friends, and don't be afraid to ask for help.
27. Use a Chrome incognito window for multiple accounts
A lot of people have one or more Google Accounts. This means that you might not have your Google+ account assigned to the same Google Account that you use for things like Gmail or your main YouTube account. If you want to be logged in to two accounts at once you can just use Chrome's incognito function. There are other ways to do it but I quite like the separation the two windows create.
28. Write for search engines
You know how bloggers always tell you to write for people and not for search engines? Well, it's not true. Okay, it's true, but it's only half true. In actual fact, writing for search engines is extremely important and it is even more relevant on Google Plus.
Why?
Because when you are logged in to Google+ you get shown completely different search results to the ones you are shown when you are logged out.

Those logged-in searches are based on what your friends and circles recommend. So if you've got the right followers and write about the right things using the right keywords you'll be more visible more often. The screen shot above even shows some Google+ results getting indexed in Google search.
29. Don't forget to #hashtag
Use hashtags the same way you use them in Twitter. People talk about this quite a lot but I'm still not entirely sure it's taken off as much as it has on Twitter. But, the idea is that Google+ acts like it's own little search engine the idea being that one day people won't leave it at all. Hashtagging your posts helps to get them noticed.
What have I missed?
Alright guys and gals – what have I missed? I'm really loving Google+ at the moment and would love to add a few more tips to this list. Please leave a comment below and let me know whether you've got any other goodies to pass on.
Photo: © Bowie15