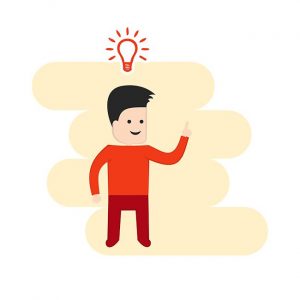 If you're reading this page then you probably just completed the short quiz about getting ready to start a blog. Here's a quick overview of the scores:
Excellent – 90% to 100%
Very good – 70% to 90%
Work to do – Below 70%
If you scored below 70% don't worry as we threw two pretty tricky questions in there to really test you. What we're going to do now is take a deeper look and get you the information to fill in the gaps.
Let's start by looking at the questions and their (more) correct answers.
1. Are you prepared to work by yourself for long hours?
Blogging can take a lot of time and it can get a little bit lonely when you're up late working on a new article or some fancy promotion. Some people really enjoy the challenge, but other's can find it a little bit challenging. It's important to know why you're doing it and to always have a plan which we cover a lot in the post below.
Further reading – The Ultimate No-BS Guide to Working from Home
2. Would you consider yourself to be an excellent writer who can research difficult topics for long form articles?
Now, you don't have to be an excellent writer to start blogging as that is something you can learn along the way. You do, however, have to put a lot of time into researching and writing long articles that are highly valuable to your readers. This is a bit of a skill so just be mindful that the quicker you learn it the quicker your blog will be perceived as quality. Let's get that blog post writing art form down!
Further reading – How to Write the Perfect Blog Post: A Complete Guide
3. Are you prepared to pay for setup and ongoing costs like hosting, domain names and promotion?
One of the most important things you can do to set yourself up for success is ensure that you have your own blog hosting and domain name. This gives you total control over your asset, and is viewed much for favorable in the eyes of Google which means you have the potential to rank higher. A little initial expense can save a lot of problems down the track.
Further reading – Blog Hosting Review: What is the Best Host for You?
4. Do you have the time to commit to blogging and will you stick at it for at least one year?
Many people start blogging hoping to make some easy money or skyrocket themselves to fame and fortune overnight when, in reality, it can take a number or months or even years to get going properly.
Further reading – Five Realistic Benchmarks for Your First Year of Blogging
5. Will this be your only source of income?
It is a really good idea to have a primary source of income for at least the first year of your professional blogging career. This helps to take the stress out of the process and you can use some of your main income to help promote and launch the blog properly if you so choose.
Further reading – How to Make Money When Your Blog is Brand New
6. Does your blog/idea have a point of difference that will set it apart from other websites in your niche?
With 65 million article published each month it is vital that your blog stands out in some way. No one can really say anything new anymore, but it's very important that you try to find a way to stand out from the crowd using photos, videos, unique branding and other memorable aspect.
Further reading – How to Stand Out. It Matters More Than You Think.
7. What's most important for good Google rankings?
This one was a bit of a trick question because, out of the three options (social shares, links, good content) a lot of new bloggers will pick good content. And while that's true, it's only the case if it helps you get more links. Links are still the biggest factor that determine how well you rank on Google so it's important to learn how it works.
Further reading – How to Get Google to Send You 100,000 Visitors Per Month
8. Do you have experience with running and securing WordPress?
WordPress is the most popular blogging software in the world, and for good reason. It is the platform I've always used to run my online businesses and has a plethora of advantages. The only downside is that it takes a little bit of practice to get used to, and you'll need to add a few plugins to help with SEO, security and so on. But don't worry, we've got you covered!
Further reading – Is WordPress Still the Best?
9. Do you spend a lot of time on social media?
Many new bloggers read about all the advantages of social media and then feel like they need to be on every platform all the time in order to maximize their chances of success. But, in reality, this causes a lot of problems because it takes time away from creating actual content on your blog, promoting it, etc. It's important to know where social media fits in the balance.
Further reading – A Proven Blogging Strategy that Word in Any Niche
10. Do you have a mailing list that offers something for free that's related to your blog's topic?
A mailing list is one of the most important things you can add to your blog and does much more than just providing people with a method to see your latest updates. It has the effect of protecting your blog from Google's algorithm changes because you can always mail your list and get traffic, but that list also shares your content and buys your products. Make sure you have a free "bribe" that encourages your visitors to sign up and you'll be well on your way to blogging success.
Further reading – 41 Tips to Put 10,000 People on Your Mailing List
Now you're ready!
Those 10 articles mentioned above should give you a solid foundation in terms of what software to use, how to craft your posts and build a strategy, and how to promote the whole thing successfully. Make sure you subscribe to Blog Tyrant below (next to the eBook cover image) and if you have any questions you can always find me on Twitter where I'd be happy to help.