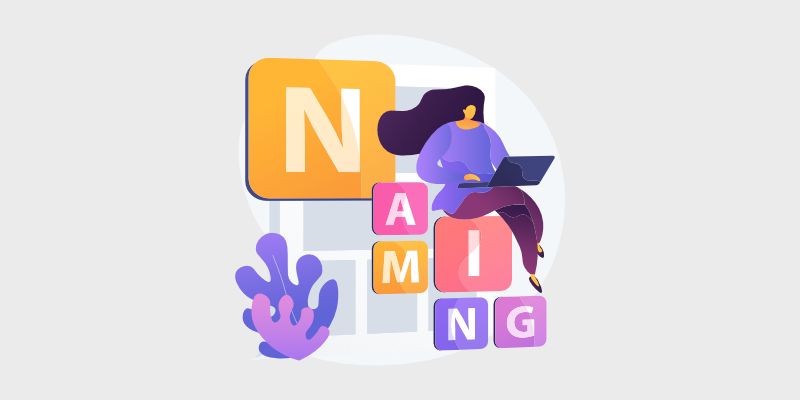 A re you looking for the best blog name generators? In this article, we'll share the best tools available that make it easy to find a great blog name.
When you start a blog, you want to make sure you choose the perfect name. Your blog name represents your brand, what your content is about, and the type of audience you'll attract.
Coming up with relevant, unique domain ideas can be challenging though, especially since so many blogs already exist in every industry.
But, with a blog name generator, you can come up with the perfect name that expresses what your blog is all about. It can be a quick and easy way to produce a name for your blog that makes sense and sticks.
In this article, we'll share the best blog name generators you can use for free. Let's get started!
First, let's go over what a blog name generator tool is and how it works.
What is a Blog Name Generator?
A blog name generator is a free online tool that helps you come up with original and catchy name ideas for your website.
With most of these tools, all you have to do is enter a couple of keywords related to your niche/industry and the blog name generator will automatically provide you with a list of relevant name ideas.
A good blog name generator can also check if the domain name corresponding to the blog name is available or already taken.
Now that you know what a blog name generator does, let's take a look at some tips for picking a blog name…
The Elements of a Good Blog Name
There are a few things you want to keep in mind when searching for a blog name.
Relevant to Your Niche. When people see your blog name, they should have a clear understanding of what your blog is about and the niche it's in. Using relevant keywords in your name can help your target audience find you and start engaging with your content.
Easy and Memorable. If people can't remember the name of your blog, how will they send your website or information to those they know? It's much easier to promote your content and boost word of mouth marketing if your domain is easy to remember.
Unique. If you have a generic blog name, your brand won't stand out and people won't feel compelled to visit your blog. You can build a name for yourself by choosing a unique blog name that encourages people to pick your site over your competitor's.
Makes a Positive First Impression. The domain name you choose for your blog can either turn away your audience or welcome them to click through. If you come up with a creative or fun name, your blog is likelier to receive positive attention and engagement from visitors.
Now, let's go ahead and dive into the list!
9 Best Free Blog Name Generators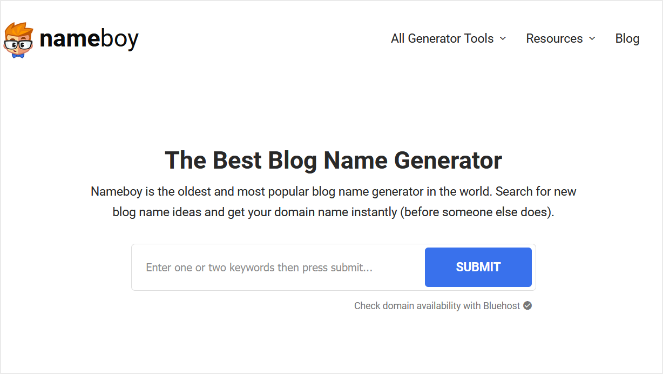 Nameboy is the most popular, free blog name generator in the world and it has been helping people come up with domain ideas since 1999. It analyzes the keywords you enter and gives you a list of relevant domain names to choose from.
For example, if you want to start a fashion blog, you can enter a keyword like "style" and press the Submit button to get instant blog name ideas.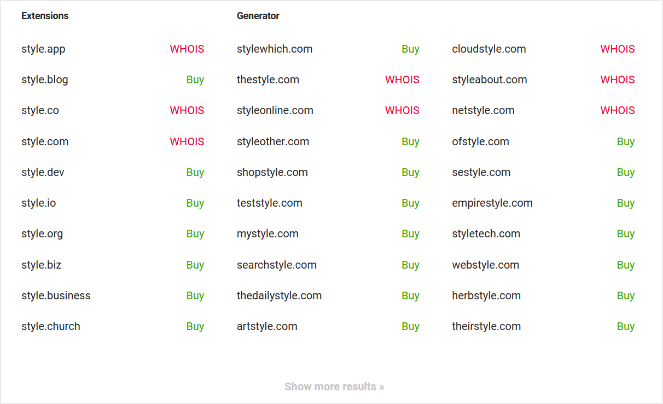 When you enter your keywords, Nameboy generates hundreds of options for you so it's easy to get your creative juices flowing right away. You can search for new domains with different keywords as many times as you'd like.
When you find a domain name that you like, you can click on the Buy button to register it before someone else does.
With Nameboy, you can get the domain name you want for free and 60% off web hosting with Bluehost, which is our recommendation for the best blog hosting service.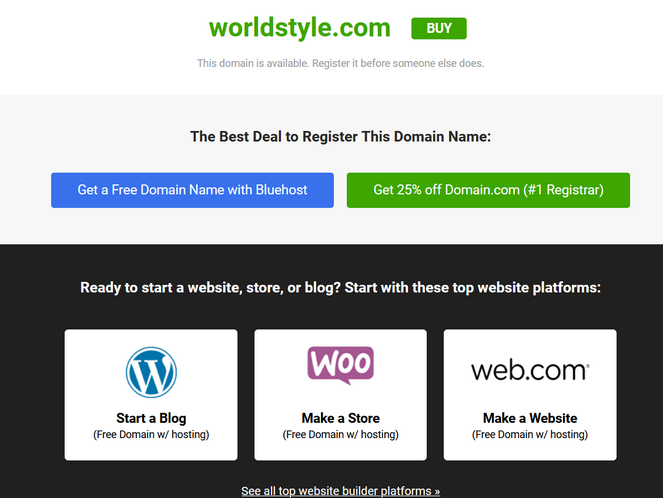 You also have the option of registering the domain name with Domain.com and getting 25% off.
And if the blog name you want is already taken, you can look up the WHOIS record right from Nameboy to see who owns it.
Along with .com, Nameboy includes other popular domain extensions such as .net, .co, .org, .info, .blog, .biz, and more.
Nameboy also offers generators for:
It's easy to come up with fresh ideas with all the suggestions Nameboy provides.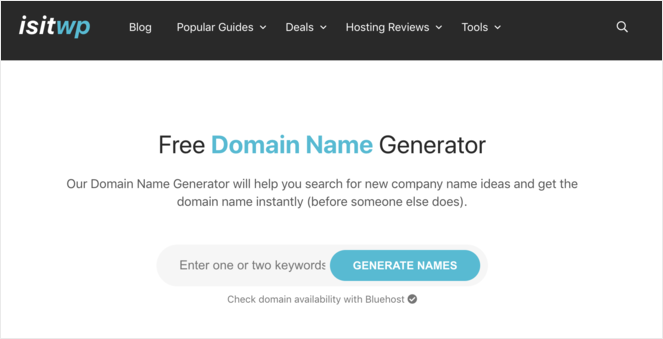 IsItWP offers a free domain name generator that's a fast and simple solution for finding blog names. It generates tons of potential blog name options within seconds so it's quick and easy to find what you're looking for.
Simply enter a couple of keywords and hit the Generate Names button to get your results. When we entered the keywords "travel" and "life", we found these awesome results: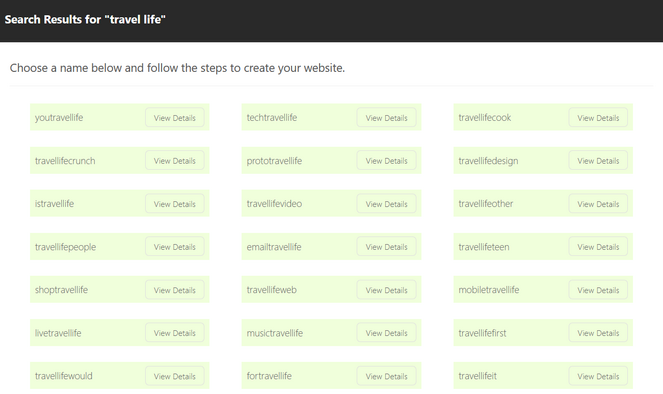 You can pick and register a domain name with Bluehost directly through this generator so you don't have to leave the webpage to move on to the next step.
You can also use this tool to generate names for businesses, companies, URLs, websites, and more.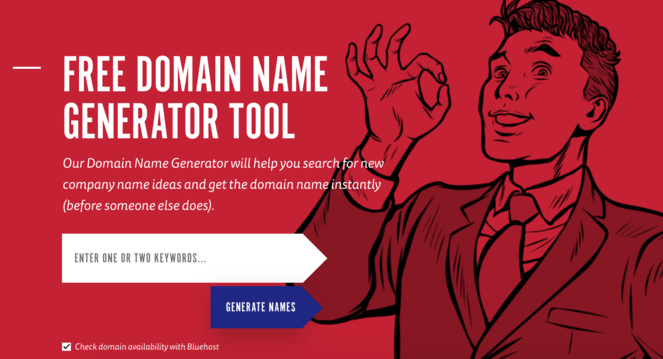 Of course, we have to put our own domain name generator on this list!
Blog Tyrant offers a free domain name generator tool that instantly creates name ideas for your blog. After entering a few keywords, you'll see a list of dozens of potential domain names you can use for your website.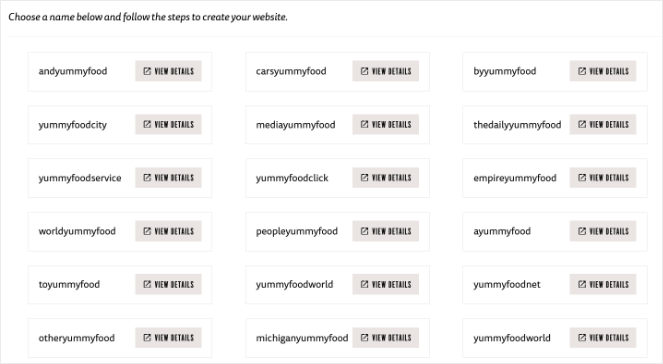 When you find a name that you like, you can click the View Details button and follow the simple steps to register the domain name and set up your blog.
Powered by Nameboy, Blog Tyrant is a simple and reliable tool that allows you to register domains through Bluehost with one click of a button.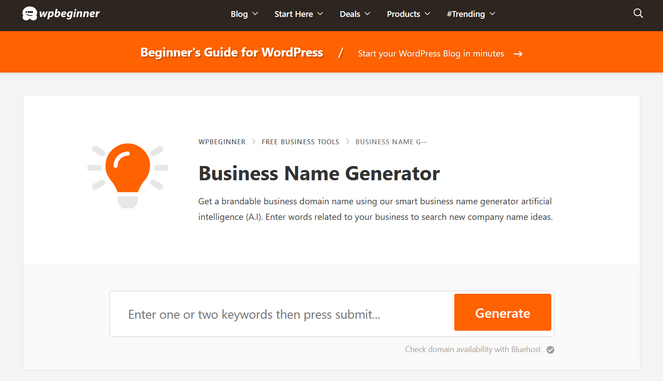 WPBeginner's Business Name Generator is another great tool that specializes in generating business names for your website. You can also use it to generate blog names, YouTube channel names, and much more.
This business name generator uses artificial intelligence to create catchy domain names as soon as you enter your keywords. Similar to other generators, you need to enter your keywords to see the available options pop up.
WPBeginner's business name generator also checks to verify that your domain is available through Bluehost. If it's not available, you can use WHOIS to look up who owns it and make an offer to buy it right from the WPBeginner site.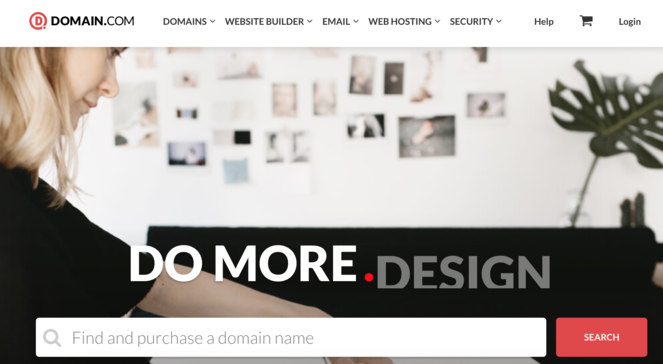 Domain.com is a domain name registrar that allows you to search potential names for your blog easily.
When you enter a keyword or keywords, Domain.com will first show you the .com option and then display other options in .net, .space, .blog, .biz, .tech, and many more. This gives you a wide range of options other than .com in case you want something different.
Domain.com also shows you which domain names are premium and will come at a higher cost if you want to purchase them. This allows you to stay within your budget and find a blog name you can afford.
When you find a domain name you're interested in, you can go ahead and register right there. You can also buy domain privacy and protection to secure your personal data.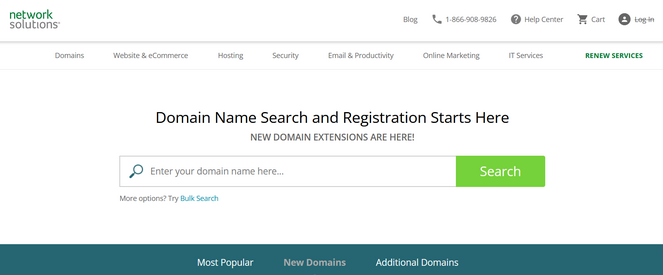 Network Solutions has a domain name search that allows you to register for a blog name as soon as you see the one you like.
With its Bulk Search feature, you can search up to 20 different domains at once. This helps you save time from performing extra searches so you can find your domain name without hassle.
If the domain names you entered aren't available, Network Solutions will provide you with similar, available domain name ideas and extensions.
When you find a domain name that fits your business, you can click on the Add to Cart button to purchase it and get 25% off.
Once your domain purchase is approved, the tool will notify you right away so you can set up your website, email, or add any additional products or services.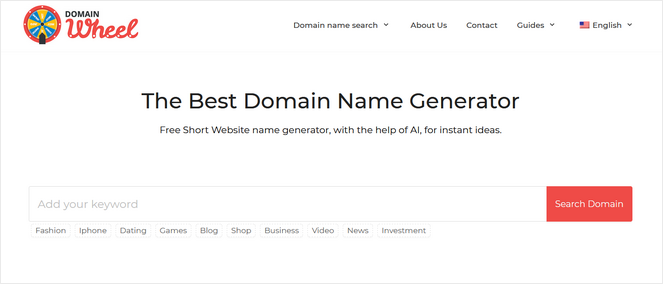 DomainWheel is another solid domain name generator that instantly displays potential names for your blog. It's free and AI-powered to give you relevant, catchy names using your selected keywords.
After entering your keywords, word combinations, "sounds like" suggestions, "rhymes with" suggestions, and random suggestions will appear for you to choose from.
Domain extensions of every kind will show up including .com, .net, .biz, .org, .blog, and more. Or, you can use the filter to show only ideas with the .com extension.
Next to the domain name you want, you can click on View Details to register.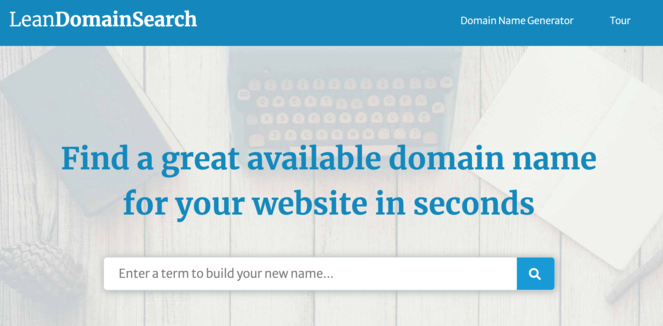 Lean Domain Search is a simple blog name generator that's easy to use and explore. It's run by Automattic, which also runs WordPress.com.
In just seconds, Lean Domain Search uses your submitted keywords to show potential domain names for your blog. It shares hundreds of available options so you're more than likely to find the perfect name to match your niche and appeal to your audience.
When you click on a domain name you like, it'll show you if it's available in .com and as a username on Twitter. This saves you from having to manually search this information yourself. You can also register the domain name and create a website on WordPress.com or register with Bluehost straight from its website.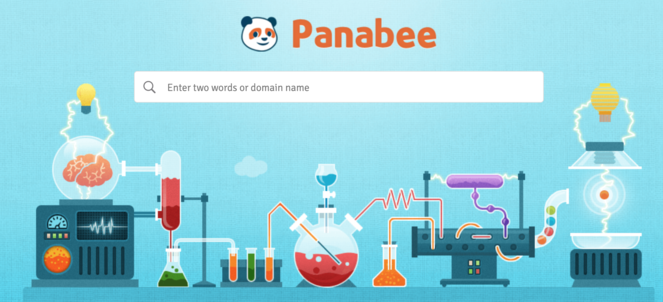 Panabee is an AI-powered domain name generator that aims to help you find the perfect name for your website. Along with blog domains, you can also find names for apps, businesses, projects, and much more.
If your original idea is taken, Panabee will suggest similar options available in case any of those suits you. These suggestions are created from phonemes, syllables, abbreviations, suffixes, prefixes, and popular domain trends.
Panabee gives you extended functionality when creating new names by allowing you to:
Spell backwards
Drop the last vowel
Replace letters
Merge syllables
But, be careful when choosing a blog name like this because like we mentioned earlier, it should be easy to remember and spell.
---
What is the Best Free Name Generator?
As we come to the end of this list of the best blog name generators, we easily find that Nameboy is the best tool on the market. It's free and easy to use, giving you tons of blog name ideas in an instant.
Plus, with Nameboy, you can register a domain name for free and start your blog for 60% off with Bluehost hosting.
We hope you found this post useful and that you can use these tools to come up with unique, relevant names for your blog.
Feel free to also check out our post on the best blogging tips for beginners. It's packed with information to help you create a successful blog.
While you're here, don't forget to sign up for our email newsletter for more helpful blogging tips sent straight to your inbox!