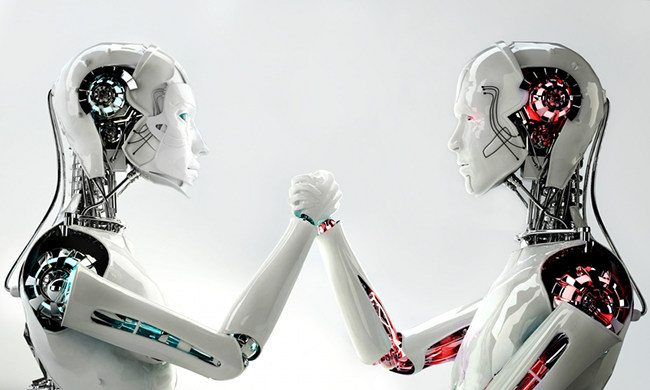 NOTE: This is an old review of Clicky Analytics with a basic comparison to Google's Analytics service.
Clicky Analytics has been absolutely been blowing me away over the last few weeks. It's got a lot of features that I've always wondered why Google Analytics was lacking.
Today I'm going to review Clicky as best as I can based on the ways I've been using it. I highly recommend you consider giving them a look if you're not satisfied with your current statistics provider.
Let's jump in.
Disclosure – All the links to Clicky in this post are affiliate links. If you purchase a package through one of those links I will earn a commission at no extra cost to you. I only recommend services I've used and love. If all this bothers you feel free not to use the link. Thank you for the support!
How I got started with Clicky
A few weeks ago I launched a new responsive design for Blog Tyrant and was in the market for a new heat map software so I could track where people were clicking on the new theme.
As always, I asked my Twitter followers and got a quick response: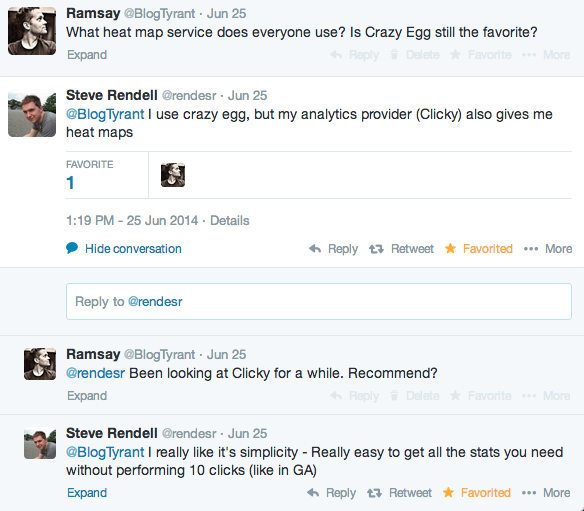 I decided to jump on board and after a quick browse of the features purchased their second package which included the heat maps and a bunch of other things.
Since then I've been diving deeper and deeper into this new analytics software and getting a lot of out it.
Clicky review: the main features I've been using
As mentioned, I've been using Clicky for some pretty specific purposes so this review probably won't cover absolutely everything that they do.
My goal with these types of reviews or blogging tips articles is not to completely cover the topic – I just want to introduce you to something that is working for me so you have a place to begin your research.
The following points are the things that I love that I can't really get from Google Analytics.
1. On-site heat maps
One of the coolest things you'll notice about Clicky is that their heat maps are really functional and smooth, unlike some other heat maps providers.
You also get to view the heat maps directly on your website by installing a little bit of code into your back end.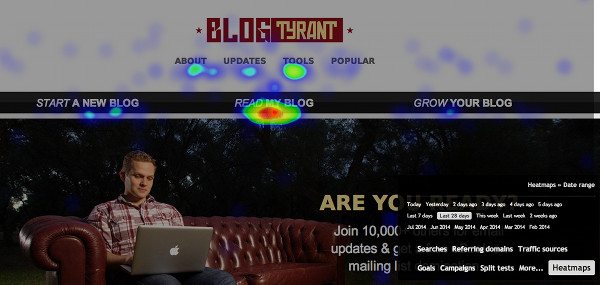 The above shows you the last couple of weeks of clicks on the homepage of Blog Tyrant. It is so nice having the heat map installed directly on your website as you can just visit a page or post, click the little icon down the bottom and view it right there.
I should also note that you can segment your heat maps by split test which gives you some incredible useful information about where people are clicking on your different versions.
2. That little button that appears on your site
Speaking of that little button – that is one of my favorite features. Once you've signed up for Clicky they'll give you a short code to whack on your site and you'll start to see a button like this.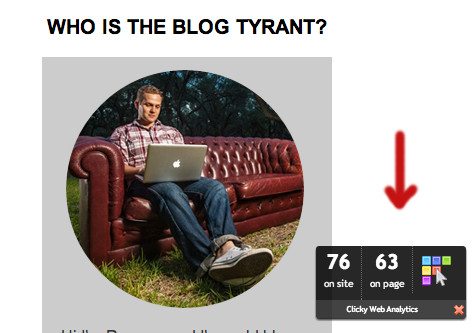 And it's great because the icon that you click to show the heat map, select the date range, etc. is only visible to you when you're logged in to Clicky. No one else can see it. But it means that you don't need to go to another website in order to see a bunch of your favorite stats.
3. Real time information about all your visitors
One of the most frustrating things about Google Analytics is that the stats are all delayed by at least 24 hours (except for a couple of bare minimums).
Clicky, on the other hand, has a massive amount of live stats so you can see exactly what is going on while a post is going viral or you are running some advertising campaign.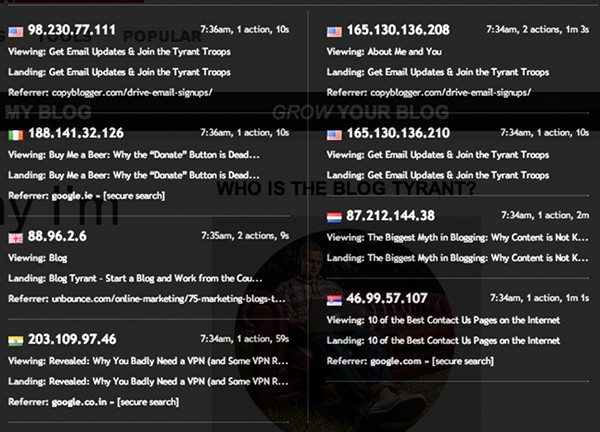 Again, click that little button that only you can see and you'll be able to view huge amounts of information about how many people are on your site, where they come from, what searches they made to arrive there, what websites referred them and what path through your site's content they took.
So sexy.
Did I mention that we're still only looking at the stuff that you can view on your own website without even needing to visit Clicky's website?
So sexy.
4. A simple interface displaying today's stats
One of the most common things I've heard about Clicky is how much people love the interface. It's simple and you have all the main stuff that you need right in front of you when you open the website.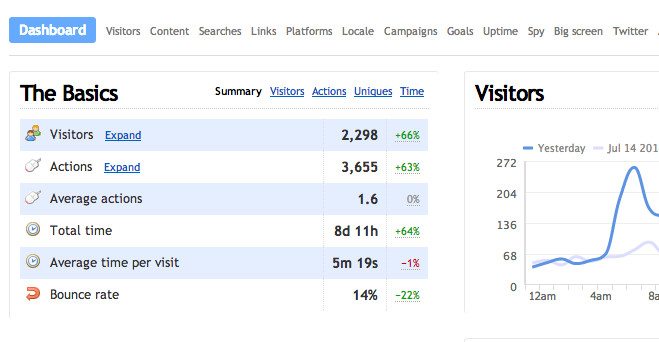 Contrast that to Google Analytics which, to me, has really weird ways of labelling things. I've been using it for years and I still click around in their sidebar for ages before I find what I'm looking for.
I love that you can just click today, yesterday, two days ago, last week, etc. and see all the stats right in front of you whereas Google has the 'compare date range' function to fiddle around with.
5. A better way of measuring bounce rate
When someone bounces from your site it means that they landed on your blog and then left without taking any action (like clicking to read another post).
Clicky, however, thinks that this measurement is not entirely useful because if someone stays on your site reading an article for five minutes and then leaves it's hardly fair to say that that article is not engaging.
I tend to agree.
It should be noted that if you are a bit technically savvy you can change how Google Analytics measures your bounces but if you prefer Clicky's way of measuring things you might just like the have a crack.
6. Video and Twitter analytics
If you're starting to get into video marketing then you'll want some analytics to see whether your hours of filming are making waves.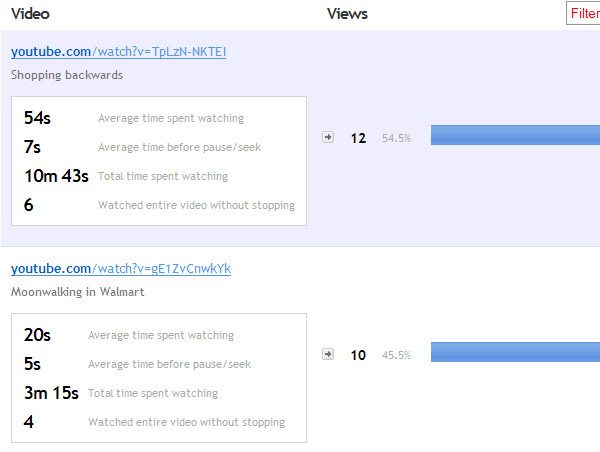 Of course, there are other providers who do this but it's awesome that Clicky has a feature that will track how long people watch your videos, when they pause, etc. right from your regular analytics page.
The really cool thing about the 'pause/seek monitoring' is that it will give you an idea about any bleeds that you have – places where people are getting bored or stuck.
They also do this with Twitter mentions which means you can monitor what people are saying about you or your brand and have a better picture of what is affecting your presence on social media. This is particularly useful for businesses or brands that need to respond to customer questions or complaints.
7. Search rankings position for each visitor
This is really cool. Clicky will tell you what ranking you were in Google when someone clicked through to your website. Have a look.

Unfortunately you still get stuck behind Google's bloody secure search blocking but you can still get some interesting data about your rankings positions. Again, there are other services that do this better but it's nice to have it inside your analytics provider.
It's nice to know that all of your blogging SEO efforts are paying off.
8. Live links
One of the nice ways to use Clicky as a monitoring tool is with the links section that allows you to see what links you are getting on a real time basis.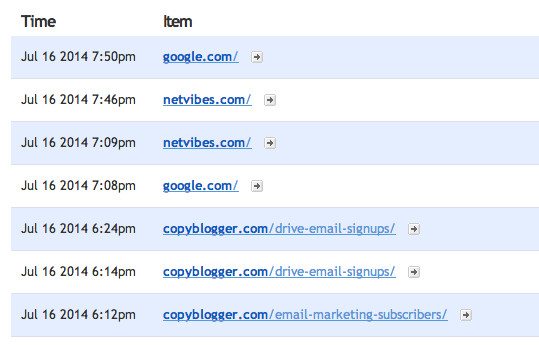 This tool is great because it allows you to see where people are arriving from in real time (unlike Google) so you can monitor any news stories or big new mentions that you've had around the web. It's always nice to know what's going on so you can go and interact, respond, etc.
A summary of Clicky vs Google Analytics: my review
I don't want to leave you with the impression that Google Analytics is rubbish – it's not.
It is a very good free solution for people who are just starting out and maybe just want to start a free blog and get some insights.
But if you are starting to take your online business a bit more seriously then Clicky might be a better option. There is a free version but the Pro+ and the Platinum give you many more features that are extremely valuable.
Don't delete your Google Analytics account just yet – test this all first. Plus you have a lot of old data in there.
I'd be very interested to know what you guys can achieve with Clicky and whether the heat maps and split tests can bring you insights that take your blog in new directions.
Resources to get more from your analytics
I'm sure if you've been blogging for a while you'll have heard how important analytics can be to your business.
That's great.
But in actual fact it can be really hard and complicated to get insights out of those statistics without driving yourself crazy or actually coming to incorrect conclusions.
Here's a list of resources that you can tackle over time that will hopefully teach you how to really get the best information from your masses of stats.
This is not an exhaustive list, by any means, but I think it can give you a good starting point if you're just starting to dive into your analytics.
Do you use Google Analytics or Clicky?
I'd be really interested to know whether you use Google Analytics, Clicky, or perhaps some other service. Here's what I really want to know: what feature do you love or hate the most about your analytics provider?
Please leave a comment and let me know.
Top photo © Abidal | Dreamstime.com.