Photo: JD Hancock
So I've been using Pop Up Domination here on Blog Tyrant for a few months now and decided it was high time I did a review. A lot of people ask me about how well it works and whether I would recommend it to my readers.
Let me start by saying that in the last two months the pop up ad you see on this site has landed me 1663 subscribers. Nothing to laugh at.
In this review I am going to show you how Pop Up Domination works, its features and tools and then tell you what I really think about pop up ads on blogs.
NOTE: This is not a paid review. I have never done and will never do a paid review on Blog Tyrant. I only recommend things to you if I really believe in them. The links in this post are affiliate links so if you purchase after clicking here I will earn a small commission.
The proof of my subscribers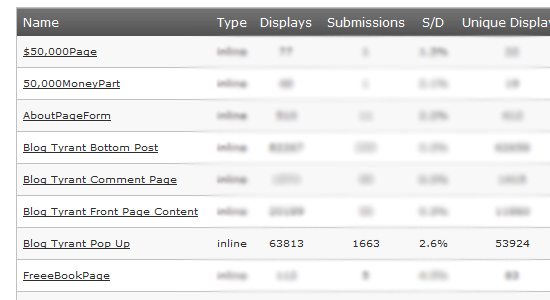 This is a screen shot from my Aweber account that shows you the stats for the pop up ad that is displayed on this site. Now, this is actually not as accurate as it could be because I reset the stats quite regularly. In truth the pop up normally performs a lot better.
So, you can see the pop up has been displayed 63,813 times and been submitted (meaning someone signed up) 1663 times.
The next number is 2.6% which shows you the conversion rate. Normally that conversion rate is between 6% and 10% making it one of the highest converting forms on Blog Tyrant.
Let me also remind you that these stats are only for the last two months since I rest the stats and changed the form copy.
ANOTHER NOTE: I blanked out the other stats for two reasons. Firstly, to emphasize the relevant pop up one and, secondly, because I am publishing a huge article about the rest of those stats and how to increase conversions early next year.
What exactly does Pop Up Domination do?
Pop Up Domination is a plugin that works on WordPress blogs and HTML websites that allows you to create beautiful pop up ads that you then use to capture more email subscribers.
Let me start by showing you a few of the features that you get with this plugin:
1. Super simple, beginner-friendly set up area
The first thing you will notice about this plugin is that there is no coding or anything like that. Once you install it you get a little editor area where you can add your text, eBook images, choose your theme, etc. I was actually quite surprised at how easy this thing is to set up.
2. A bunch of themes and colors to choose from
The next cool thing about this plugin is that you get a bunch of well designed pop up ads to choose from. You don't have to do any designing yourself, you simply select one of the ones that are built in and away you go. Here are a few screen shots of the designs that you can choose from.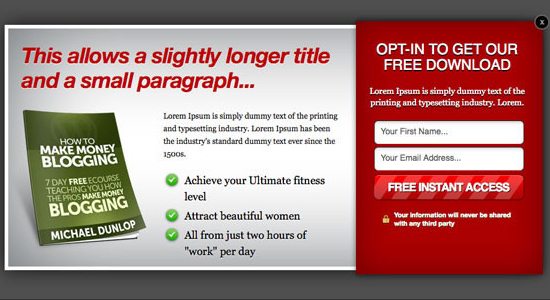 Sign up area on the right with an image of your eBook. Dot points work well for attracting interest.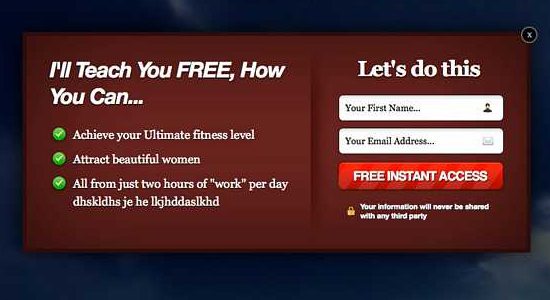 No eBook image but a smaller and more streamlined design.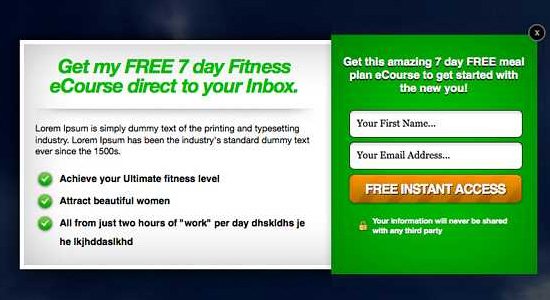 Sidebar sign up area but no eBook image.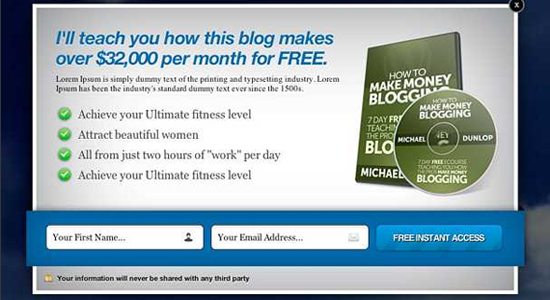 My weapon of choice! A super large pop up area with the eBook and a lot of room for information.
Once you select a design template that you like you can then change all of the text, images and even color scheme. For example, on Blog Tyrant I use a gold color because it fits in with the branding of my scepter and headings.
3. Works with Aweber and Mailchimp
One of the big questions people ask me about Pop Up Domination is whether or not it works with both Aweber and Mailchimp.
Now, as you know I am a big fan of Aweber and use them to deliver my free eBook as well as all the blog updates and newsletter items. Recently, however, I had to use Mail Chimp for a client and found it totally amazing, fun and easy to use. I fell in love with their service. I finally see what all my readers were on about!
So yes, Pop Up Domination allows you to use your sign up code from either services. No dramas at all.
4. Ability to schedule the pop up
Now, this is the most important feature in my opinion; the ability to tell the pop up when it is and isn't allowed to appear to your readers. This is so important if you don't want to piss everyone off.
Basically what it let's you do is choose a time delay for how long a reader has to be on the site before they see the pop up. I have chosen 10 seconds for this because I like to let first time readers see a bit of my content before I whack them with the advert. Some bloggers, however, like to set this to appear straight away. Darren Rowse over on DPS has it set to almost 30 seconds I reckon. He says it works well.
You can also tell the pop up to appear again after a certain number of days if they didn't sign up the first time. I like to set this feature to 30 as I think the pop up can become annoying if it is shown every week or even twice a week. The point here is that you have the ability to change and test all of these settings for yourself.
5. Inbuilt statistics
The latest version of this plugin also has inbuilt stats that let you see a whole bunch of data about what is working and what is failing with your pop up design. This is really important to me because, like I have said a million times, the money is in the mailing list. The more people you can capture with powerful tools like this the greater chance you have of making that full time living from your blog.
6. Ability to show different ads to different pages
Now this is where the word sexy really isn't strong enough. As a group of budding young internet marketers I am sure you will appreciate this feature.
You can show different pop ups to different parts of your site!
This gives you the ability to tailor your messages to the audience at hand. For example, if you have a popular page about mailing lists you might want to give a free eBook about growing your mailing list on that page. However, on another page about Aweber you might want to give away a free eBook about Aweber.
This is a feature that will truly skyrocket your subscribers.
Prefer a video tour?
I thought I would make a quick video tour of the WordPress dashboard area of the Pop Up Domination plugin. This might give you a slightly better idea about how it all works.
This is actually a tour of the old Pop Up Domination area – the new one released this week (December 2011) has a lot more cool features.
What I really think about pop up ads on blogs
Okay so this is the part you have all been waiting for. What does the Blog Tyrant really think about pop up ads on blogs?
I love them and I hate them.
I love them because they work so well
Here's the thing that really kind of annoys me about Pop Up Domination – it works so damn well. Part of me wishes it didn't work at all so I could turn it off and go back to my old beliefs about pop up ads being annoying.
But I can't.
This simple plugin as brought me almost 2,000 subscribers in the last two months alone! And in that time do you want to know how many complaints I have had about it?
Zero.
Not one single person has told me that it pisses them off.
I hate them because…
So what do I hate about them? Well, I guess I hate it when I see them pop up on other sites that aren't my own. But as I write this and think about my experiences with pop ups lately I realize that they don't really bother me that much. I think it is one of those things that you hear about as being annoying and then sort of tow the party line (so to speak).
I think what annoys people is when they are set to be invasive and annoying. We all know those pop ups that are impossible to close and that pop up again and again as you try to leave the site. Those thing suck. But a beautifully designed pop up ad like is being offered here is totally different; especially if it is designed to be part of a good user experience.
Whatever you think about them, its worth testing
Whatever you think about pop ups (Jen I know you aren't convinced) it is really worth giving it a shot. This pop up will cost you around $50 and potentially make you hundreds of thousands of dollars over the course of its lifetime.
And if it doesn't work for you the guys at Pop Up Domination are offering a full 100% money back refund. So, if you purchase this plugin and it doesn't increase your subscriber rate they will give you all your cash back straight away. That is the type of risk-free offer that really works for me.
You can buy Pop Up Domination for $47 for this week only.
Getting the most out of Pop Up Domination
I wanted to end this article by giving you a few tips on how you can get the most out of this plugin. If you know of any other tips please drop a comment.
Set it to appear later
Set the pop up to appear after at least 15 seconds so your readers will have a bit of time to see how good your content is. If they don't last 15 seconds you don't want them as subscribers anyway.
Make it brand-friendly
Make sure the colors and layout of your pop up match your blog. You want people to be sure that the pop up belongs to you and not a sponsor.
Test different ad copy
Spend time tracking and tweaking different ad copy. Sometimes even a few words like "sign up" vs "submit" can make a huge difference in conversions.
Give away the free eBook
Giving away a free eBook is nothing new but it works extremely well. Check out my post on how to make an eBook if you need some tips.
Cross your heart and hope to die
Make sure you include the little statement that promises that you won't spam your readers or sell their email. Trust is a must.
As I mentioned, this pop up ad usually converts at around 6% for me. If you can get anything higher than that I would really love to hear about it.
What do you think about pop ups?
So what do you think about pop up ads on blogs? Will you give this one a go or are you still to afraid of annoying your readers? Lastly, have you had any success with a pop up advert on your blog? Please leave me a comment and let me know.